Everything You Need To Know About Winter RVing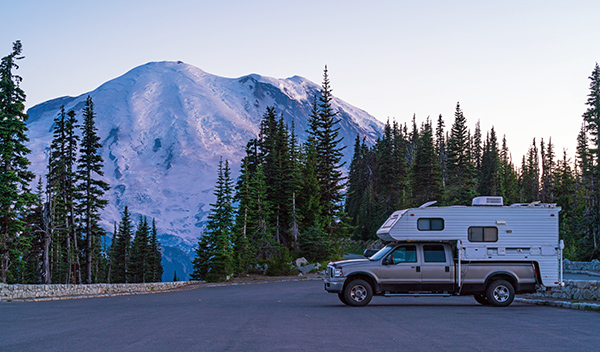 Do you RV mostly in the summer months? Then, there are a few things you need to do before storing your rig away for the winter. Or, if you use your RV year-round, then there are a few tips we have about RVing in the chilly winter weather. Here is your guide to everything you need to know about winter RVing.
Winterizing Your RV Before Storage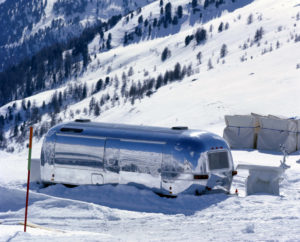 You've probably heard of the term "winterizing" by now. Winterizing your RV before putting it away in storage for the winter is extremely important. You must prepare your RV for the cold and prevent any severe damage from occurring during the winter months.
Also, keep in mind that you should winterize your RV as soon as it starts getting cold. Don't wait for below zero temperatures to hit because this type of extreme weather can cause serious problems. No one wants their pipes bursting due to frozen water. In fact, winterizing your RV's water system is a good place to start.
Here's a list to get you started on winterizing your RV:
Remove water from your RV pipes and valves.
Add antifreeze to your RV water system. Make sure to use antifreeze specifically for RVs.
Drain your RV water heater.
Add antifreeze to your RV radiator.
Add a fuel stabilizer and allow the RV engine to die.
Disconnect your vehicle and coach batteries and store them inside.
Fill internal propane tanks and store external ones in a warm place that is not in your RV.
Turn off the main circuit breaker in your RV.
For a more extensive explanation, check out our winterizing guide here. It has step-by-step instructions on eliminating water from your RV's plumbing, adding antifreeze and more.
Once you're done winterizing your RV, there's another thing you need to take care of before storing it for the winter. Be sure to remove any food inside your RV altogether. This includes everything in your fridge and all packaged goods, too. Rodents and ants will make your RV their new home if there's food to be found. Trust us, you don't want to deal with an infestation right before summer when you take your rig out of storage.
If this is your first time ever storing your RV for the winter, you may want to check out this complete list of storage tips.
Seasonal RV Insurance
Hopefully, you want the best protection for your RV and have chosen to carry Specialty RV Insurance. A standard Car Insurance policy isn't sufficient enough to cover your motorhome, trailer, camper, etc. A specialized RV Insurance policy can protect more than your RV, too. With some add-on coverages, you can also insure your personal belongings, furniture, specialized equipment, adjacent rooms, decks and/or other structures that can be separated from the vehicle.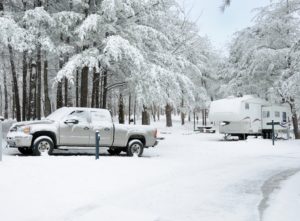 However, all that coverage doesn't have to be expensive. And if you only RV for part of the year, then you may be able to lower your premium with Seasonal RV Insurance. You don't want to completely cancel your regular policy just because your RV is in storage. What happens if it gets stolen or vandalized? What if your storage unit collapses on top of it? That's where Seasonal RV Insurance comes in and that's why some companies offer this option to part-time RVers.
After all, it doesn't make sense to pay an arm and a leg for RV Insurance during the months that your rig is in storage. However, it also doesn't make sense to cancel your policy every year for just a few months, especially when that puts your RV at risk.
Check out these insurance companies that offer Seasonal RV Insurance options:
National General Insurance. They offer a Storage Option in which you can pay less to suspend some coverage for the months you're not using your RV. You'll still carry enough insurance to cover fires, storms, wind and theft.
Safeco Insurance. They offer a Generous Usage Season, which allows you to use your RV for up to 150 days, while saving money on RV Insurance during the other days of the year. That equals to about five months of camping and road trips.
Progressive Insurance. They offer RV Insurance based on how much you use your RV every year. They have four different tiers, the lowest being 30 days of annual usage and the most being more than six months. If you do not use your RV that frequently every year, this may be the most affordable option for you.
For more information about Seasonal RV Insurance, check out this article.
Winter RVing Tips
Maybe you don't plan to store your RV all winter. After all, there are many cool places to see and outdoor activities to do in the winter that you can't do in the summer. Did someone say snowmobiling or ice fishing?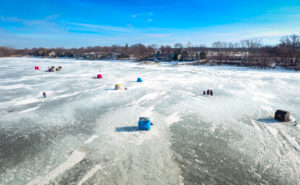 If you plan to go anywhere cold, then you still need to winterize your RV. And yes, you can use your RV while it's winterized. That includes your RV's winterized water system. Just take lots of 1-gallon jugs of water to use in the toilet. Also, if you do not have heated holding tanks, make sure there is RV antifreeze in the tanks. Add the antifreeze through the toilet, black water holding tank and in the shower for the gray water, too. Remember, you cannot drink any of the water with antifreeze in it. So, bring plenty of bottled water for drinking and cooking as well as brushing your teeth and washing up.
Also, keep these in mind while cold weather RVing:
Pack the right clothes. This mainly includes items you can layer. It could be warm in the day and freezing cold at night. Bring jackets, fleece sweaters and sweatshirts and warm socks.
Cold weather drains batteries. Make sure your RV's battery is in good shape before you head out into the cold.
Expect cold showers. While winter RVing, it takes cold water longer to run through the pipes and send the hot water from the water heater to the nozzle.
Insulate your sewer hoses. Do this with heat tape or some type of heavy-duty insulation to prevent ice from forming inside. Then, clean and store them in a heated compartment. They will split if they're frozen.
Use a heated fresh-water hose. Doing this will prevent splitting and freezing during winter RVing trips.
Minimize generator usage. We have some tips on how to keep your RV warm without using a generator that you can check out here. It includes more cost-efficient methods than keeping it running constantly.
Rigs Made For Winter RVing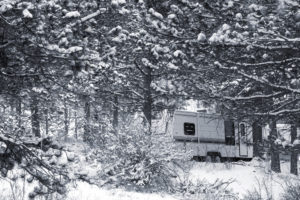 Are you doing some research on which RVs are the best for winter RVing? We can help you out with that, too. Some RVs are specifically made to handle the harsh, cold weather that comes with winter. Typically, these RVs come with arctic packages that include features like dual thermal pane windows, added roof and floor insulation, pre-installed heating pads for water and more.
Arctic packages are a necessity if you're planning to explore in freezing temperatures. Just make sure to have an idea of where you're headed, as some arctic packages feature different temperature guarantees.
Here is a list of our top four rigs made for winter RVing:
Ice Castle Fish Houses. This company offers a variety of travel trailers and fifth wheels made for winter camping and full-time RV living. Their main winterized features include Thermopane windows, fiberglass insulation in the walls and ceiling, and stone guard all around.
Forest River Arctic Wolf. The Arctic Wolf fifth wheel line has two winter packages available to choose from. The first option includes upper bunk windows, solar wiring and friction hinge entry doors. The second option is made for even colder temperatures and includes upgraded arctic insulation, insulated upper decking and an enclosed, heated underbelly.
Heartland LM Arlington. They offer the LM Arlington model with an optional Yeti Extreme Cold Package. It's a popular package that includes a heated and insulated underbelly, insulated flooring, dual pane windows and electric holding tank heating pads.
Northwood Arctic Fox. This company offers travel trailers and fifth wheels structurally designed to withstand all four seasons. They include thermal insulation in the walls and ceiling, protected water lines and holding tanks, and reflective foil insulation on the roof and slide-out.
You can read more about these highly-rated winter RVs here.
Finding Affordable RV Insurance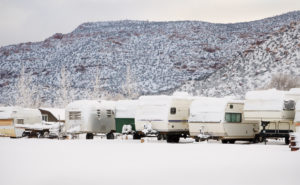 No matter what time of the year it is, you don't need to overpay for Specialty RV Insurance. Our Insurance Specialists will search for the best combination of coverage and price for your RV. They can help you find the best Seasonal RV Insurance option for you, too. Call today and ask us all your insurance-related questions at (866) 501-7335. Then, get a free quote so you can save money on your premium.
---
The information in this article is obtained from various sources. This content is offered for educational purposes only and does not represent contractual agreements. The definitions, terms and coverage in a given policy may be different than those suggested here. Such policy will be governed by the language contained therein.