4 Hearty Winter Camping Recipes to Keep You Warm While RVing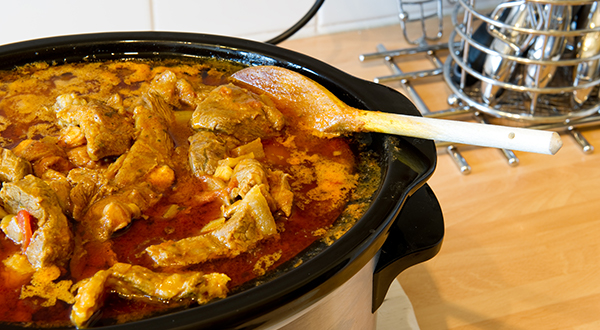 Crockpot or slow-cooker cooking is the best. You just take your favorite ingredients, throw them in a pot, plug the slow cooker in and let the food cook for hours while you do other chores. With that said, fires are always a very serious hazard you should avoid at all costs. Never leave a slow cooker working in the RV unattended. Do other chores inside while it's cooking, or, use an extension cord to bring the crockpot outside while you relax under your awning. For more on RV-kitchen fire hazards, visit here. These camping recipes take anywhere between 4 and 8 hours to cook, so plan your day while your delicious meal is simmering away. Here are our favorite 4 recipes because they make for perfect leftovers the next day or two, depending on the size of your crockpot.
1. Out-of-This-World Slow-Cooker White Chili
What we love about chili is it can be cooked up to 3 days ahead of serving, so you can even make this and keep it in the fridge before you leave on an RV trip. Or, if you have an RV compatible 6-quart slow cooker, you can just add in all the ingredients, and set the cooker on high for 4 hours. Sprinkle with shredded pepper jack cheese and enjoy!
Ingredients: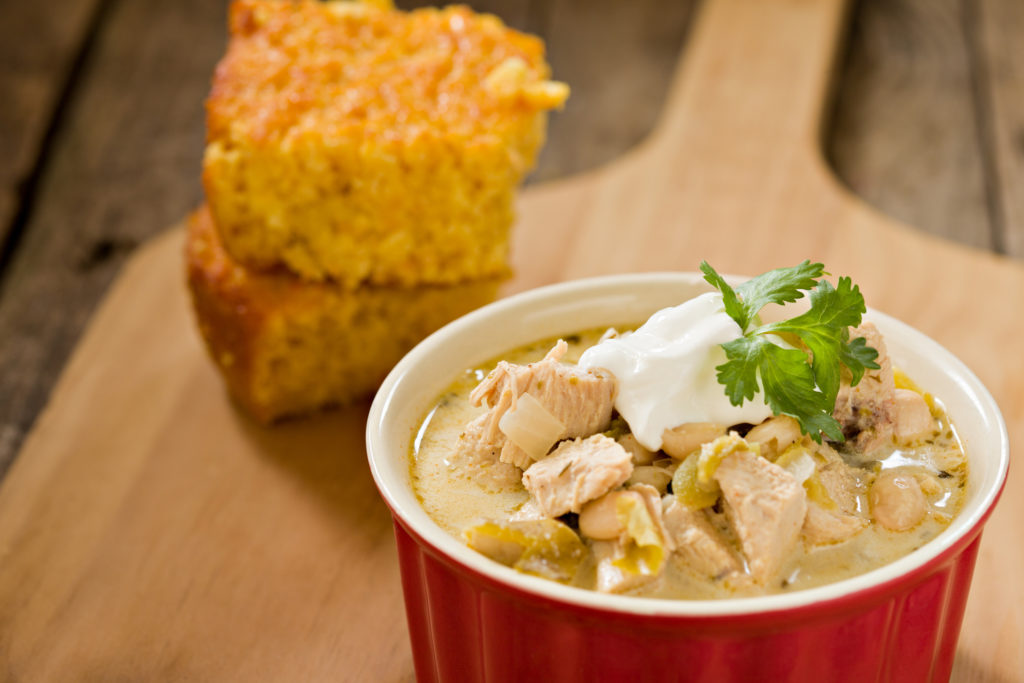 2 lbs Boneless chicken thighs
1 ½ Onions, chopped
4 Cloves of garlic, chopped
1 Jalapeno, seeded and chopped
2 Cans of green chiles
2 tsp Cumin
1 tsp Coriander
1 tsp Cilantro
3 tsp Salt
5 cups Chicken Stock
2 cups Frozen corn
3 15 oz cans Cannellini beans
3 tsp olive oil
2. Slow-Cooked Sausage & Black Bean Stew
This stew can be eaten with any kind of rice you prefer: white, brown, jasmine. They all taste great with the ingredients in this recipe. The only pre-prep before throwing everything into the slow cooker is to brown the sausages. You can do this at home and place the sausage in a freezer bags until you're ready to cook the meal or you can brown them on your RV stovetop. Cook on high for 4 hours and serve.
Ingredients: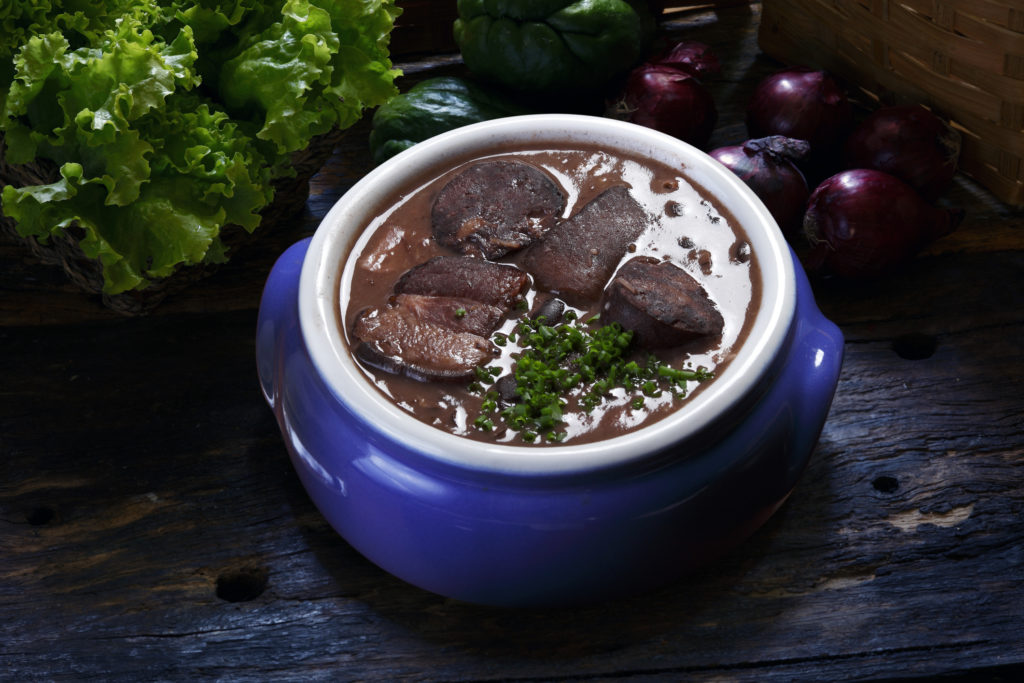 2 lbs Spicy Italian sausage, cut into thick slices
3 15 oz cans Black beans, half-drained
1 ½ Onions, chopped
1 1/2 cups Water
1 6 oz can Tomato Paste
2 tbsp Olive oil
1 tsp Sugar
4 Cloves garlic, chopped
2 tsp Thyme
1 Bay leaf
1 Jalapeno, finely chopped
1 Chicken bouillon cube
1 tsp Salt
1 tsp Pepper
3. Mouth-Watering Pulled Beef Sandwiches
Even though you won't be able to tell from the taste of it, this is a very inexpensive and filling meal that's sure to please everyone. All you need to do is buy 1 boneless beef chuck roast, mix it with the other ingredients and cook it on low for at least 8 hours. It's up to you if you want to cut the fat or let it cook through. This recipe should easily feed 10 or be reheated the next day after everyone starts craving it again. Choose any kind of sandwich bun you prefer.
Ingredients: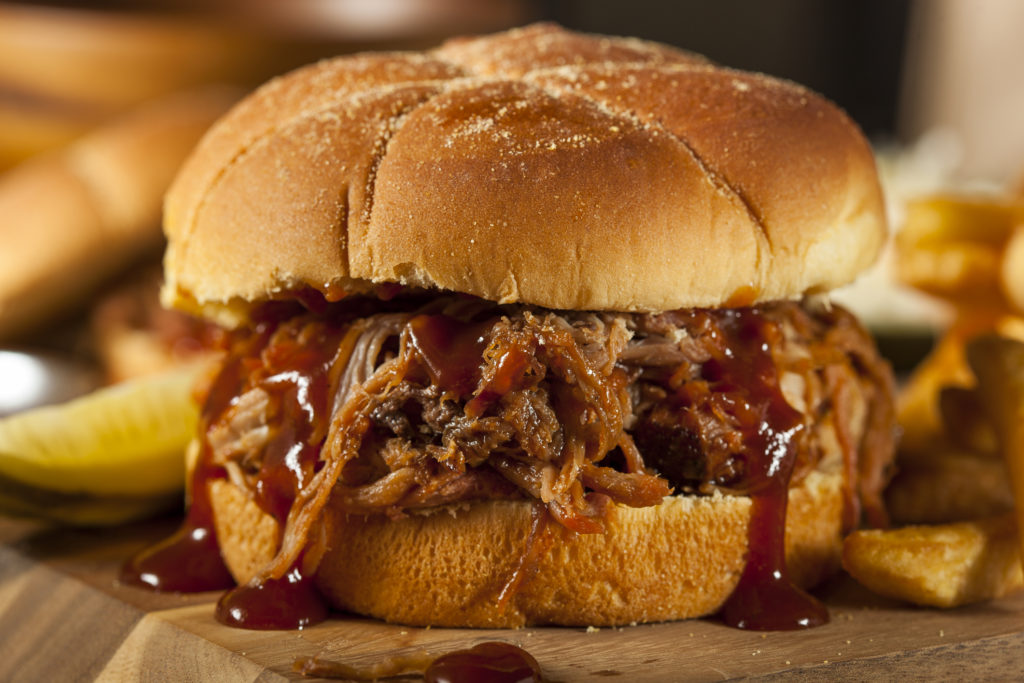 1 4 lb Chuck roast
1 Onion, chopped
1 cup BBQ sauce
½ cup Beef broth
1 tbsp Olive Oil
4. Crock-Pot Lamb & Barley Stew
If you're a lamb lover or just want a break from the usual chicken and beef, this stew is hearty and delicious. Plus, lentils are great for storing energy for a long hike or whatever it is you plan on doing at your destination. You can alternate this recipe or just substitute chicken or beef for lamb if you prefer. Remember to cook on low for 8 hours, or on high for 4 to 6 hours.
Ingredients: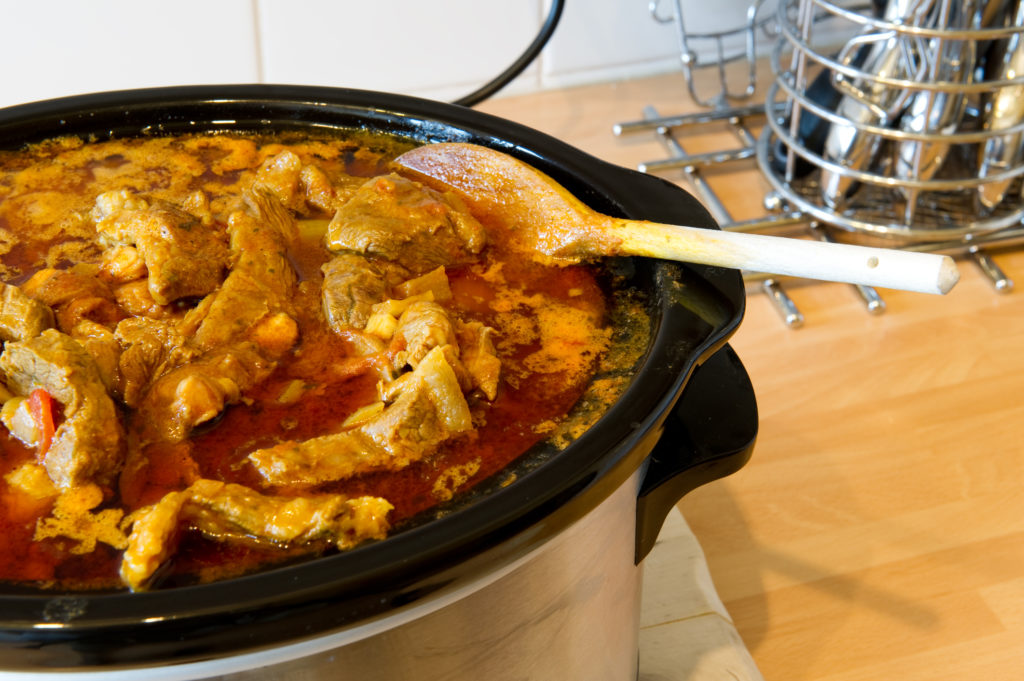 1 lb Lamb, cut into 1-inch cubes
1 Onion, diced
3 Carrots, sliced thick
1 can (14 oz) Beef broth
1 12 oz bottle Heineken dark beer
¼ cup Water
2 tsp Olive oil
1 cup Pearl barley
3 cloves Garlic
½ tsp Pepper
½ tsp Salt
½ tsp Thyme
Insurance
Like a Homeowners Insurance policy, most Specialty RV Insurance policies cover RV kitchen fires. Use caution whenever you cook in or near your RV and make sure you have the right insurance if there ever is an unexpected mishap. Speak with an RV Insurance Specialist about your coverage and its limits (866) 501-7335.
---
The information in this article was obtained from various sources. This content is offered for educational purposes only and does not represent contractual agreements, nor is it intended to replace manuals or instructions provided by the manufacturer or the advice of a qualified professional. The definitions, terms and coverage in a given policy may be different than those suggested here and such policy will be governed by the language contained therein. No warranty or appropriateness for a specific purpose is expressed or implied.