7 Common RV Mistakes That Are Easy to Avoid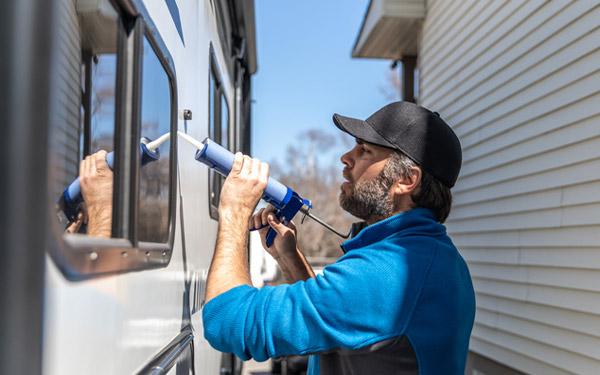 As RV enthusiasts, we're constantly looking forward to the next adventure. Whether traveling to a new state or just getting away for the weekend, every RV trip is a unique experience waiting to happen. However, RVing is much more than simply choosing a destination. No matter where you are heading, no RV trip is complete without proper planning. Still, many precautions are often overlooked, especially by beginner RVers. To ensure you're traveling like a pro, let's cover common RV mistakes and how you can avoid them.
1. Not Getting Enough Driving Practice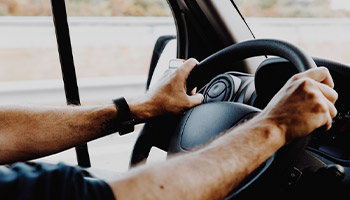 Unless you own a large Class A RV that weighs more than 26,000 pounds and is over 40' in length, chances are you don't need a special license to operate your rig. However, you'll still need to clock in some practice hours before you take your new RV on a long trip—especially if it's your first time driving a large vehicle.
If you're used to speeding through traffic on your daily commute, you'll need to adjust your driving habits for an RV. In most cases, the far-right lane will be your new home when RVing. Should you need to pass a slower vehicle, always do so cautiously. You shouldn't, however, constantly attempt to pass other drivers, as this could lead to an accident.
Due to their size, RVs require more time to speed up, slow down, and turn safely. Because of this, you must make it a habit to give yourself (and other drivers) plenty of space to react to any hazards on the road. Before heading out on your first trip, consider taking your RV to a large, empty parking lot to practice backing up, turning, and stopping.
2. Not Planning Your Route
One of the most common RV mistakes beginners make is not planning their route based on their RV. Although there are endless areas to explore across the country, not all are RV-friendly. Unless you own a Class B van, chances are you'll need to do route research before heading out to a new destination, especially if it's in a remote area.
Utilizing tools such as Google Maps Street View to understand campground entrances can help you prepare if you own a large RV. If you're considering becoming a full-time RVer, we recommend using tools that determine your route based on your RV's dimensions. The RV Trip Wizard tool from RV Life allows you to enter your RV's weight, length, and width and then uses that information to provide you with the ideal route to take. The app does cost $65/year but includes access to other valuable tools such as an RV GPS and maintenance tracker which will help you avoid mistakes.
3. Not Taking Your Time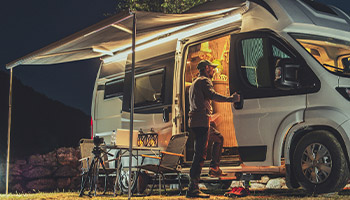 Okay, we get it. You want to arrive at your destination as quickly as possible. However, driving too fast will not only affect your RV's fuel efficiency but it can also damage your RV's tires if they overheat. When traveling between destinations, always take your time and practice patience. RVs are homes on wheels, so use the time to enjoy your surroundings and time on the road.
To prevent yourself from overworking your RV, split your journey into manageable chunks. That way, you will prevent yourself from feeling exhausted behind the wheel. Because you're in an RV, you may not be able to stop and rest wherever you'd like should you get tired driving.
If you're going on an extended trip, consider following the 2-2-2 or 3-3-3 rules to practice safe driving. For example, the 2-2-2 rule states that you should limit your travel to 200 miles per day, check in to your campground by 2 p.m., and camp for no less than 2 days. If you'd like to cover a bit more distance, follow the 3-3-3 rule, which says to limit driving to 300 miles per day, check in by 3 p.m., and camp for at least 3 days. Following these rules breaks your trip into manageable pieces while giving you plenty of time to recharge and enjoy the outdoors.
4. Not Having Proper RV Insurance
Not having insurance can be a costly (and illegal) mistake for new RVers. Although insurance requirements can vary by state, you'll need to at least purchase RV liability insurance that meets your home state's minimum liability limits. Remember that liability insurance only covers damage you cause to others or their property and does not protect your own RV. Since RVs are an expensive purchase, purchasing additional coverage is highly recommended.
You shouldn't rely on your auto or homeowners insurance policy to protect your rig. When it comes to RV insurance, plenty of specialized coverages apply to situations you won't find with other insurance types. For example, awning replacement and personal effects coverage can protect not only your RV but also what you travel with. To learn more about the RV coverages available, call (866) 501-7335. We can help you avoid making common RV insurance mistakes.
5. Backing Up Solo
As mentioned, driving an RV takes practice. However, an aspect of RVing that many beginner RVers struggle with is backing into a parking space. Although many RV parks have pull-thru sites that don't require you to reverse park, knowing how to do so is still highly important. If you're a new RV owner, be sure to incorporate reverse training when learning how to operate your RV.
When backing up into a parking space, the best way to avoid any accidents is to have a spotter. Pro tip: because cell service can sometimes be fuzzy in remote areas, purchase walkie-talkies so your spotter can easily communicate with you inside your RV.
6. Not Performing Regular RV Maintenance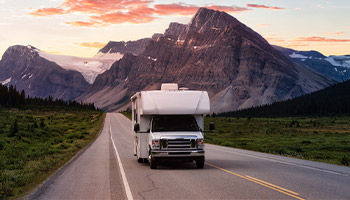 RVs can take a lot, but they'll still require you to perform proper regular maintenance. Since most RVs are motorized, they'll need similar care as other vehicles, such as oil changes and battery replacements. Refer to your RV's owner's manual to learn how often you should service your rig.
Make it a habit to perform smaller maintenance checks while on the road. For starters, you should always check your RV's tire pressure before leaving a destination. The last thing you want is to experience a tire blowout and be stuck on the highway waiting for help. Additionally, routinely check your RV for water leaks to stop any issues early on before they cause lasting damage.
7. Not Having an RV Checklist
Before you leave for a trip, you'll need to ensure you have all the appropriate gear you'll need. Although your RV is enough to get you to your destination, there are additional must-haves for any trip, such as leveling blocks, cooking tools, and an emergency kit, to name a few. Here's just a small list of items any RVer should always have in their rig:
RV owner's manual
Insurance paperwork and registration
Jumper cables
Hoses for dumping and freshwater
Toolkit for small repairs
Emergency kit with extra water, survival tools, canned food, and a first aid kit
Portable chargers and generators
Tire pressure gauge
Wheel blocks and leveling blocks
Extra clothes and outdoor shoes
Heavy-duty and disposable gloves
Protect Your RV No Matter How Your Travel
Whether it's your first trip or hundredth, one of the greatest mistakes you can make is traveling without RV insurance. Not only will you avoid hefty legal fines, but you'll be rest assured your assets are protected in the event of an accident. RV insurance isn't a one-size-fits-all approach, as plenty of coverages apply to different types of travelers. To learn more about the RV coverages that can better protect your RV, call our insurance specialists today at (866) 501-7335.
---
The information in this article is obtained from various sources and is offered for educational purposes. Furthermore, it should not replace manuals or instructions provided by the manufacturer or the advice of a qualified professional. No warranty or appropriateness for a specific purpose is expressed or implied.