The Monthly Cost of RVing Full-Time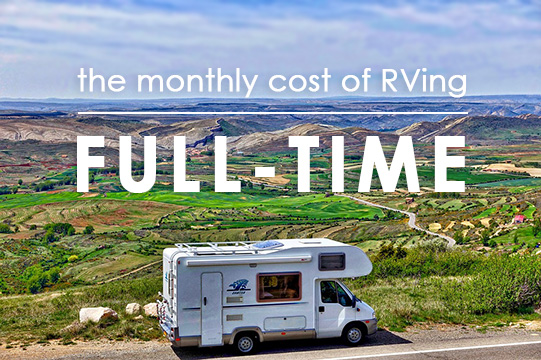 If you're looking to get away for a few months or even longer with nothing but your essentials and an RV, there are some things you need to know. You might be unsure of how to choose the best location or how much it will cost to live out of your RV full-time. Depending on where you want to spend your time and a few other variable costs, RVing full-time is probably a lot more affordable than you think. It's also one of the best ways to travel, vacation or retire.
Location
Where are you looking to park your RV? There is an endless list of destinations, but your budget will most likely determine where you stay. Round up a list of your top 4 or 5 locations and then check out the prices. Most RV parks and campgrounds average about $30 per night, some popular sites can be over $100 and others are totally free. If you need some ideas, check out our 12 Places You Don't Want to Miss on Your U.S. Road Trip for inspiration.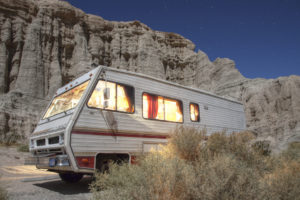 Once you decide on a destination, do a little research. A few RV parks and campgrounds will let you stay long-term, but most have a maximum amount of days you can be parked at the same site. Maximum stay times are usually about 7-14 days. So, you'll probably have to move to a few different locations each month. This will allow you to experience changes of scenery during your RV travels, all the while allowing you enough time to explore and relax at each location.
You'll also want to prioritize RV sites that include full-hookups, or ones with water, electric and sewage. RV parks and campgrounds that have full-hookups save you from spending money to fill up water or empty your tanks at dumping stations. These small costs can add up when you're RVing full-time.
Costs
There are many costs to consider and work into your budget before parking your RV somewhere long-term. Most costs are variable and depend on how comfortably you want to live. For two people living in an RV full-time, the average cost is about $2,275 per month.
RV Site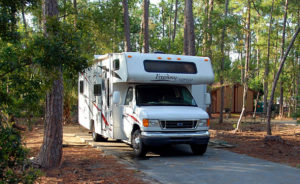 For starters, RV parks with full hook-ups usually range between $30-$50 per night. Campgrounds with full hook-ups tend to range between $15-$25 per night. That means you could be paying anywhere from $450 to $1,500 per month on an RV site. But remember, this all depends on where you choose to stay.
Gas
Your gas cost will be a little harder to calculate since it will all depend on the gas prices in your area and how many miles you intend on traveling to get to your destination. You also need to consider how many times you'll be changing RV sites each month. Also, factor in whether or not you'll be driving around in the area for other activities. Typically, your gas cost per month will be between $250-$400.
Groceries/Eating Out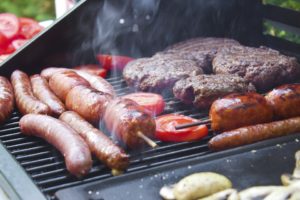 Groceries and eating out are also dependent on your lifestyle. Most full-time RVers feeding two people will spend about $500-$600 on groceries and eating out each month. Food is a good area to save money. Making your own meals will save you a lot of money each month, compared to eating at local restaurants. You might have to show some self control because eating out can be tempting in new places.
Phone/Internet
Other monthly costs incurred while RVing full-time include your phone and internet, any RV maintenance required and RV Insurance. Your phone and internet bill is mostly determined by your provider. The bill will probably run about $250 a month for two people. This is because most RV sites have spotty Wi-Fi at most. If you want to have access to map apps and stay connected with the outside world, you'll probably have to invest in unlimited data and use your phone's hotspot to surf the web or stream media.
RV Maintenance and RV Insurance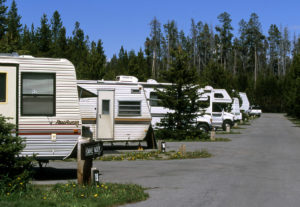 Typically, you won't need to spend money on RV maintenance every month. It's still a good idea to set aside about $100 or so just in case you encounter a problem. Your RV Insurance will vary around $200 a month. Also, make sure you have Specialty RV Insurance before hitting the road. You can call an RV Insurance Specialist at (866) 501-7335 to find out if you have the best coverage for your RV.
Monthly Cost Breakdown
Check out our monthly cost breakdown below. It provides a wide range because every RVer is different. You should also remember that RV sites, gas and food will fluctuate a lot each month. You could spend $1,000 one month and $3,000 the next just depending on location. When it comes to RVing full-time, everything is an adventure, and you'll definitely end up learning as you go.
| | |
| --- | --- |
| RV Site | $450-$1,500 |
| Gas | $250-$400 |
| Groceries/Eating Out | $500-$600 |
| Phone/Internet | $250 |
| RV Maintenance | $100 |
| RV Insurance | $200 |
| Total | ­$1,500-$3,050 ($2,275 on average) |
Tips for RVing Full-Time
Once you find your perfect destination and budget everything out, you'll discover that RVing full-time is totally affordable and worth it. You'll get to experience new places without the hassle or cost of normal travel expenses like plane tickets and hotel rooms.
Before you take on the open road for the next few months, check out some of our other tips for RVing full-time:
Choose an RV site with laundry accommodations. Save yourself the trip to the laundromat and utilize RV parks' on-site laundry services. You'll probably be doing your laundry at least once a month, so just make sure at least one of the RV sites you stay at has laundry services available. That way you can avoid the hassle.
Invest in roadside assistance. Don't get stuck on the side of the road in the middle of nowhere. Quick RV Insurance offers affordable roadside assistance for your RV. Call (866) 501-7335 to speak with an RV Insurance Specialist about roadside assistance services today.
Have an emergency fund. It's always better to be safe rather than sorry. Make sure you have enough back-up money in case something important needs to be fixed or replaced in your RV.
Join an RV club. If you're a frequent RVer, there are many club memberships out there that can help save you tons of money every year. Good Sam, Passport America and Escapees all have affordable yearly membership subscriptions. The clubs provide you with discounts of up to 50% on thousands of RV parks and campgrounds across the country. Escapees RV Club is particularly handy for full-time RVers, as they operate 19 RV parks specifically for full-time residents.
---
The information in this article was obtained from various sources. This content is offered for educational purposes only. It does not represent contractual agreements. It is not intended to replace manuals or instructions provided by the manufacturer or the advice of a qualified professional. The definitions, terms, and coverage in a given policy may be different than those suggested here and such policy will be governed by the language contained therein. No warranty or appropriateness for a specific purpose is expressed or implied.