8 Reasons Why Van Living is the Perfect Cross-Country Experience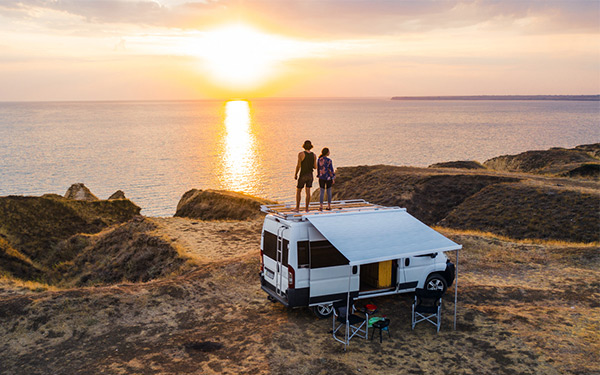 Nowadays, people aren't waiting for retirement to start traveling. A growing number of millennials are embracing a new alternative way of life that allows them to explore the country while living full-time or part-time in a modified van. There are multitudes of reasons why these van dwellers are ditching the status quo to live life on the road, and we don't blame them. Here are eight reasons why van living is the perfect cross-country experience.
8. Relaxed and Simple Lifestyle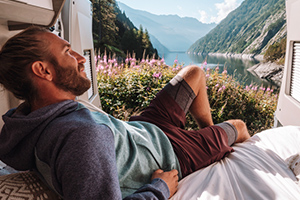 Society may tell you to study hard, find a well-paying job, work endlessly to save, buy a house, have kids, and hope one day your children will do the same, but better. Perhaps you don't want those things or don't want them yet, and for now, want to escape the rat race.
Whether you are looking for a change of pace or want to fulfill your lifelong dream of traveling the world, rolling in a van allows you to have a simpler and more relaxed lifestyle. It's not to say van life is easy. There's definitely a learning curve, but fewer responsibilities mean less stress and more time to focus your attention and energy on things that bring you joy.
7. Focus on Hobbies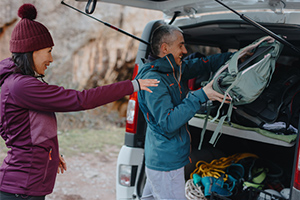 With the freedom and flexibility to work while traveling, van living allows more free time to focus on hobbies fundamental to you. Having interests such as surfing, rock climbing, snowboarding, and hiking allows you to be more in tune with nature, which is proven to be beneficial for your well-being.
According to a research report by the Yale School of the Environment, being in nature for two hours or even viewing scenes of nature greatly reduces stress and increases your physical and psychological well-being.
6. Meet New Friends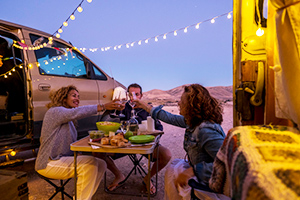 If you are a social butterfly and love meeting new people, then van life is for you. There is a vast and growing community of van dwellers on social media willing to share tips on nomadic living and new locations for you to explore. Not only do they have amazing stories to tell, but those invaluable pieces of advice from someone whose been in your shoes can provide you comfort and inspiration when you're diving into this unknown territory. You will always have an RV community to support you. Plus, they're the friendliest people you will ever meet!
5. Best Way to Travel with Pets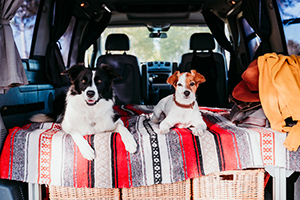 The thought of leaving your pets behind while going on a long trip is difficult. Some may think it's impossible or even daunting to be without them.
On the contrary, living in a van with pets is completely doable and probably one of the best ways to travel with them. Your four-legged friends get to run outside, grub on your leftover campfire food, and snuggle up next to you every night. It's a win-win situation!
4. Learning Experience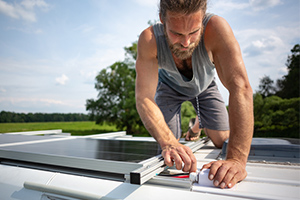 Despite the relaxed and Zen-like lifestyle you may see on social media, living in a van does present some challenges. The reality is you may deal with a lot of uncertainty and discomfort.
From planning where to shower and sleep day-to-day, rationing your resources when you're in the middle of nowhere, to being forced to learn as you go, this lifestyle isn't for the faint of heart. However, it's a challenge that leads to personal growth. You may discover a deeper part of yourself and confront your blind spots. Van life is a phenomenal learning experience which pushes you outside of your comfort zone. Be ready to learn new skills like fixing a van, cooking on your own, exploring nature, and more.
3. Budget Friendly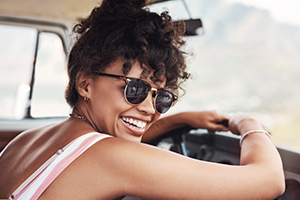 Generally, traveling in a van is cheaper than flying, especially when there are lots of destinations you want to explore. Of course, you will need a trusty camper van which requires quite an initial investment. If you are not planning to be a full-timer, you may rent one from sites like Outdoorsy or RVshare.
Once you are ready to hit the open road, there are plenty of cheap accommodations and even free camping sites that are good alternatives to expensive hotel stays. Additionally, living in a small space inspires a minimalistic lifestyle which encourages you to utilize what you have, buy less, and be more mindful with your spending.
2. Home on Wheels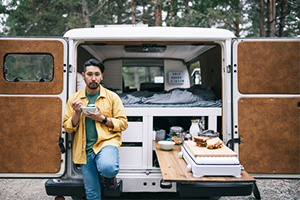 An obvious reason why van life is the perfect cross-country experience is the ability to take your home with you wherever you go. Everything you need when traveling is already with you! Feeling tired from being on the road all day? Pullover and take a power nap on your actual bed. Want a quick meal? Whip up a delicious lunch in your kitchenette. Need to change into something warmer? Your entire wardrobe is a few steps away from you. Knowing you have everything you need in your van is a comforting feeling and really comes in handy.
1. Freedom to Roam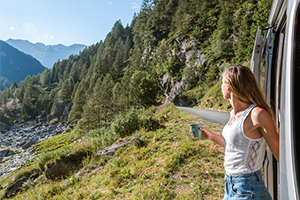 The number one reason to ditch your stationary living for a rolling home is the freedom it provides.
Imagine being able to do what you want, go wherever you want, whenever you want, with nothing holding you back. Whether it be waking up to a gorgeous overlook of the desert canyons, exploring a national forest, diving into a secluded swimming hole up in the mountains, or falling asleep to the sounds of coastal waves – the choice is yours and the destinations are endless. You get to decide where you want to call home for the night. With the flexibility van life brings, there are going to be more adventures than you can ever dream of.
Preparing For Van Living
When you're ready to join the van life movement, don't forget about protecting your home on wheels from mishaps occurring on the road. Specialty RV Insurance offers additional coverage options over an Auto policy. Even if you already have RV insurance, you certainly don't want to make these common newbie mistakes when insuring your van. Speak with a licensed RV insurance specialist today at (866) 501-7335 to get a free quote. We'll help you compare multiple insurance rates to ensure you're getting the best combination of price and coverage.
---
The information in this article is obtained from various sources and is offered for educational purposes. It should not replace manuals or instructions provided by the manufacturer or the advice of a qualified professional. No warranty or appropriateness for a specific purpose is expressed or implied.