5 Reasons Why You Need Specialty RV Insurance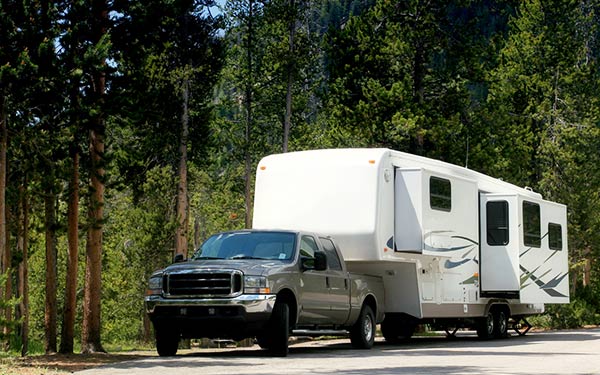 If you already carry auto insurance and home insurance, you may wonder why there's even an option to have RV insurance for your motorhome. After all, your recreational vehicle is a home on wheels, so what's the big deal? Wouldn't your home insurance or car insurance cover your RV? Not exactly or entirely. The problem is that as an RVer, you may encounter unique situations and risks that generally wouldn't happen in a regular car. That is why it is in your best interest to get a specialty RV insurance policy.
Specialty RV Insurance Is the Way to Go
Specialty RV insurance is a customizable and comprehensive type of insurance policy designed to protect your investment and RV. Here are five reasons you need a specialized RV insurance policy and why you should get an RV insurance quote from Quick RV Insurance.
1. Auto Insurance Doesn't Offer These Unique Coverages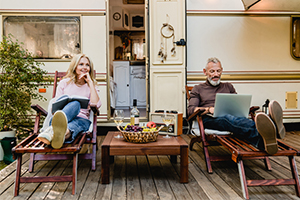 A standard auto insurance policy does not provide enough protection for your recreational vehicle and often leaves you with a gap in coverage. We know RVers have an adventurous lifestyle that may expose them to greater travel risks. That is why we work with reputable insurance companies who offer RV-specific protection that you can't get with a standard car policy. Below are some of the coverages you won't find in an auto policy.
Total Loss Replacement Coverage
Personal Belongings Coverage
Campsite and Vacation Liability
Disappearing Deductible Coverage
Emergency Travel Expense
Coverage for Full-Time RVers
Seasonal / Storage Option
24-Hour Roadside Assistance for RVs
Special Windshield Deductible
2. It's a State Requirement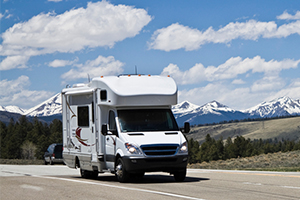 To drive your motorhome, you must have at least the state minimum for liability insurance. Liability insurance covers damages and injuries you cause to the other party with your motorhome. Failing to carry the required liability insurance could result in hefty fines, a revoked license, or even jail time. Some states may require you to purchase additional coverage like uninsured and underinsured coverage as well. Our RV insurance specialists can go over your state's requirements and ensure you have the proper coverage for your motorhome.
If your RV is a towable trailer and not motorized, then the liability coverage from your regular auto usually extends to your trailer. This is provided that you have already notified your insurance carrier, and your RV is listed on your declaration page. However, other types of coverages like comprehensive or collision coverage might not extend to your trailer, which is why you should consider getting a specialized RV insurance policy. Additionally, if you are financing your RV with a loan, your lienholder may require you to carry physical damage coverage thus a specialty RV insurance policy is in your favor.
3. Motorhome Insurance Covers Your Personal Belongings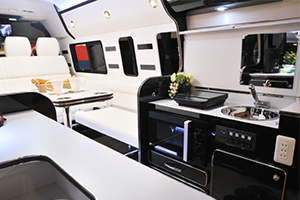 Whether you are a full-time traveler or just getting away for a couple of weeks, your RV contains everything you need to survive the great outdoors. It has amenities like a kitchen, bathroom, sleeping, and living quarters. And of course, you're going to want to bring all the necessary household items to live comfortably. Perhaps over time, you've probably collected items along the way to make your motorhome feel like a second home. These small and sentimental items add up. Luckily, a specialty RV insurance policy offers personal effects protection to cover your stolen or damaged belongings from an accident.
4. Protect Your Investment
Your RV didn't come cheap, so don't carry mediocre coverage. If you're involved in a major accident and your motorhome is totaled, many auto insurance companies offer the depreciated value of your RV. On the other hand, a specialty RV insurance company may offer to completely replace your rig with a brand-new one of the current model year or a comparable one through Total Loss Replacement Coverage. That's not the only type of settlement option available. Take a look at these other three alternative settlement options.
5. Expert Help in the Event of a Claim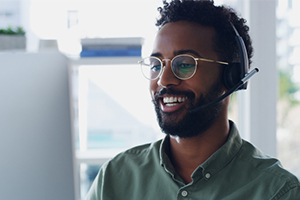 RV insurance is the best way to protect your motorhome, no matter what incidents occur. Hopefully, you never have to submit a claim for your RV, but if you do, your claim will be handled by a knowledgeable RV expert who understands the intricacies of your rig. These RV claim experts are the best in their field and will work quickly to get you back on the road again.
Get The Right Coverage For Your RV
Stay clear of any bumps on the road with the proper protection for your RV. At Quick RV Insurance, we work with leading RV insurance companies to find you the best rates and coverages for your rig. Speak with an RV Insurance Specialist today at (866) 501-7335 or get a free online quote here. We'll help you find an RV Insurance policy that fits your needs and give you better peace of mind.
---
The information in this article is obtained from various sources and is offered for educational purposes. It should not replace manuals or instructions provided by the manufacturer or the advice of a qualified professional. No warranty or appropriateness for a specific purpose is expressed or implied.