6 National Parks to Visit During the Winter Season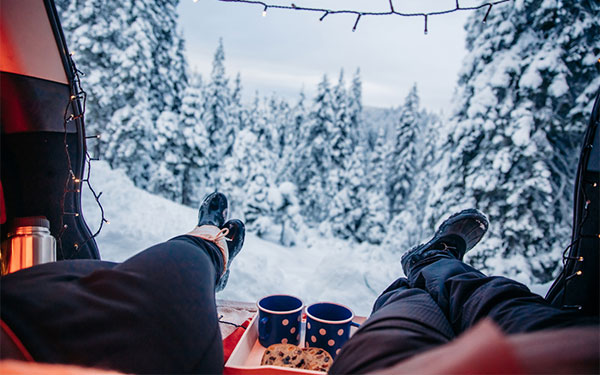 Traveling during winter is a great way to experience a different side of many of the nation's most popular national parks. And because most campers decide to stay home once temperatures drop, you can explore these environments without worrying about crowds. So, if you're ready to escape this winter, here are six national parks to visit during the winter season.
1. Rocky Mountain National Park, Colorado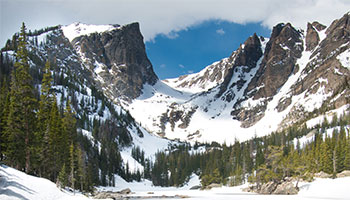 With some of the highest elevations located in the country, it's no secret that Colorado is an ideal winter destination. Known for its picturesque mountain range, Rocky Mountain National Park is one of Colorado's most visited parks. And if you're planning on traveling during the winter season, prepare for stellar views of snow-covered peaks.
When visiting Rocky Mountain National Park during the winter, keep in mind that your options for finding sites within the park may be limited. During the off-season, only the Moraine Park Campground remains open for RVs on a first come, first served basis. However, additional sites closer to Estes Park—a town at the base of the Rocky Mountains—remain open in winter, such as Manor RV Park.
2. Olympic National Park, Washington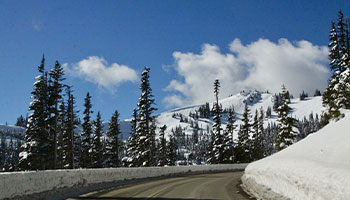 Located in the Pacific Northwest, Olympic National Park has a little bit of everything—from rainforest terrain, waterside campsites, and snow-capped mountains. Visitors can enjoy all sorts of winter activities during the winter season, such as skiing, snowshoeing, and more. Due to its large area and varying landscapes, you can decide on the type of experience you wish to have when the weather permits.
Olympic National Park has seven campsites open year-round on a first come, first served basis. However, only three are RV-friendly. These include the Ozette, Hoh, and Kalaloch campgrounds. Since the area is prone to snowstorms, plan ahead by checking each campground's open/close status.
3. Joshua Tree National Park, California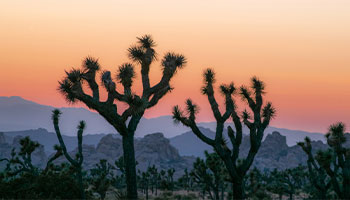 If you're hoping to get away for winter, but don't want to deal with snow chains or cold weather, then you should plan on heading toward Southern California. Located in the Mojave Desert, you'll find Joshua Tree National Park, which is a popular winter-season destination amongst campers.
During the summer, temperatures in the area can easily exceed 100 degrees, making exploring difficult. However, during the winter, Joshua Tree National Park experiences average highs in the 50 to 60-degree range. With both reservations and first come, first served options, the park has plenty of sites to suit your travel style.
4. Grand Canyon National Park, Arizona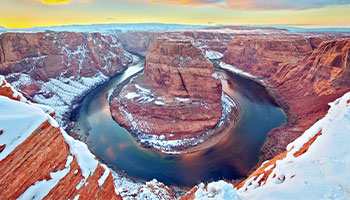 Known as one of the world's natural wonders, visiting the Grand Canyon should be on any adventurer's bucket list. Because of its popularity, the Grand Canyon National Park gets many visitors throughout the year. Still, you can expect to see fewer crowds during the winter season. During this time of year, expect to stay along the South Rim, as the area remains open year-round.
If you're looking for a campground with full hookups, you'll need to head to the Trailer Village RV Park on the South Rim. For a dry camping experience, set your GPS towards Mather Campground.
5. Everglades National Park, Florida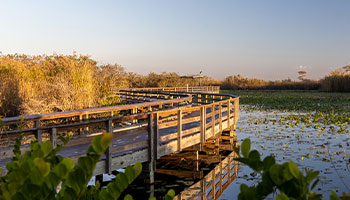 Pack your bags, snowbirds, because we're heading to Florida! As one of the ultimate snowbird destinations, countless RV parks are located throughout the state perfect for escaping the winter cold. And as a bonus, visiting during the winter means fewer bugs and significantly less humidity.
During the winter months, the Everglades National Park experiences high temperatures within the 70s and lows in the 50s, making it one of the warmest parks to visit during this time of year.  You can enjoy the sun, airboat tours, biking, and so much more when visiting. However, keep in mind that winter is the park's peak season, so make reservations in advance.
6. Big Bend National Park, Texas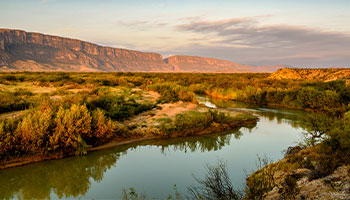 Named after a bend in the Rio Grande River that separates West Texas from Mexico, Big Bend National Park is an ideal destination no matter what time of year. Not only is the park full of wildlife and nature to explore, but it's also a warmer option on our list. On average, the park's daily high temperatures range from 60 to 70 degrees Fahrenheit.
Although its beauty is endless, this park doesn't get as many visitors as others on our list, making it a great destination to avoid crowds. Big Bend National Park has four campgrounds on a reservation basis, with the Rio Grande Village RV Park being the only campground with full hookups.
Stay Protected No Matter Where You Go 
A specialized RV insurance policy is essential if you travel toward snow-capped mountains or warmer deserts this winter. Unlike a standard auto policy, an RV policy can include additional coverage types specifically meant for motorhomes, such as full timers liability coverage or RV roadside assistance. To learn more about the various RV coverage available,  call our RV specialists today at (866) 501-7335.
---
The information in this article is obtained from various sources and is offered for educational purposes. Furthermore, it should not replace manuals or instructions provided by the manufacturer or the advice of a qualified professional. No warranty or appropriateness for a specific purpose is expressed or implied.