Keep Warm With These 5 Winter Camping Recipes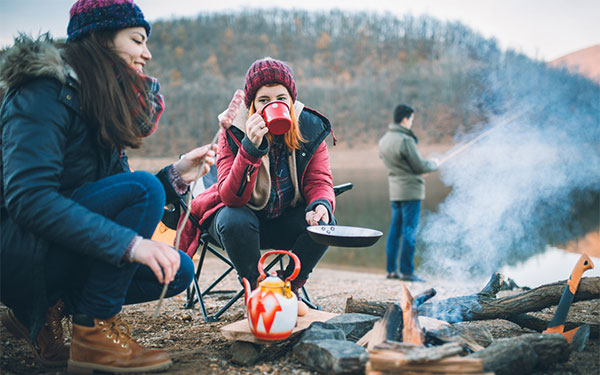 Winter camping is all about preparation. While fresh snow can make any destination look like a winter wonderland, camping in colder conditions requires sufficient preparation—especially when it comes to food. If you'll be camping or RVing this winter, you'll need a fresh list of winter camping recipes. Here are a few of our favorites that we've come across.
1. Apple Oatmeal with Seeds
Starting off our winter camping recipes list is a breakfast staple: oatmeal. While nothing fancy, oatmeal is the perfect meal to have with you when camping because it's inexpensive and easy to make. In addition, it's easy to improve its flavor by throwing in some fresh fruit and spices.
Ingredients
2 cups of water
1 cup of oats
1 apple, diced into cubes
2 tablespoons of hemp, flax, or chia seeds
2 tablespoons of syrup
½ teaspoon of cinnamon
¼ teaspoon of nutmeg
¼ teaspoon of allspice
A pinch of salt
Instructions
1. Using a medium pot, heat the water and salt until boiling.
2. Once the water is boiling, add in the oats and simmer for around 10 minutes, or until the oats are tender. Stir occasionally.
3. Halfway through the cooking time, mix in your spices, diced apple, and maple syrup.
4. Remove from heat, serve, and enjoy.
Prep time: 2 minutes | Cook time: 10 minutes | Serves: 2
2. Dutch Oven Beef Stew
We can't have a list featuring winter camping recipes without incorporating a camping essential: the Dutch oven. With a little prep and some coals, a Dutch oven is a perfect companion to any camping adventure. For this recipe, we recommend preparing and separating your ingredients into airtight containers in advance.
Ingredients
2 pounds of beef stew meat, cut into chunks
1 onion, cut into chucks
6 diced small potatoes
3 diced carrots
3 cloves of garlic
3 tablespoons of tomato paste
1 tablespoon of cooking oil
2 cans of beef broth
Salt and pepper to taste
Instructions
Place Dutch oven over hot coals to preheat. Once hot, heat oil and cook beef until browned on all sides, about 10 to 15 minutes.
Add onions and garlic. Cook until onions begin to soften, about 5 minutes.
Stir in tomato paste and season with salt and pepper.
Slowly stir in beef broth, ensuring the liquid level is about 1 inch above the meat.
Cover and cook for about an hour, or until meat is tender.
Once the meat is almost done, add in your potatoes and carrots and continue to cook for another 20 minutes or so.
Remove from heat and serve.
Prep time: 20 minutes | Cook time: 1 hour and 30 minutes | Serves: 6
3. Brats with Peppers and Onions
Bratwursts are great for camping because they're easy to pack, taste delicious, and pair well with almost all veggies. If you have the space, bring along your favorite French roll or hot dog buns to give yourself that grilling feeling out in the snow.
Ingredients
1 pound of bratwurst
1 red bell pepper, sliced
1 green bell pepper, sliced
1 yellow onion, sliced
1 tablespoon of olive oil
Salt and pepper to taste
Sandwich rolls, if desired
Instructions
Place a cast-iron skillet over a campfire. Add in oil, onions, peppers, salt, and pepper. Mix to incorporate.
Add the bratwursts into the skillet. Cook until your veggies have softened and your bratwursts have reached the internal temperature indicated on their packaging.
Once fully cooked, remove from heat and serve on either a plate or on top of a toasted bun.
Prep time: 5 minutes | Cook time: 15 minutes | Serves: 4
4. Chicken and Sweet Potato Kebabs
After a full day of exploring, you're going to need a meal that will recoup your energy. This chicken and sweet potato kebabs dish is not only one of our healthy winter camping recipes, but it's also full of protein to keep you feeling full.  
Ingredients
1 pound of boneless and skinless chicken thighs, cut into small pieces
2 sweet potatoes, diced into medium cubes
1 tablespoon of olive oil
1 tablespoon of lime zest
1 tablespoon of maple syrup
1/3 cup of lime juice
Salt and pepper to taste
Instructions
Add a grill grate over a campfire.
In a small bowl, whisk together lime juice, zest, olive oil, and maple syrup; transfer half to another bowl and set aside for basting.
Add chicken and sweet potatoes to the remaining marinade and let sit for at least 5 minutes.
After 5 minutes, thread chicken and sweet potatoes onto skewers. Season completed skewers with salt and pepper.
Grill over medium heat, turning occasionally and brushing with reserved marinade until chicken is fully cooked. Plate and enjoy.
Prep time: 20 minutes | Cook time: 25 minutes | Serves: 4
5. Campfire Mac and Cheese
Who says you can't have home favorites when out camping? If you're a fan of cheese, then you'll love this campfire mac and cheese recipe. Use this as your entrée or as a side dish—either way, you're in a delicious plate. For convenience, you can also prep the macaroni ahead of time and simply melt the cheese over the campfire.
Ingredients
1 ½ cups of elbow macaroni
Alfredo sauce, about half a jar
½ cup of sharp cheddar cheese
½ cup of parmesan cheese
½ cup of mozzarella cheese
¼ to ½ cup of whole milk
Salt and pepper to taste
Instructions
Begin by cooking your macaroni according to its package directions. Drain, then rinse with cold water.
Place a medium cast-iron pot over coals and whisk together the milk, alfredo, three cheeses, salt, and pepper, stirring until smooth.
Add macaroni to the cheese mixture and cook until heated through then serve.
Prep time: 20 minutes | Cook time: 10 minutes | Serves: 4
More Camping Recipes
Want to discover more recipes that are perfect for camping? Check out our RV Recipes for all kinds of camping meals that go great with any outdoor adventure. Be sure to tag us on Instagram if you bring one of these recipes to life. For more general RV information, click here.  
---
The information in this article is obtained from various sources and is offered for educational purposes. Furthermore, it should not replace manuals or instructions provided by the manufacturer or the advice of a qualified professional. No warranty or appropriateness for a specific purpose is expressed or implied.