Top 6 Snowmobiling Destinations in the U.S.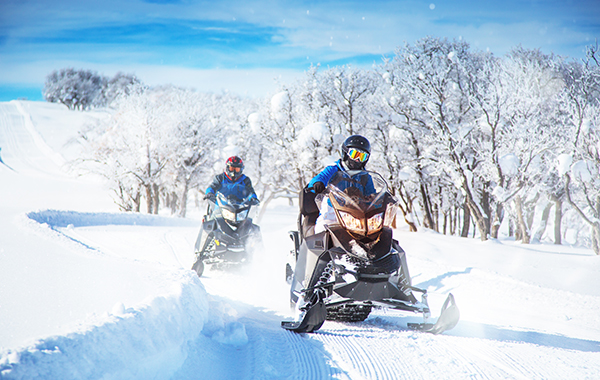 Snowmobiling has become more and more popular over the past decade and it's no surprise why. (In fact, Nick Jonas just bought his wife, Priyanka Chopra, a snowmobile for Christmas! Check it out here.) There's nothing quite like the feeling of zooming down white slopes, icy wind billowing around your gear and snow-covered pines whipping past you.
Whether you've just discovered snowmobiling as a new passion, or you're a long-time rider, check out some of the best snowmobile destinations in North America.
1. West Yellowstone – Montana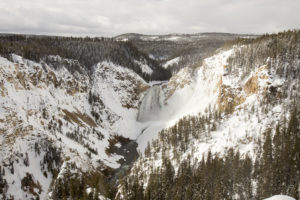 This part of Montana is just miles from Idaho and Wyoming, with natural wonders all around. West Yellowstone is a snowmobiling mecca full of endless trails and at an elevation of 2,000 feet above sea level. You also can't miss the stunning views of naturally formed "tree goblins," or trees that have been completely covered in snow. The wide scope of natural elements that you encounter on these winter wonderland trails will defy your expectations of an epic snowmobile adventure.
2. Heber City – Utah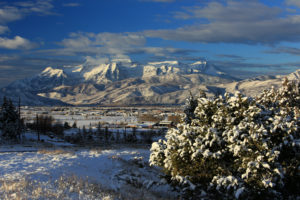 It's no secret that Utah has great destinations for snowboarding, skiing, and of course, snowmobiling. Go about 40 minutes south of Salt Lake City to find Daniels Summit Lodge in Heber City. This is the base camp for a network of over 200 miles of trails that snowmobilers of all levels can scope out and enjoy. To make it easy for you, the lodge has hundreds of vehicles in its inventory available to rent. They also provide guided tours through Strawberry Valley and alongside Strawberry Ridge.
3. Elliot Lake – Canada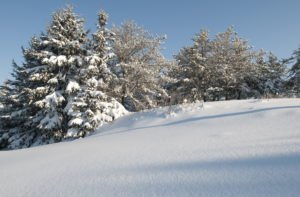 Nowhere does winter quite like Canada, and Elliot Lake has one of Ontario's longest snowmobile seasons. In fact, snowmobiling is one of the city's most popular attractions due it's five groomed trails spanning over 165 miles. The communities surrounding the lake are snowmobile-friendly, as well, so you don't have to worry about riding out too far. If you plan to RV from the U.S. into Canada, check out our guide to crossing the Canadian border.
4. Mount Snow – Vermont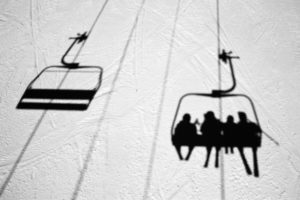 The hills and valleys of Mount Snow are definitely a snowmobile destination you want to check off your bucket list. Located in the Green Mountains, you can take a guided tour on a new Polaris snowmobile for an exhilarating adventure. Snowmobile Vermont shows you the best trails for novices and expert riders alike, as well as provide you with helmets and boots for protection. Riders as young as four years old are welcome, but just make sure all beginners take a safety course before hitting the snow.
5. St. Germain – Wisconsin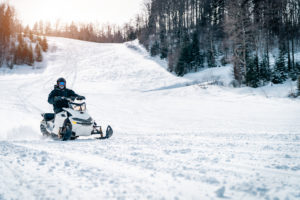 If you're a true winter lover, then St. Germain is the place for you. Black Bear Lodge is the home base to Wisconsin's mecca of snowmobiling, ice fishing and cross-country skiing. Organized and maintained by largest the snowmobile club in Wisconsin, this remote woodsy area is most well-known for its Bo-Boen Club snowmobile trails. Enjoy winter white slopes, snow-covered pines and a true snowmobile adventure.
6. Steamboat Springs – Colorado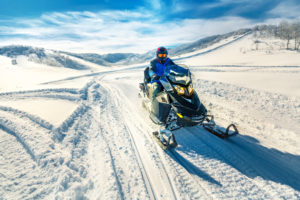 Every winter, Colorado's Continental Divide gets blanketed with an average of 347 inches of snow. So, you can imagine how dreamy this destination is for snowmobilers everywhere. At Steamboat Springs, you can choose from a variety of tour options and package deals available typically all the way through April. With these trails, you can expect challenging terrain and expansive views of the Routt National Forest.
Snowmobile Insurance
Many of the destinations listed offer snowmobiles for rent. However, if you choose to bring your own snowmobile out of storage this winter, make sure you have the proper coverage. Snowmobile Insurance varies by state, but it's important to have it no matter where you ride. Our Insurance Specialists can help you find the right coverage at the right price. Call today at (866) 501-7335 for a free quote and more details.
---
The information in this article is obtained from various sources. This content is offered for educational purposes only. The definitions, terms and coverage in a given policy may be different than those suggested here. No warranty or appropriateness for a specific purpose is expressed or implied.