What You Need To Know Before Crossing The Canadian Border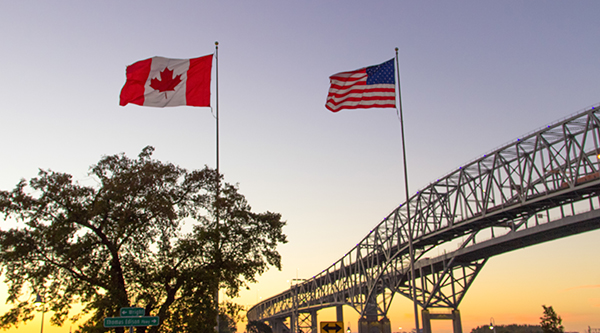 Are you planning an RV road trip to Canada this year? If it's your first time traveling there in your RV, you may have some questions. What do I need to cross the Canadian border? How will my cell phone service work? Does my RV Insurance travel with me? Luckily, we have some answers for you.
Prepare Yourself For Anything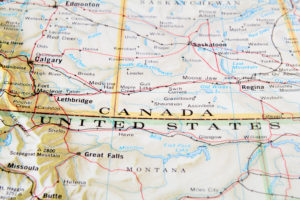 If this is your first time crossing the border, it's normal for you to be a bit anxious. Each time you cross will be a slightly different experience depending on which location you cross at and what agents are on duty. You should plan to give yourself at least an hour of extra travel time. You may face long lines, delays, difficult agents, confiscation of food, an inspection of your car or RV, etc.
Don't fret, though. If you follow our tips and suggestions below, you'll increase your chances of a smooth border crossing into Canada. As with anything, it's helpful to be prepared and know what to expect.
Paperwork Required To Cross The Border
Before hitting the road, it's important that you have the correct paperwork with you, including:
A passport for all passengers crossing the border
Proof of insurance and up-to-date registration for all vehicles crossing the border
If applicable, vaccination records for cats and/or dogs, specifically a current rabies certificate
Your license plate number, either written down or memorized
What Will Border Patrol Ask You?
Similar to going through international customs at an airport, you will be asked some questions about your trip, which may include:
Why are you entering Canada? (i.e., vacation or business)
Where are you headed?
How long will you be in Canada?
Where do you live?
What do you do for a living?
Do you have any pets on board?
Who is traveling in the vehicle?
Do you have any alcohol on board?
Do you have any firearms?
Are you bringing any goods or gifts?
What You Cannot Bring Across The Border
The last few questions above bring us to the items that you cannot bring when crossing into Canada, including:
Firearms and weapons (unless they're for hunting and include the proper paperwork)
Ammunition, fireworks and explosives
More than CAN $10,000
Firewood or plants
For more information about bringing a firearm into Canada, visit here.
In addition to the items listed above, you typically cannot bring the food or drink items noted below across the border without declaring them:
Eggs and dairy products
Fresh produce
Excessive alcohol (more than 2 bottles of wine, 1 40 oz. bottle of liquor and 24 cans of beer per adult)
Excessive tobacco products (more than 200 cigarettes and 50 cigars)
Other Canada Border Crossing Tips
There are 26 border crossing locations and each one is going to be different. Wait times, rules and restrictions may vary, so the smartest thing you can do is research your crossing point in advance. Some border patrol agents may not care about fruit and vegetables you bring, while others may confiscate all the fresh food in your RV kitchen.
Besides hoping for a friendly agent at your next crossing, you can follow these additional tips:
Roll down your windows so all passengers are clearly visible
Keep your seatbelts buckled
Remove your sunglasses so agents can see your eyes
Stay calm and relaxed and make eye contact when answering questions
Answer all questions truthfully and do not lie
Always be polite and cooperative
Stay in the car/RV lanes, not the truck lanes
Avoid stocking up on groceries before crossing the border
Plan ahead so you know where you're going and how much time you're spending at each destination
To attempt to avoid long wait times or delays, you can check the CanBorder app or the Canadian Border Services Agency (CBSA) website for the latest updates and information.
Other International Travel Tips To Consider
Although you're traveling to another country in an RV instead of an airplane, you'll still need to ensure you have access to the essentials. Before your road trip, make sure you understand how your cellular service, Health Insurance, Auto Insurance and RV Insurance work while you're in Canada. Additionally, it's important to remember that Canada uses the metric system.
Cellular Service. Speak with your cellphone provider about your phone service and Internet access in Canada. If your carrier does not include Canada in their domestic talk and data plans, you may be charged roaming fees.
Health Insurance. Check with your healthcare provider to see if your policy covers you internationally. If not, consider purchasing Travel Health Insurance because Canada does not accept U.S. Health Insurance. You will also be required to pay up front at a Canadian hospital or doctor's office in the event you need medical attention.
Auto and RV Insurance. Depending on your carrier, policy and coverage, your Auto and RV Insurance may not travel with you into Canada. It's best to call your agent before crossing the border, so you fully understand when and where you're covered. If you'd like to add extra coverage to your policy, speak with an Insurance Specialist at (866) 501-7335.
Metric System. In Canada, the speed limit signs are in kilometers instead of miles. In other words, 80 km/hr is only 50 mph, so don't get confused! You don't want to end up with an expensive speeding ticket.
Hopefully, you're feeling more confident about crossing the border and beginning your adventure into Canada. The country is a beautiful place for RVers to explore, so follow the rules, hit the road and have fun!
---
The information in this article is obtained from various sources. This content is offered for educational purposes only and does not represent contractual agreements. It should not replace instructions or the advice of a qualified professional. The definitions, terms, and coverage in a given policy may be different than those suggested here. No warranty or appropriateness for a specific purpose is expressed or implied.