The Essential RV Checklist You'll Want to Check Twice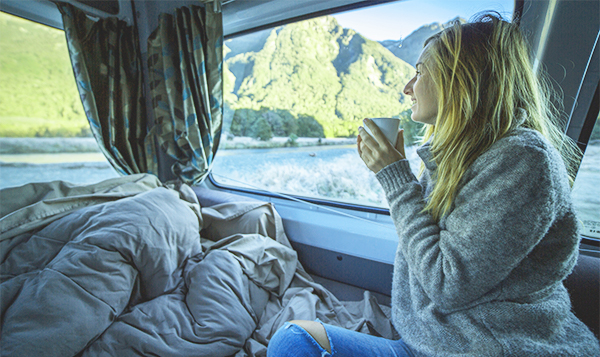 An RV checklist is a simple way to ensure you have a successful road trip. In fact, a list is crucial if you want to be prepared for the unknown and uncontrollable. Leaving everything to memory can lead to disaster, whether you're an RV veteran or a newbie. Plus, you don't want to have to make any unnecessary stops to pick up forgotten items that you left at home. Therefore, it's always best to have an RV checklist with everything you know you'll need (and some extras, too). It doesn't hurt to double and triple check it, either. If you're unsure where to start, or if you don't want to create your own RV checklist from scratch, feel free to use ours below.
The following RV checklist is a nice round-up of all the essentials you should never forget:
Before the Trip
Call the campsite ahead of time to confirm your booking
Check weather reports for your destination
Figure out how much cash you need
Secure any loose items in your RV
Secure items in the refrigerator
Make sure your generator works
Anchor the blinds
Close the sink drain
Make sure the sink tops are on
Put the TV antenna down
Close the windows
Drain the holding tanks
Essential Items
Warranty documents
Insurance/registration for RV and towed vehicle
Relevant membership cards
Cell phone with charger
Strong rope
Duct tape
Extra fuses in varying sizes
Fuse puller
Black water chemicals
Electrical hookups
Sewer hookups
Drinking water hose
Leveling blocks
Fire wood/fire wood cutting tools
Lighter fluid for charcoal
Glue, superglue, epoxy
WD-40
Sunscreen
Umbrella
Toiletries
Towels, hand towels and washcloths
Bedding
Clothing (Have a separate RV checklist based on weather and activities)
Detergent, sponges and rags
Tissues
Bug spray
Folding chairs and tables
Kitchen Items
Food (Have a separate RV checklist based on the number of people)
Drinks/snacks for the drive
Cups and mugs
Can openers, bottle openers, knives
Paper plates, bowls, plastic cups
Pots and pans
Tablecloth for campground benches
Cooler(s)
Emergency Items
Maps and GPS
RV owner's manual
Extra vehicle keys
First aid kit
Flashlight
Extra batteries
Disposable rubber gloves
Basic RV toolkit (screwdrivers, pliers, wrenches, tire gauge etc.)
Fire extinguisher
Lighter/matches
Flares/emergency markers
Walkie-Talkies
Medication
Tow Vehicle Checklist
Check lights
Check fluids
Attach safety cable, tow wires
Check gauge
Adjust mirrors
Secure hitch
Secure everything inside tow vehicle
Check fuel level
Check tire pressure
Before Leaving
Retract all awnings
Stow all your things from the 'patio'
Store mats and rugs
Secure bicycles, ATVs, etc.
Drain holding tanks
Add fresh water
Disconnect sewer
Disconnect water
Secure all loose items, including refrigerated items
Disengage parking brake
Close ceiling vents
Disconnect TV cable
Disconnect power cable
Turn off propane
Remove wheel chocks
Shut off gas pilot lights on stove/oven
Shut off furnace and A/C
Stow TV and TV shelf
Check tire pressures
Stow entry steps
Check brakes, lights and signals
Do a final walk around
Check hitch and tow vehicle again
RV Insurance
Only Specialty RV Insurance provides the specific coverage necessary to protect a vehicle that's also a home. Contact QRV Insurance at (866) 501-7335 for a free quote and to learn about the options that fit your lifestyle. There's no reason to overpay for RV Insurance. Our Insurance Specialists find you the coverage you need at a rate that fits your budget.
---
The information in this article is obtained from various sources. This content is offered for educational purposes only and does not represent contractual agreements, nor is it intended to replace manuals or instructions provided by the manufacturer or the advice of a qualified professional. The definitions, terms and coverage in a given policy may be different than those suggested here and such policy will be governed by the language contained therein. No warranty or appropriateness for a specific purpose is expressed or implied.