Our Top Picks: RV Rental Companies for Your Next Adventure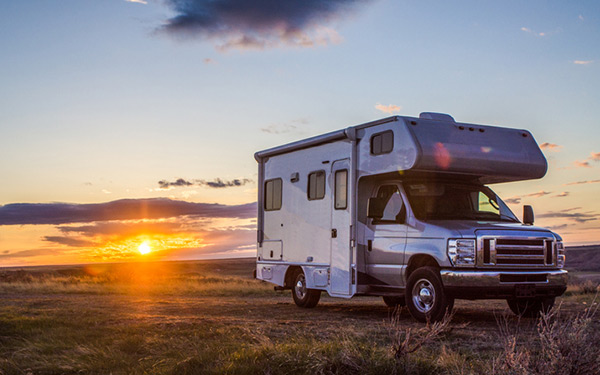 RVing has become increasingly popular over the past couple of years. As an alternative to traditional camping or flying, RVs provide a unique experience that is truly unmatched. Maybe you've seen RVs out and about and would like to try one yourself. But with so many RV rental companies to choose from, how do you know where to start?
If you're interested in the RV experience but aren't ready to purchase your own, we put together some information on four popular RV rental companies.
What Type of RV Should You Rent?
When you hear the term "RV," you may imagine a large, fully loaded motorhome that resembles a coach bus. However, campervans, pop-up campers, fifth-wheel trailers, and truck campers all fall under the RV classification. RVs can be broken down into four classes: Class A, Class B, Class C, and towable RVs.
Class A – Class A vehicles are the largest and most spacious RVs available. These full-size motorhomes range in length from 21-45 feet and typically come fully equipped with built-in amenities.
Class B – Class B vehicles are also known as campervans or conversion vans. These are the smallest RVs you'll find, ranging from 17-20 feet. Because of their size, Class B RVs are ideal for sleeping one or two people.
Class C – Class C RVs are more spacious than Class Bs and are easier to drive than Class As. These range in length from 20-31 feet and usually come with a kitchenette and bathroom.
Towable RVs – Towable RVs include travel trailers and fifth-wheel trailers. These RVs are detachable trailers that are towed by either a truck or van. Depending on the size of the trailer, you may require a special hitch or heavy-duty truck.
Where to Rent an RV
Choosing the best RV for your trip will depend on your destination, trip length, and the number of people you'll be traveling with. Between these RV rental companies, you'll find a wide range of rental options, availability, and features suitable for any getaway.
1. Outdoorsy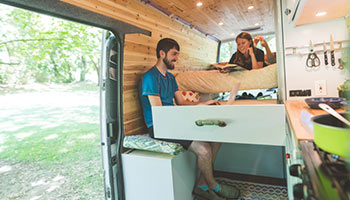 Often referred to as the "Airbnb" of the RV renting world, Outdoorsy follows a peer-to-peer model that connects RV owners with hopeful RV renters throughout the country. As an RV renter, this means you'll have access to a variety of RV models, unlike with traditional RV rental companies. In addition, with countless listings across the United States, finding a rental that suits your needs nearby is a simple process.
Outdoorsy Pros
A large variety of rental options suitable for all trips and budgets.
24/7 RV rental roadside assistance.
Some owners offer RV delivery.
Outdoorsy Cons
Policies may vary slightly between owners.
Limited one-way trip options.
Not all owners keep their vehicles in perfect condition.
2. RVshare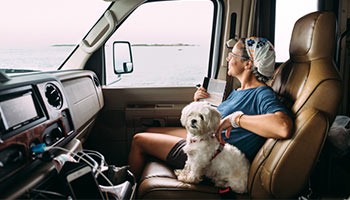 Like Outdoorsy, RVshare is another RV rental company that follows a peer-to-peer model. RVshare makes it easy to search for your ideal RV with useful filters, including pet-friendly and deliverable rentals. Using their website, you can compare models and price points to narrow down your choices. Once decided, you can contact the RV owner directly to arrange terms and set a pick-up date.
RVshare Pros
Large selection of RVs from across the country.
Pet-friendly and deliverable options.
24/7 emergency roadside assistance on every booking.
RVshare Cons
Limited one-way trip options.
Not very hands-on. RVshare is only a middleman between renter and owner.
Need two separate accounts to list and rent on the site.
3. Cruise America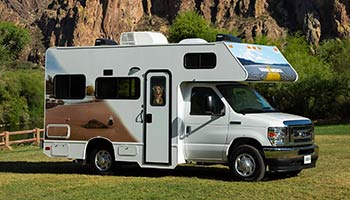 If you're looking for a traditional renting experience, Cruise America is the way to go. Rather than renting from owners themselves, you'll be renting from a corporate fleet of Class C RVs. Cruise America offers vehicles that range in occupancy from three to seven people. Although they have a limited variety of rental vehicles, all RVs come equipped with a toilet, shower, and cooking facilities. They aren't located in every state but do cover most popular travel destinations and national parks.
Cruise America Pros
One-way pricing is available.
Consistent renting experience, policies, and fees.
The company regularly offers RV rental deals.
Cruise America Cons
Not located in every state.
Limited renting options—no Class A or Class B RVs.
Must purchase or rent living essentials separately.
4. Escape Campervans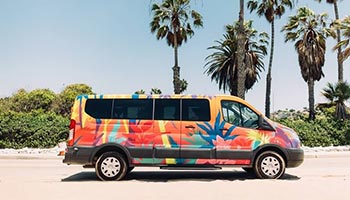 As the name suggests, Escape Campervans' fleet consists of Class B campervans, but they also have Jeep campers available in a few cities. While their locations are limited, this company is popular among festival-goers for their brightly colored, hand-painted vehicles. Being smaller in size, keep in mind that these rentals do not come with a toilet, kitchen, or shower.
Escape Campervans Pros
Low minimum age rental requirements.
Multiple add-ons are available such as rooftop sleepers.
Round-trip and one-way options are available.
Escape Campervans Cons
No delivery options.
Only 13 locations across North America.
Vehicles have limited amenities.
Do I Need Insurance for My RV Rental?
When renting an RV, it's important to ensure that you're protected throughout your trip with the proper insurance. Some RV rental companies include basic insurance within their rental costs, with others it's an add-on cost. If you have auto insurance, that might give you some coverage as well. It's always best to speak with an insurance specialist. If you have any questions regarding RV insurance, give our specialists a call at (866) 501-7335 to go over all your coverage options.
---
The information in this article is obtained from various sources and is offered for educational purposes. Furthermore, it should not replace manuals or instructions provided by the manufacturer or the advice of a qualified professional. No warranty or appropriateness for a specific purpose is expressed or implied.