Top 8 Tiny Trailers and Compact Campers Under 2,000 Pounds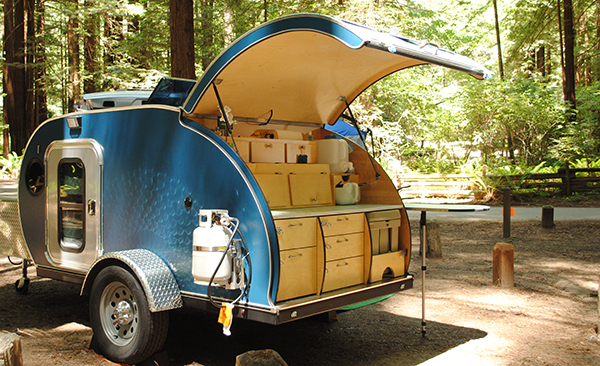 Have the great outdoors been calling your name? Now that summer is practically here, maybe it's time to finally invest in an RV. If you're looking for something lightweight and affordable, there are plenty of options out there. We've compiled a list of the best travel trailers and compact campers under 2,000 pounds (dry weight) and with a base price starting below $25,000. Even with a smaller budget, a travel trailer or compact camper can come with a kitchenette, modern features, and still be towable by most medium-sized vehicles. Check out your options below and invest in your next great adventure!
1. Timberleaf Teardrop Trailer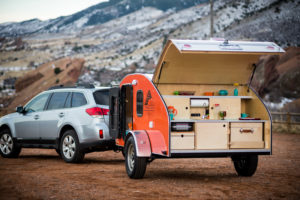 This travel trailer may be small, but it has all the right details. The best feature about the Timberleaf Teardrop Trailer? Its huge skylight! You can sleep under the stars and watch the sunrise everywhere you go. The travel trailer features a fully insulated cabin, a clear anodized top and enamel-baked aluminum siding. It also has a conveniently designed cooking space made of Baltic Birch at the back of the trailer. The mini kitchen includes a sink and faucet, LED lighting, and an optional stove and custom cooler. It has all of that and still only weighs about 1,400 pounds. That means you won't need a large truck or SUV to tow it on your next road trip. The Teardrop Trailer comes in a variety of exterior colors and more than fifty retro-inspired laminate counter top options for the kitchen, making it perfectly customizable to your preferences.
Base Price: $19,750
2. Taxa Cricket Camper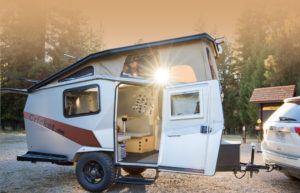 If you want more than just a sleeping and cooking space, consider the Taxa Cricket Camper. Lightweight at about 1,500 pounds, the Cricket Camper is towable by most four-cylinder engines and still has enough sleeping room for two adults and two children. The compact camper has a NASA-inspired design that includes integrated plumbing and electrical systems. It also has four swing windows with shades and screens, a huge picture window, a water heater and an outdoor shower system. You can add custom features like window-mounted AC, a top-loading fridge and a nylon patio awning. The Cricket Camper is everything you need for your next grand outdoor adventure.
Base Price: $23,000
3. Happier Camper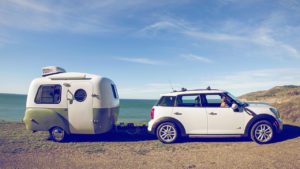 The Happier Camper is where retro meets modern. It may seem like a small vintage trailer, but it has unique adaptive finishes that give it a modern twist. The modular interior system allows you to easily customize your travel trailer, including modular seating that you can use both inside and outside. Whether you're going glamping with friends or accommodating some last-minute guests, you'll have enough space to sleep five adults. They'll also be able to enjoy the view from the camper's large panoramic windows. The Happier Camper includes a huge rear hatch, wide entry door, honeycomb fiberglass floors and two AC outlets. At only 1,100 pounds, the Happier Camper is light as a feather, so you can hook it up to almost any vehicle and fit it into a single parking space. Choose from over seven unique colors and take a little bit of happy with you wherever you go.
Base Price: $18, 950
4. Taxa TigerMoth Camper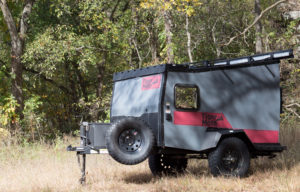 If you thought the previous campers were lightweight, think again! The Taxa Tigermoth Camper weighs in at 900 pounds, so you can drive it wherever you go. It's the perfect compact camper for going off-grid because of its built-in electrical system, LED lights, 12V outlets, water system and optional solar panels. With just enough room to sleep two adults, you can grab your partner and escape to the wilderness for over seven days! The Tigermoth Camper also comes with a pull-out kitchen and storage and can fit in most standard garages. Customize the camper with an outdoor shower tent, portable toilet or mesh screen door for the large side hatch.
Base Price: $12,900
5. Beanstock Bean Trailer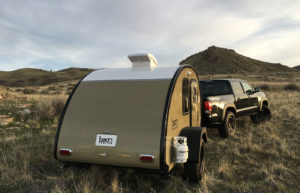 This simple travel trailer is an upgrade to the classic aluminum teardrop with modern features like adjustable shelves and storage, Bluetooth speakers, and a curb-side lift door with port window. The Beanstock Bean Trailer has a 1,500-pound compact design that stays true to the teardrop shape, while being spacious enough to sleep two adults. The queen-size mattress can also be turned into a couch to make room for a seating area. The Beanstock has a galley kitchen that can be accessed from the back of the travel trailer and includes a dome light, cabinetry, laminate countertop and outlets. You can choose from a range of neutral colors for the exterior and customize the kitchen by adding a sink, cooler tray and propane stove.
Base Price: $18,995
6. High Camp Teardrop Trailer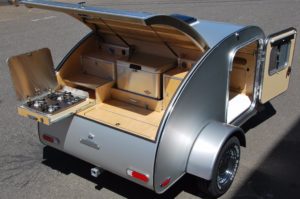 This fun little High Camp Teardrop Trailer has everything you need for the perfect weekend getaway. Weighing in at 1,450 pounds, the High Camp includes a modern kitchen in the back and enough room to sleep two on a queen size mattress. Also, it has the largest manufactured doors available on any teardrop trailer. The kitchen is the highlight of this travel trailer and has all the modern necessities. There's a slide out three-burner stainless steel cooktop, a slide out Coleman cooler, LED overhead lighting and plenty of storage space. Almost any minivan, crossover or small SUV can tow the High Camp Teardrop Trailer and it's great for off-roading.
Base Price: $16, 850
7. Dinky Dub Sleeper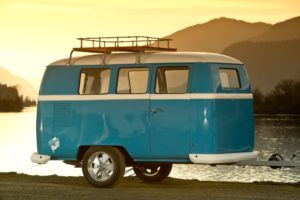 In the Dinky Dub Sleeper, you can enjoy a queen size mattress, views from panoramic windows and lots of storage space. Also, it's super lightweight at only 980 pounds. If having a kitchenette is high on your priority list, you can also add that outdoor feature to the Sleeper. The kitchenette option comes with a two-burner stove, a cooler space and a pass-through window so you can chat with your camping buddies while you cook dinner. The outside of the Dinky Dub Sleeper has a great vintage charm and double back doors for a spacious feel. It's sure to make you feel both nostalgic and adventurous every time you hit the open road.
Base Price: $14,930
8. Riverside Retro Travel Trailer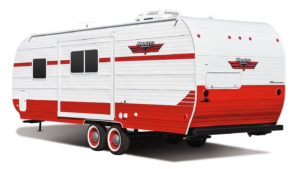 This tiny travel trailer weighs in at only 920 pounds, while still providing you with the modern essentials. For instance, enjoy showering outside with your outdoor speakers blasting! The Riverside Retro Travel Trailer also boasts a gas/electric refrigerator, sleeping room for two people and it has a fully customizable exterior and interior. There are three packages to choose from, including the Retro Interior Package, the 177SE Package and the Retro Jr. Package. This travel trailer has a sleek and classic look that will make you want to go RVing every weekend!
Base Price: $19,000
There are so many options for affordable and modern travel trailers and compact campers. If you're looking for some that are still affordable but also eco-friendly, check these out here. All of these RVs can be customized in some way or another to truly make them your own. Make sure you also consider the cost of Specialty RV Insurance when you're deciding on which RV to purchase. Speak with an RV Insurance Specialist today at (866) 501-7335 to get the best RV coverage for the lowest price.
---
The information in this article is obtained from various sources. This content is offered for educational purposes only and does not represent contractual agreements. It should not replace manuals or instructions provided by the manufacturer or the advice of a qualified professional. The definitions, terms and coverage in a given policy may be different than those suggested here. Such policy will be governed by the language contained therein, and no warranty or appropriateness for a specific purpose is expressed or implied.