Eco-Friendly RVs Can Be Budget-Friendly Too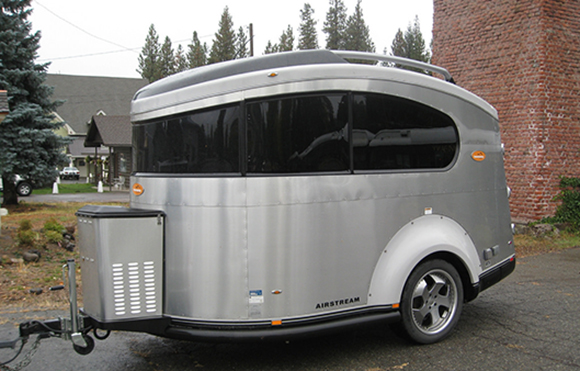 Historically speaking, RVing has never been an eco-friendly activity, but younger (and greener) RVers are changing the game. Already, up to 20% of RVs are powered by solar panels and organic RV products are selling well among this demographic. For RV owners, this shift to more environmentally safe products is not just about avoiding leaving a carbon footprint. Often, biodegradable products are gentler on an RV's delicate plumbing system. If that's true, imagine the efficiency of completely eco-friendly RVs.
RVs are changing too. Heavy and cumbersome motorhomes and travel trailers of the past were gas guzzlers. Today, most motorhomes are lighter and therefore much more gas-efficient. Based on current sales trends, it's quite clear that the younger generation will buy up electric, eco-friendly RVs in large quantities when the technology catches up to the demand. Winnebago announced in May 2018 that it will be launching the first all-electric and zero-emission commercial vehicle, a huge bus that will be set on a completely electric chassis. Winnebago's partnership with Motiv, a leader in medium-duty electric vehicles, is foreshadowing of much simpler, lighter and more accessible RVs to come.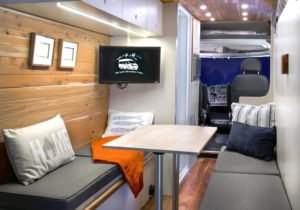 There is currently no American manufacturer with a powertrain powerful enough for an all-electric RV. Winnebago has come close with its electric experiment, but that vehicle is still in the works. However, once it's released, RVers will be disappointed because it is designed to be a commercial vehicle, not a passenger RV. Still, the innovation is a nod to what lies ahead in the RV industry's future.
All-Electric RVs in Europe
Don't think that all electric RVs don't exist at all. Two German companies, EFA-S and WOF, are debuting the world's first purely electric camper van in January 2019. It's called the Iridium RV and it will be market-ready the same year. To create this electric RV, EFA-S contributed its drivetrain and battery technology, while WOF contributed its trusted wider commercial vehicle chassis. The two companies then commissioned Maurer Fahrzeugbau, a Swiss manufacturer, to create the camper van's bodywork. A price hasn't been released yet, nor has a date for when it will be (if ever) released in the United States. Still, we are hopeful.
Nissan has also launched a pair of electric camper vans: the NV200 and the NV300. The NV200 is a zero-emission electric camper with a 40 kWh battery that fully charges in about an hour. A full charge using the onboard charger takes about 7.5 hours. Nissan's NV300 boasts a sleeper roof, bench seating and a compact but full kitchen. The sad part about these two campers is that they're not available in the U.S. and won't be any time soon.
Van Life Gets Cheaper & Greener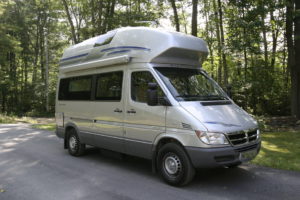 As we sit and wait for electric RV models to make an appearance here in the states, we can enjoy adventuring in travel trailers and compact campers so small that they can be pulled by most vehicles. The smaller size of these trailers and campers also allows for a lower price point in some cases. Smaller and lighter travel trailers hold the most promise for environmentally conscious millennials who are on a budget, but prefer eco-friendly RVs.
Right now, the hottest camper vans on the market are Class C 4X4 Mercedes Sprinter vans. Several manufacturers are selling the Sprinter as various van conversions, including Airstream's Interstate Nineteen, Winnebago's Revel, Jayco's Melbourne Prestige and others. These Sprinter vans typically come with a higher price point, but some companies are trying to fill the gap by producing more budget-friendly and eco-friendly RVs and camper vans.
Less expensive companies like Off Grid Adventure Vans are customizing vans (not necessarily the Sprinter) at a more affordable price. They sell the vans for around $60,000 versus the $100,000+ price-tag that's typically charged for more popular models. These units can be powered by solar panels and wind turbines, which are more eco-friendly ways to generate electricity. You can even enjoy a gourmet kitchen, full bathroom and home entertainment center. And if you don't want vinyl faux-wood floors, they'll install real hardwood for you–at a cost, of course. If you're thinking about customizing a van and making it as green as possible, a camper van may be the perfect option for you.
Eco-Friendly Trailers Under $20k
While camper vans are growing more and more popular, a $60k price-tag may still be a far cry from affordable for most RVers. For those of you who are trying to find a balance between budget-friendly and eco-friendly, we've got a great list for you. Here's our roundup of five of the best compact campers and travel trailers that have everything you need at a reasonable cost. All of them are lightweight and easy to tow, as well as modern and mostly customizable. Your budget will determine which of these eco-friendly RVs are right for you, so check 'em out below.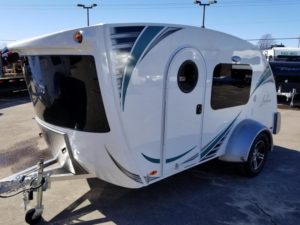 There are three Luna Trailers by inTechRV that are lightweight and easily towable. The Luna Lite is the lightest of these eco-friendly RVs. It can be pulled by most cars and trucks. The Luna Lite weighs in at about 1,500 pounds dry weight despite its all-aluminum and rugged frame. You can see how easy it is to set off on last-minute adventures in this incredible little trailer, which has a great kitchenette and a 32" TV. You also get to choose between Asteroid Silver or Space Blue. We love that this solar-prepped little guy is designed to go off-grid! The price is right, too, coming in between $14K and $19K.
The Droplet is chic, roomy and only weighs 950 pounds dry. It measures 6.6 feet wide and 13.5 feet long, making it easy to store in most home garages. That means even smaller vehicles like the VW Tiguan, Honda CRV or Subaru Impreza can pull this very modern trailer. Some would also say this trailer competes looks-wise with the expensive Airstream Basecamp. It's also made well, with a high-tech laminate often used on boats and aircrafts. Even the ventilation is inspired by a yacht–and maybe that's why it feels so luxurious despite its size. The Droplet may be light but it's a tough little toy. The price ($14K-$17K), the fuel efficiency and the queen-size bed are the best parts about owning one of these eco-friendly RVs.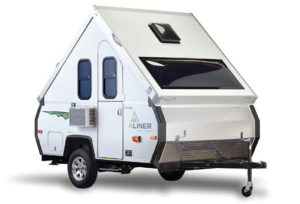 The smallest of the Ranger series, the Ranger 10 is the perfect transition from tent to camper. Millennials like the retro teardrop shape of the Aliner, which has remained the same since founder, Ralph Tait, built his first one in his garage during the early 1970's. This nostalgic travel trailer may be small, but it's fit for rugged terrain and has ample storage space. The best part of this little trailer is the price, which is around $17K! Yes, you can afford this!
This gorgeous Vintage Overland trailer has a welded steel frame, aluminum exterior and an interior made of Baltic birch. Each camper has solar panels, a very efficient generator, LED lights, USB ports and accessory outlets. The largest of the three models also boasts a queen memory mattress and pull-out writing desk. Don't expect to sleep more than two people in here at the same time, though. Also, note that the kitchen is nearly non-existent, but starting at $12.5K and 900 lbs, you may be able to live with good old-fashioned campfire cooking or spend a little bit of money to build out the kitchen yourself. Basically, this trailer is a really amazing bed-on-wheels that can be upgraded with a little TLC. However, it is built to go off-road, so it's tougher than it looks!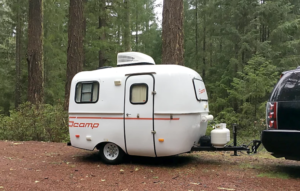 Built to order since 1972, Scamp trailers come in three sizes: 13', 16' and 19'. The smallest weighs in at about 1,200-1,500 pounds. Scamp trailers are small and convenient to tow with just about any size car. Their fiberglass shell is durable and easy to maneuver. Keep in mind not to compare this little trailer with an Airstream Basecamp or other luxurious RV, though. For one thing, the interior is minimalist and a little plain. However, a small investment and a DIY project can go a long way with a Scamp trailer. This great starter RV comes in many layouts and can be customized to fit your needs. For example, you can choose if you want a bathroom, depending on your budget. These trailers start at about $12K so you'll probably have some money left over for renovating it. With the right budget, you can make it your dream trailer.
Insuring Eco-Friendly RVs
Once you start sleeping in any vehicle it becomes part-house. So, it makes sense to buy Specialty RV Insurance versus standard Auto Insurance. You never know when an accident might happen and you'll want to have the best protection for your little home-on-wheels. Your RV will most likely not be fully covered if you only have Auto Insurance. After putting time and money into making your travel trailer or camper van uniquely yours, you won't want to insure it with just any company. A QRV Insurance Specialist will compare rates from the top carriers to find you the best coverage for the lowest cost. Call us today at (866) 501-7335.
---
This content is offered for educational purposes only and does not represent contractual agreements. The definitions, terms and coverages in a given policy may be different than those suggested here. Such policy will be governed by the language contained therein. No warranty or appropriateness for a specific purpose is expressed or implied.