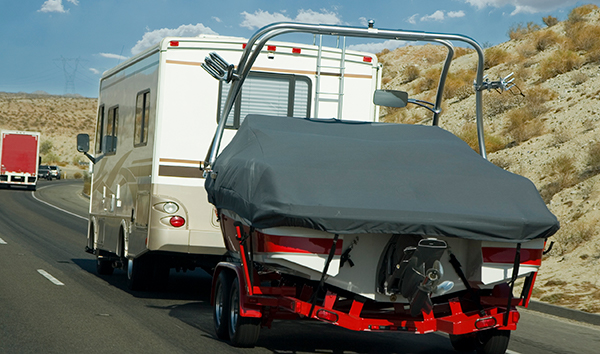 There are many reasons people buy a boat. Some people do it to make new friends and to join yachting and cruising clubs or fishing tournaments. Other people want a watercraft with which they can race friends. Some folks just want a simple paddle boat they can take fishing and tie to the top of their RVs. Really, the kind of boat you buy is very much about what kind of activities you enjoy doing. Regardless of which you like best, exploring fun in the water is a wonderful way to make the most of the outdoors. There are so many lakes, rivers and bays to visit that RVing will become all that much more fun. You just have to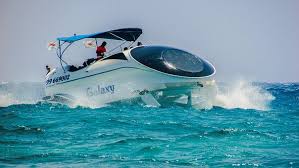 figure out which kind of boat is right for you.
How Many Kinds of Boats Are There?
There are quite a few types of boats. To determine which one is right for you, first decide which of the following activities you plan to do in the boat: cruising, racing or fishing? Some of these boats can even be used for all three of these main boating activities.
Cruising Boats – Some cruising boats are built to run overnight and have sleeping compartments, but many cruising boats are day boats built for performance boating only. Nope, you can't even nap here.
Watersports Boats – If you're a jet skier or to use a wakeboard, these intricate boats may be what you are looking for. Generally speaking, most people who buy these boats are experienced at one or even several watersports, so if you're a beginner, make sure you're investing in something that you will continue to use and enjoy. These boats are a little bit more complicated to operate than a cruising boat, but with a little practice, you should be fine.
Fishing boats – Hey, if you're just looking to catch some trout you may want something simple. Fishing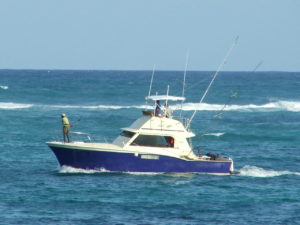 boats usually have plenty of deck space for fishing and open cockpits in the back. For this reason, you won't have as much seating as on a cruising boat, but some bigger fishing boats do come with sleeping compartments for overnight trips.
Start Small with Your First Boat
Your first boat should be easy to operate and maneuver. Avoid buying a huge one. Go small at first. You can always sell your first boat and buy a bigger one. With that said, don't buy something that won't accommodate your guests and water tpus. The bigger the boat, the more rooms and toilets it will have.
The good news about smaller boats is that they can be towed. What's more, they cost less. They also are much cheaper to maneuver because they are lighter in weight.
Just as it is with motorhomes and trailers, there is a large market out there for resale boats that are in good shape. Think of your first boat as a temporary commitment.
Should I Buy a Used Boat?
In some ways, buying a boat is no different from buying a car. Ideally, we all want a brand-new, top-of-the-line vehicle that's never been touched. When we buy new, we know we're getting that machine directly from the factory and that we're most likely not going to have any problems operating it at all. There's also a great warranty that may save you hundreds of dollars in repairs.
If you can't afford to buy a boat upfront, you can also finance your vessel with a boat loan, which is not all that different from a car loan. If you end up financing, do so with a marine lender that specializes in boats. Make sure to create a friendly relationship with your dealer, who will be your first source when you have problems with your boat or need to have it serviced/winterized. If your dealer seems aloof, you're probably not going to be able to rely on him/her when you really need help.
Buying a Used Boat
You may decide that it makes more sense to buy a used boat. This is often a wise decision, especially if you know you'll want to quickly go up in size once you get the hang of handling a small boat. Just as with any vehicle, however, there are more risks involved in buying a used boat as opposed to buying new. Even if you buy from a dealer, you can never be certain if the boat has been in an accident or has needed major repairs. Some people don't even buy their used boat from a dealer. Often, the best deals come from private owners, who may say anything to sell their boat. There are also brokers who specialize in selling boats for individuals. It's always best to hire an unbiased professional before finalizing a deal from individuals and brokers. To find a marine surveyor in your area, visit the Society of Accredited Marine Surveyors (SAMS) and the National Association of Marine Surveyors (NAMS).
Thing to Consider When Buying a Boat
Learn the differences and check out the price ranges for all kinds of boats. Be fairly certain about which type you'd like to buy. Knowing the names and the kind of activities they're best suited for will help you shop smarter.
After you decide on your type of boat, go for several test drives to see how different makes and models perform. Boats fall into the following categories:
Bass boat
Bowrider
Bowrider/Sportboat
Center Console
Convertible/Sportfisherman
Cuddy Cabin/Walkaround
Deck boat
Express Cruiser
Flats boat
High Performance
Jet boat
Jon boat
Motor Yacht
Open Express
Personal Watercraft
Pontoon boat
Ski boat
Trawler
Wakeboard boat
Make note of the following features as you compare boats:
Towing – Only boats under 8 feet 6 inches can be towed with a trailer without a permit.
Engine size – Heavier boats provide a better ride and require a larger engine, which likely uses more fuel. Decide what your priorities are: more power or more savings. You should compare fuel consumption rates too, especially under the ideal cruising speed.
Noise – The noise factor in a boat usually has little to do with the engine size. The same engine in two boats can have completely different ranges. Listen attentively during test drives. You should immediately be suspicious if you hear strange rattling or creaking sounds.
Leg room – Make sure it's not so restrictive as to prevent you from reaching all the controls easily.
Visibility – Check to see how well you can see in both a standing position as well as a seated one.
Maintenance – Although most of this information is in your owner's manual, you can always speak with the dealer or broker about what you need to do to keep your boat running smoothly. Just like a car, a boat needs oil and fluid changes. You may even want to ask and learn how to do these chores yourself.
The Ride – In general, just see how the ride feels. Do you feel comfortable? Does it have good pick up? How does it handle waves?
Construction – This is the main factor in price but it's also not one you want to skimp on. We're not just talking about looks either. Ruggedness, strength and quality keep a boat in good shape for a long time. For instance, check to see if fittings are stainless steel or not. Are the surfaces of the deck safe? Remember: If you don't buy a high-quality boat, you'll also have trouble re-selling it too.
Storage – Where do you plan to keep the boat during winter? Also, be prepared to winterize your boat so you don't incur expensive damages from busted pipes and rust.
Registration and Insurance
After you buy your boat, you'll need to register it with the state. If you have a large boat you may be able to document it as a U.S. Flag vessel (just ask the dealer). You'll also need to buy the right specialty RV insurance. Speak with a trusted Insurance Specialist (866.501.7335) about your seasonal or year-round usage of the boat and you will be given several free quotes to choose from. Buying the right insurance is important. Accidents do happen in the water and can be just as expensive if not more so than a car accident. Be safe and make sure you're protected with boat insurance from a reputable agent.
---
The information in this article was obtained from various sources. This content is offered for educational purposes only and does not represent contractual agreements, nor is it intended to replace manuals or instructions provided by the manufacturer or the advice of a qualified professional. The definitions, terms, and coverage in a given policy may be different than those suggested here and such policy will be governed by the language contained therein. No warranty or appropriateness for a specific purpose is expressed or implied.