Working & RVing Full-Time (Part I of III): Virtual/Telecommuting Jobs Perfect for the RV Lifestyle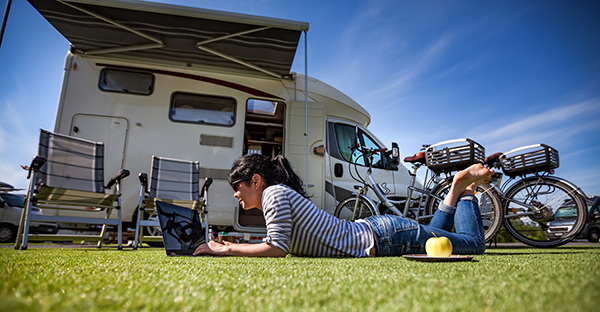 As you can imagine, the number one reason people who dream of RVing full-time never come around to making that huge life change is because living on the road doesn't seem like a very lucrative lifestyle. "How can you have a serious career if you're always on the road?" people wonder. Some even make assumptions about the types of jobs available at campsites, wrongly believing the work is only on a volunteer basis. In some cases this is true, but many workamping, campsite or national park jobs are paid and sometimes relatively well compared with other service jobs. Believe it or not, some people even end up making more than they did when they lived in a brick and mortar home because the overhead of living in an RV is often lower than the cost of owning a home. Plus, if your life's calling is to explore the country and not settle down, chances are that you'll find the perfect career to suit your adven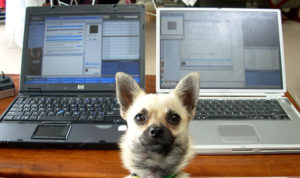 turousness. It's really not a very far-fetched dream to travel the country and still feed yourself with a very real income when you see how others are doing it. Being a full-time RVer doesn't mean you have to live a reckless life of not knowing when your next paycheck is coming in. Here are some careers that can pay the bills while you explore and live life to the fullest.
Finding a Telecommuting or Virtual Job for RV Living
Some people even prefer these types of jobs while remaining sedentary and without any dreams of RVing fulltime. Let's face it: The office isn't the right place for everyone. Especially these days, with so many social media and Internet content jobs out there, many employers actually look for people who want to work from home. Of course, you don't want to work remotely at a job that requires you to wake up at 3 a.m. because of the time difference, but you'll find that there are more opportunities out there than you may think. Also, the great thing about these kinds of jobs is that you can even get a head start on your new life by finding the job before leaving home. If you're a disciplined sort of wanderer, you don't have to embark on your journey anxiety-ridden about having job security. You can learn the job and figure out how you'll manage your health insurance (many freelance jobs don't offer health insurance).
If you already have a degree or work experience in any of the following fields, you may be able to snag a virtual or telecommuting job easily:
Web Content Writer
Web Editor
Web Designer
Web Developer
Web Marketing
Web Social Media Management
Desktop Publisher
Graphic Artist
Software Engineer
Coder/HTML
Computer Programmer
Consultant
Writer
Photographer
Virtual Professor
Stock Broker
Customer Service Representative
Advertising (Media Buyer, Planner)
Transcriptionists
There are many similar types of jobs out there that have the same flexibility that makes them great for freelance/virtual work. Explore job boards, like www.mediabistro.com, which often lists creative jobs that do not need to be performed on location. Also, www.FlexJobs.com only offers flexible and virtual jobs. Also try www.monster.com, www.CareerBuilder.com or www.indeed.com for more business and finance oriented work, too. Just start searching, and you'll eventually find the right fit for you.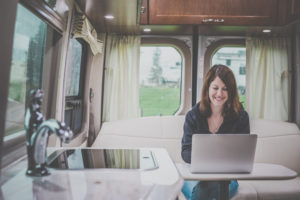 Once you find ongoing remote jobs, you can look forward to the freedom of being on the road while still making a steady paycheck and having job security. Some jobs may require that you check in a couple of times a year, but you can make that part of a fun road-trip too. Otherwise, with direct deposit, you can really work from anywhere.
Good luck on your job search and your whole new life! And don't forget to buy specialty RV insurance when you're ready. Auto insurance will not suffice for your new tiny home. Speak with a knowledgeable Insurance Agent to get multiple free quotes: 866.501.7335.
---
The information in this article was obtained from various sources. This content is offered for educational purposes only and does not represent contractual agreements, nor is it intended to replace manuals or instructions provided by the manufacturer or the advice of a qualified professional. The definitions, terms, and coverage in a given policy may be different than those suggested here and such policy will be governed by the language contained therein. No warranty or appropriateness for a specific purpose is expressed or implied.