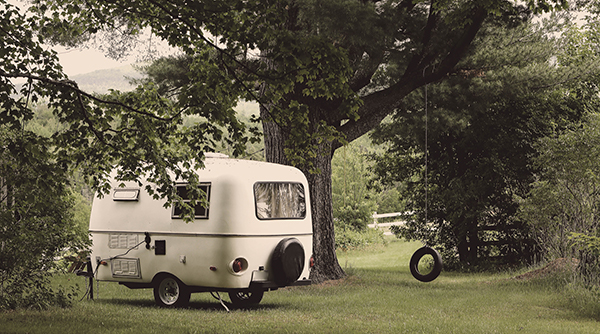 If you only use your RV part-time and end up storing it for part of the year (specifically 30 days or more), you may want to brush up on seasonal RV insurance facts. Some insurance companies will allow you to suspend most of your coverage so you don't have to pay for insurance during the months you don't use your vehicle. Often, carriers encourage you not to suspend comprehensive protection because there is always the chance that your RV may be vandalized or stolen while in storage.
Do not assume that once you have the right insurance for the vehicle that all your contents inside that trailer or motorhome are covered too. Usually you need to buy add-on protection to cover personal belongings, furniture, adjacent rooms, decks or other structures that can be separated from the vehicle and several types of equipment.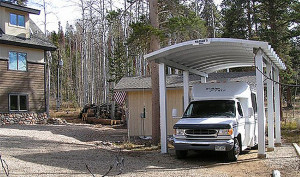 Some insurers like National General RV Insurance offer what they call a "Storage Option." Basically, you can save money by suspending coverage for the months your RV is not on the road. With only enough insurance to cover fires, storms, wind and theft, you can save hundreds of dollars by just buying the right protection, not too much of it.
Safeco has a similar type of policy called the "Generous Usage Season" policy, which allows you to use your RV for up to 150 days for a big savings. That totals out to about 5 months of camping, which is more than enough for many RV owners.
Other carriers have vehicle usage classifications. Progressive, for instance, has rates that reflect the insured's usage of the RV. There are 4 tiers: less than 30 days a year, between 30 and 150 days a year, more than 150 days a year and usage of the RV for more than 6 months out of the year.
There are many options out there like the ones above. That's why it's wise to work with a company that compares coverage options and policy rates so you can decide which insurer is offering just the right protection that you need. At QuickRVInsuranceQuotes.com, you can find out what rates are available to you from all the aforementioned companies and others too.
Things to Remember Before Storing Your RV
While you may have cleared out the fridge, did you store food that won't spoil in the RV? It's always a good idea to get rid of all food, packaged goods too, before you put your rig away for the winter. Rodents and ants will be trying to find a new home while you're not using your vehicle. Mice and rats can gnaw even through plastic. For more tips on how to keep critters from nesting in your RV, click here.
Make sure to winterize your RV well before temperatures drop significantly. Are you paying someone to winterize your RV for you? That's fine, but did you know that you can do your own winterizing? We've created step-by-step instructions for you on how to prevent pipes from bursting and all sorts of disasters like that right here.
Also, make sure you are covered for any items you plan on keeping in your RV while it's in storage. Check with your agent if you're unsure or if you suspect that you need to buy add-on protection for the items you do not plan to bring inside. Whatever you do, make sure you have the proper insurance, whether it's seasonal or year-round. If you're still uninsured or are confused about which products fit your lifestyle, contact an Insurance Specialist at QuickRVInsuranceQuotes.com by calling (866) 501-7335.

---
The information in this article was obtained from various sources. This content is offered for educational purposes only and does not represent contractual agreements, nor is it intended to replace manuals or instructions provided by the manufacturer or the advice of a qualified professional. The definitions, terms and coverage in a given policy may be different than those suggested here and such policy will be governed by the language contained therein. No warranty or appropriateness for a specific purpose is expressed or implied.