Thinking About a DIY Bus Conversion? Here's What You Need to Know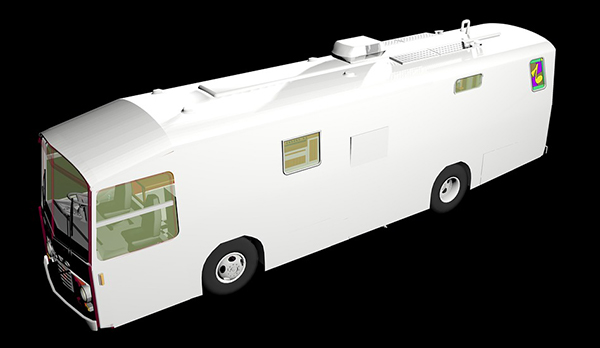 Not all RVers spend hundreds of thousands of dollars on a brand new RV. Many buy them used and renovate them entirely. Some people even opt to gut an old bus and turn it into a luxurious and spacious RV. Yes, bus conversion motorhomes are becoming very popular. These RVs range from old Greyhound shells all the way to a local school bus that's been turned into a tiny home-on-wheels.
Some Pros & Cons of a Bus Conversion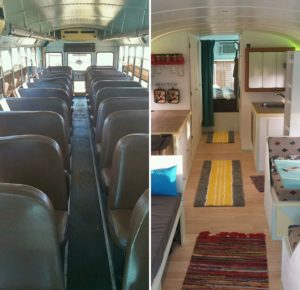 One advantage buses have over conventional RVs is that they have a larger load capacity. They were pretty much built to travel with luggage and loads of people. This means no more stops at the weigh station to make sure you haven't over-packed! Another positive thing about a bus conversion is that it already has many safety features you won't have to add on. Buses are also built to last, as they can travel millions of miles versus a few hundred thousand. That's no exaggeration, either!
However, converting a bus into an RV is no easy task. If you plan to do all the work or most of the work yourself, you'll probably want to insure the bus first. There are no temporary insurance plans for RVs, so you'll most likely require a six-month plan to cover the transport of the vehicle and possible damages while you're renovating it. Speak with an RV Insurance Specialist for a free RV Insurance quote at (866) 501-7335.
What Kind of Bus Should I Buy?
This is typically the first question people considering a bus conversion have. The answer depends on how many people and how much cargo you plan to take with you. The kind of interior design you have in mind may also lean towards one bus type over another. Whichever bus type you choose, you'll have to transport it home somehow. That means you'll need insurance coverage because any physical damage, theft or vandalism done to the bus will not be covered without it. Remember that Liability Insurance alone will not cover damages if something happens to your RV during the time you are spending renovating it.
There are 2 basic types of bus conversions below.
1. Older Bus Conversion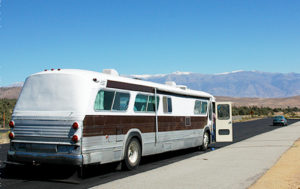 While these machines are built to last, insurance companies scrutinize older bus conversions simply because of their age. Your insurance company will probably ask for an official inspection done by a mechanic. This is to ensure that the vehicle's systems are up-to-date and meet all safety regulations. Scope the Internet and online RV groups for the perfect old bus to start converting.
2. School Bus Conversion
School bus conversions, or skoolies, have also become trendy and they can make great RVs. However, RV Insurance companies are often wary of them because of the narrow axle on a school bus. Conversions often add weight to the bus and make it top-heavy, leaving it even more prone to rollovers and collisions. Insurance carriers have reason to worry because school bus conversions have the highest rates of accidents compared with other types of buses. Don't let this deter you from pursuing your bus conversion dream, though. Just make sure you add on any necessary safety equipment.
Other types of buses you may consider are used commercial buses, tour/charter buses, limo buses, church buses, etc.
Is a Bus Conversion Expensive?
Maybe this was actually the first question you had when considering a bus conversion. Once again, the answer varies. If you hire a professional or you buy a renovated bus that has all the conversions already built, you can expect to pay as much or even more than you would a regular RV. You can easily spend $500,000 on a bus conversion that's in mint condition.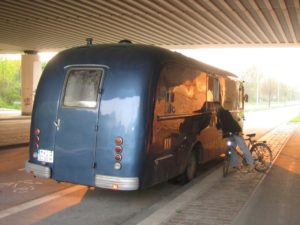 However, people will typically customize their own bus by starting from scratch and doing their own renovations. If you want to keep it high-end, you can use a Prevost chassis. However, if you want save some money, consider other shells like GM, Eagle, MCI, or an old Greyhound. If you do the work yourself, a bus conversion can cost you much less than buying an RV. A DIY bus conversion could only cost you somewhere between $10,000 and $30,000 if you save in the right places.
Also, remember that the type of bus you choose will impact the cost. The engine and transmission type of your bus conversion will have a big impact on longevity and bus maintenance.
Where Can I Purchase a Bus?
Once you know what type of bus you want, your best bet is to start looking online. A few common places you can purchase a bus to convert are bus dealerships, online auctions and local classifieds. One of the largest bus dealerships in the country is Midwest Transit Equipment, but Public Surplus, Ebay or Craigslist are also a good place to start your search.
When looking for the right bus, review the vehicle's maintenance records. When you actually go to see the bus in person, there are a few things you should check out before handing over the cash. You'll mainly want to avoid purchasing any bus with widespread rust on the undercarriage/chassis, the body or on the floor inside the bus.
DIY Bus Conversion Tips
You'll want to plan your bus conversion ahead of time. Browse through RV magazines, Pinterest, online RV groups and forums for inspiration and ideas. Below are a few main things you'll need to think about when creating your floor plan design.
Sleeping Situation. Think about sleeping areas and if they are adequate for the number of people you plan to travel with.
Necessities. Where will you place the kitchen and bathroom? Will piping work in those areas? Check to see if you can place your black and gray tanks there. These are the main rooms you'll have to plan around the set up of your bus.
Amenities. Add amenities based on how often you'll dry camp. It's important to consider what kind of power source you'll need and how big of a fresh-water tank will be sufficient for trips where you may not have hookups. If you plan to go boondocking often, this may affect the amenities you require in your bus.
Electrical. Are you an electrician or do you know one that can figure out the electrical system in your bus conversion? This may be a costly project but not one you should skimp on. If you're not a professional, we advise against doing your own electrical work and instead hiring a highly-rated electrician.
Plumbing. Are you good with plumping and pipes? Figure out if you have to hire someone to set up your plumbing system. Again, this is not something you should do yourself if you're inexperienced.
Bus Conversion Insurance
Your home-on-wheels will need Specialty RV Insurance because it's a special type of RV. Speak with an experienced RV Insurance Specialist at (866) 501-7335 to talk thoroughly about the coverage options available to you. Depending on your lifestyle, you may only require Seasonal RV Insurance or the equivalent. Some carriers only offer Liability Insurance for bus conversions. Speaking with one of our agents will help you determine the best RV Insurance for you and your bus, at a price that works for you, too.
---
The information in this article is obtained from various sources. This content is offered for educational purposes only and does not represent contractual agreements. It should not replace manuals or instructions provided by the manufacturer or the advice of a qualified professional. The definitions, terms and coverage in a given policy may be different than those suggested here. Such policy will be governed by the language contained therein, and no warranty or appropriateness for a specific purpose is expressed or implied.