The Best RV Insurance Rate That Will Save You Money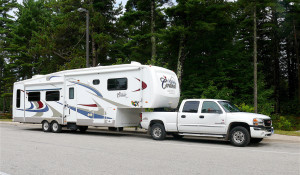 Finding the best RV insurance rate is important when trying to protect your recreational vehicle and save money. Many people believe that you will find a suitable RV insurance rate through your automobile policy or company, but this is not true. Your current auto company may save you time, but it will not save you money on an RV insurance rate, nor will it cover all of your unique RVing needs. If you are looking for the best RV insurance rate, you will want to comparison shop. This way you will make the most knowledgeable choice, getting the most ideal coverage, while saving money.
Look Online for a Fast Way for the Best RV Insurance Rate
One of the easiest ways to get a good RV insurance rate is to look online. At each RV insurance rate website, you will begin by filling out the online form. The form asks for specifics, such as make/model/year. You will want to make sure that you keep this information consistent from website to website to ensure accuracy in quotes received. Once the information is processes, you will receive a recreational vehicle rate, often free of charge. If you like what you see, you will be able to follow up via email or phone to move forward.
Cost Compare Quotes
Bring your quotes to Quick RV Insurance Quotes and we often times can match if not beat the competitors' offer.
Compare the various insurance rates you receive for your RV, looking at money saved, as well as coverage options. Ask yourself the following questions:
Is RV coverage offered for permanent attachments, such as awnings and steps?
Is there a suspension option for when the recreational vehicle is not in use?
Is there a coverage option for those who will be living/do live full time in the RV, which is similar to a homeowner's policy?
RVing is a lifestyle, so it is important that you find a rate that fits your financial needs and limitations, as well as a policy that covers all of your RVing requirements. Using a specialized agent will help guide you into finding the best rate available.
You will find a coverage that supports your lifestyle needs and compliments your pocketbook. Start your cost comparing today!
The information in this article was obtained from various sources. This content is offered for educational purposes only and does not represent contractual agreements, nor is it intended to replace manuals or instructions provided by the manufacturer or the advice of a qualified professional. The definitions, terms and coverage in a given policy may be different than those suggested here and such policy will be governed by the language contained therein. No warranty or appropriateness for a specific purpose is expressed or implied.