RV Trailer Insurance Will Save You Money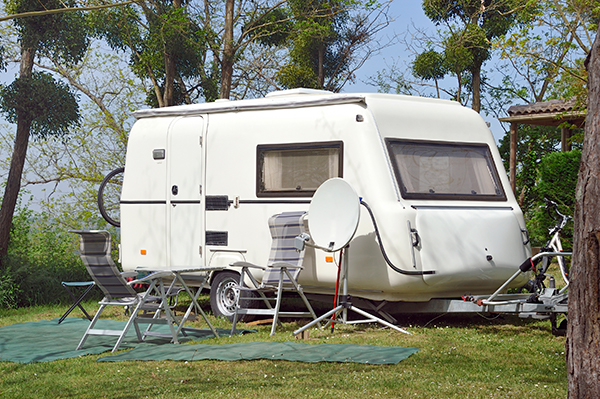 Buying RV trailer insurance is smart, easy, and it will save you money. If you have just purchased a new or used recreational vehicle, you want to make sure you are covered when traveling on vacation or living in it as a second home, right? RV trailer insurance is how you can protect yourself, your family, and your large motor home investment. By spending quality time researching the best RV trailer insurance policy to fit your financial and RVing needs, you will have peace of mind when on the road. RV trailer insurance will save you lots of money and heartache.
Full-time RVers Should Get RV Trailer Insurance to Cover All of Your Assets.
If your RVing dream is to live a life on the road, traveling cross country, visiting nation parks or landmarks, and making your recreational vehicle a second home, then you need to purchase RV trailer insurance. Your regular auto insurance company will not offer full coverage for your unit and it will not cover the assets you carry – your personal belongings – with you within your motor home. RV trailer insurance will.
Part-time RVers Should Purchase Insurance Too
No matter if you are living full time or traveling part time in your RV, specialized RV insurance for your recreational vehicle is a necessity. There are numerous options for you to research, so that you find one to match your RVing needs and match your financial limitations. Make sure you look at critter protection, fire, and storage options. Mice, squirrels, and other pests often are attracted to a stationary motor home, whether at a camp site or under a large RV type car port. This is something regular auto insurance won't cover or offer as a protective option. By spending ample time to cost compare and see what is offered for you as an RV owner, you will be protecting your investment and save money down the road.
Get Covered
Both RV lifers and part timers need coverage on their recreational vehicle. Finding the perfect RV and complimenting it with the best RV insurance is essential. Buy a specialized RV and motorhome insurance and save more money!
The information in this article was obtained from various sources. This content is offered for educational purposes only and does not represent contractual agreements, nor is it intended to replace manuals or instructions provided by the manufacturer or the advice of a qualified professional. The definitions, terms and coverage in a given policy may be different than those suggested here and such policy will be governed by the language contained therein. No warranty or appropriateness for a specific purpose is expressed or implied.