7 Tips to Follow When RVing with Pets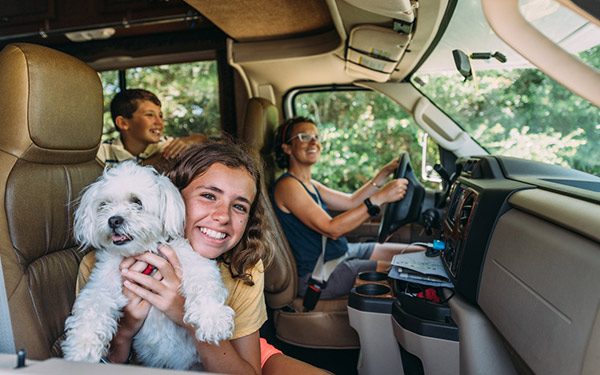 There's no better way to bring the comforts of home with you on the road than by RVing with pets. In fact, according to Go RVing, some 68% of RVers travel with their pets. Whether you're new to RVing or a new pet owner, we put together some tips to ensure you have a successful RV trip with the entire family.
While most of the information in this blog was written with cats and dogs in mind, they aren't the only pets you can bring along. With proper research and accommodations, you can make traveling with most pets a lovely experience.
The Benefits of RVing with Pets
Bringing your pet on the road with you can bring its own set of challenges, but overall, RVing with pets is a positive experience with a wide range of benefits. For example:
Pets offer much-needed companionship on the road, especially if you're traveling solo.
Having a dog with you will encourage you to take walks and explore campsites.
Petting animals has been proven to help reduce anxiety and stress.
Pets can also act as a talking point, allowing you to form connections with similar RVers.
RVing provides one of the easiest ways to travel with your pets.
1. Ease into the Transition
RVing will likely be a brand-new experience for your pet. While we may see endless adventures ahead when looking at an RV, your pet may have a more skeptical outlook that causes them to be nervous.
We recommend slowly introducing them to your rig to get started for the best experience. If your pet is already used to car rides, a few short trips with the whole family may be all it takes. However, for a more nervous pet, consider acclimating them to the new environment by spending time in the RV while it's stationary. Feeding, playing, and taking nap breaks inside the RV are additional ways to help your pet reduce its RV anxiety.
2. Visit the Vet Before You Go
Before heading out, be sure to visit the vet to make sure your pet is healthy and that all vaccinations are up to date.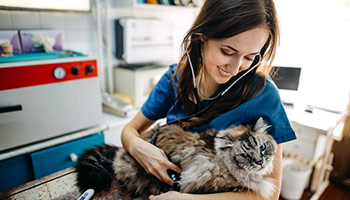 Some facilities may require proof that your pet has its rabies vaccination, so this is also a good time to obtain physical copies of your pet's health records. Should you need to visit a vet on the road, this will give new vets an insight into your pet's health history.
At the vet, we also recommend inquiring about microchipping. When RVing with pets, it's best to have your pet microchipped should they get lost or separated from you in an unfamiliar location.
3. Research Before You Go
As pet owners, it's easy to forget that not everyone is a pet person. Additionally, RV parks, national parks, and campgrounds across the country have different pet policies. In general, most national parks prohibit pets on hiking trails. No matter where you decide to go, carefully look over the location's specific regulations.
For those traveling with a larger dog breed, it's important to remember that some campgrounds restrict the types of dogs they allow to stay there. Breeds such as Rottweilers, Pitbulls, and similar types are the most likely not to be allowed.
4. Always Buckle Up
As tempting as it may be to drive with your best friend on your lap, buckling up isn't just a safety rule for us humans. Our pets are vulnerable to injuries from sudden stops, turns, or bumps whenever the RV is moving.
To keep your pet safe from any accidents while in motion, keep your pet inside a designated pet carrier or crate that is secured in place to prevent sudden movements. No matter how you choose to secure your pet, always keep them in the same vehicle as you. Your pet shouldn't be left alone in a camper that you're pulling.
5. Prepare Your Pet Before Leaving a Site
We recommend taking your pet out for exercise before departing on your travel day. That way, they'll be well tired for the trip ahead and have a chance to relax. Once on the road, be sure to stop every now and then to give your pet a break.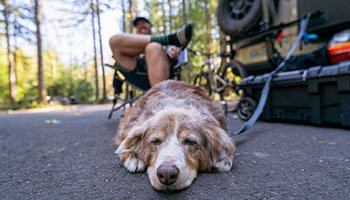 Much like their owners, pets can also be vulnerable to motion sickness. To keep from upsetting your pet's stomach, always feed your pet at least an hour before getting on the road. Even if they've never experienced car sickness, it's good to stock up on anti-nausea medication. If applicable, you can obtain a prescription from your pet's veterinarian.
6. Pave Your Own Path
While cats and dogs are the most common companions on the road, other pets can work just as well. For example, small animals such as hamsters can be great co-pilots on your adventure. You'll just have to be sure their habitats are properly secured when in motion to keep them safe.
Slightly larger animals such as rabbits or guinea pigs may be comfortable roaming around your RV. However, it's still best to provide them with their own designated area when moving for their safety. Additionally, be sure these types of animals remain indoors and within sight to avoid any dangerous run-ins with local wildlife.
7. Pack for Your Pet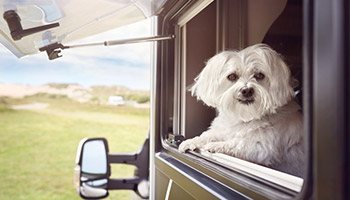 The key to RVing with pets is to provide them with a safe environment wherever you're going. This means making sure they have everything they need to live comfortably. No matter what pet you take on your next trip, here is a list of some basic pet essentials you shouldn't forget to pack:
A crate or carrier with comfortable bedding material.
Plenty of food and water for the duration of your trip, plus a few extra days.
Two sets of leashes, collars, or harnesses (long and short).
Food and water bowls. Always look for portable, anti-spill options.
Essential medications and a first aid kit.
Proof of vaccinations and pet health records.
Updated identification tags.
Treats and toys to keep your pet happy and engaged.
Poop bags and cleaning supplies to clean up after your pet.
Keep Everyone Protected
No matter who you bring along on your travels, it's essential you have the proper insurance. We recommend purchasing an RV policy that is separate from your auto insurance to protect your RV and its inhabitants in the event of an accident. To speak to an RV Insurance specialist and learn more about how you can get coverage, give us a call today at (866) 501-7335.
---
The information in this article is obtained from various sources and is offered for educational purposes. Furthermore, it should not replace manuals or instructions provided by the manufacturer or the advice of a qualified professional. No warranty or appropriateness for a specific purpose is expressed or implied.