5 Otherworldly Destinations to Visit on Your Next RV Getaway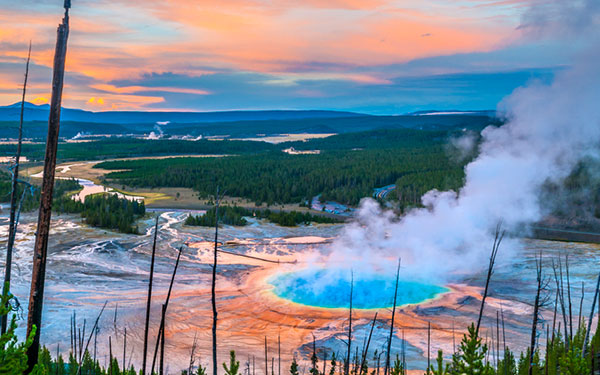 Selecting your travel destination is one of the most exciting parts of an RV trip—and one of the most difficult. With endless national parks and open roads to choose from, it's easy to want to see it all. While trips to classic sites such as Yosemite National Park are always full of fun, sometimes we want to experience something different. If you're looking to take your RV far, far away, we put together a list of otherworldly destinations that look like they're from an alien planet.
1. Trona Pinnacles — Southern California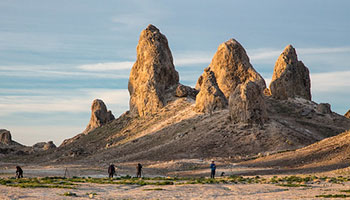 If you're a fan of Sci-Fi, California's Trona Pinnacles may look a bit familiar. Located in the Searles Dry Lake basin of the Mojave Desert, the Trona Pinnacles have appeared in films such as Battlestar Galactica, Star Trek V, and Planet of the Apes. Here you'll find over 500 spires made of calcium carbonate spread over a 15-square-mile area resembling Mars. The pinnacles formed underwater 10,000 years ago from the interactions of algae and local geothermal conditions.
There are three main camping areas at the Trona Pinnacles. Still, road conditions may make it difficult for those who do not have a truck camper, or a tent camper attached to a 4-wheel drive vehicle. Since you'll be staying in a desert, be sure to pack for extreme weather conditions.
2. Goblin Valley State Park — Utah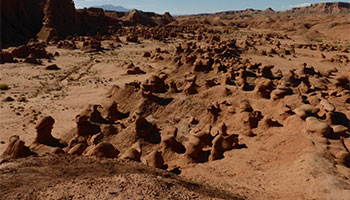 Though you may not encounter aliens at this site, you will stumble upon hundreds of goblin and gnome-like sandstone formations. Located in Southern Utah, Goblin Valley State Park is a remote destination perfect for those looking for a bare-bones experience. The park's bright orange sandstone structures make you feel as if you've entered a portal into another planet.
Goblin Valley State Park has 25 campsites, 14 of which are suitable for RVs. While these sites can accommodate rigs up to 42 feet in length, no utility hookups are available. Due to its limited spaces, reservations are highly recommended.
3. Grand Prismatic Spring – Wyoming
It'd be impossible for us to write about otherworldly destinations without mentioning the Grand Prismatic Spring. Located in the Midway Geyser Basin within Yellowstone, the Grand Prismatic Spring is undoubtedly one of Earth's most eye-catching natural attractions. The spring gets its bright colors from heat-loving bacteria living in the water.
There are over 2,000 campsites across 12 campgrounds located throughout Yellowstone. However, you'll only find full hookups at the Fishing Bridge campground. This campground requires you to book in advance, so we recommend reserving your spot as soon as possible as it quickly sells out during the busy season.
4. The Painted Dunes of Lassen Volcanic National Park — Northern California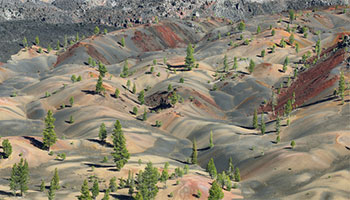 The Painted Dunes of Lassen Volcanic National Park look like a landscape pulled directly out of a Sci-Fi comic book. Known for their bright colors, the dunes get their red and orange hues from layers of oxidized volcanic ash. Scientists believe the area became so colorful after volcanic ash fell atop of hot lava flow. The dunes are located next to The Cinder Cone, a 700-foot-high volcano that last erupted in the 1650s. In addition to the Painted Dunes, the Lassen Volcanic National Park is one of the few places globally that has all four types of volcanoes.
The three campgrounds best suited for RVs are the Manzanita, Butte, and Summit Lake campgrounds. However, keep in mind there are no hookups in the park. Additionally, the only dump station is in the Manzanita campground.
5. Sunset Crater Volcano National Monument — Arizona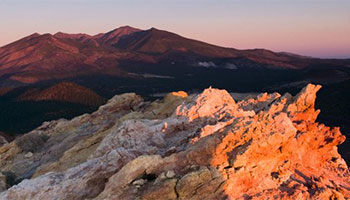 The Sunset Crater Volcano National Monument is located just 20 miles from Flagstaff, Arizona. The site is home to the state's most recent volcanic eruption, which took place a thousand years ago. Today, visitors get to experience a mixture of lava rocks and cinder deposits alongside wildflowers and growing trees. Unlike the previous otherworldly destinations on our list, this lunar-like landscape was once used to train future astronauts.
While camping is not permitted within the monument itself, the Bonito Campground is located across from the visitor center and is usually open year-round. The campground allows RVs up to 42 feet in length, but keep in mind that there are limited utility hookups. When visiting the area, be sure to take advantage of guided tours to learn more about the volcano and its rich history.
Don't Forget About RV Insurance
No matter where your plans take you this year, it's essential that your RV has the proper insurance coverage. Your regular auto policy may not offer adequate coverage of your RV in the case of an accident. To get a free specialty RV insurance quote, call (866) 501-7335 to speak with an RV Insurance Specialist.
---
The information in this article is obtained from various sources and is offered for educational purposes. Furthermore, it should not replace manuals or instructions provided by the manufacturer or the advice of a qualified professional. No warranty or appropriateness for a specific purpose is expressed or implied.