Mouthwatering No-Cook Summer Recipes for #RVLife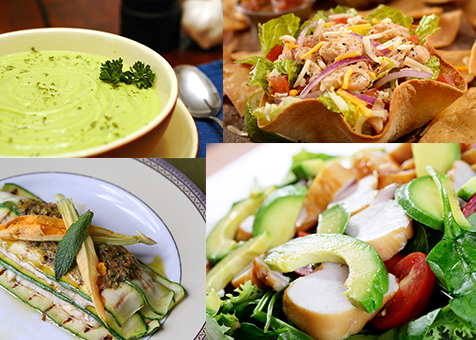 It's hot outside and you want to eat some delicious meals when you go camping, but you don't really enjoy cooking in this heat. What to do? Well, there are plenty of ways to prepare wonderful meals without turning on a single oven or stovetop. Yes, no-cook summer recipes to the rescue! In most cases, you'll want to bring pre-cooked chicken or shrimp with you, or both, to mix things up with each dish. As long as you have those items squared away, you can use simple ingredients for innovative and healthy lunches and dinners. These summer recipes will give you the energy you need to pursue your outdoor adventures. Check out our favorite summer recipes below.
Corn & Shrimp Delight Soup
Ingredients
1 Pound pre-cooked and frozen shrimp (thawed)
1 Cup low-fat plain yogurt (Greek is great too)
3 Large bags of frozen corn (thawed)
1 Cup whole milk
1 Avocado
2 Lemons
1 Cup halved grape tomatoes
1 Tsp cilantro
Salt, pepper
Hot peppers or cayenne powder (optional)
Directions
Using a blender, puree the corn, milk, yogurt, lemon juice, peppers/cayenne and salt and pepper. Use a sieve to get rid of excess liquids. Remove any solids so the puree is smooth. Stir in chopped shrimp. Top with tomatoes and avocado slices before serving.
Whipped Avocado Soup
Ingredients
3 Avocados
1/3 Cup walnuts, halved
½ Small white onion
2 Cups low-fat buttermilk
1 Cup water
Salt, pepper, dill powder
Directions
Using a blender, puree all the ingredients above until smooth (add equal parts buttermilk and water if necessary). Refrigerate for 1 ½ hours or more for the ideal temperature. Garnish with walnut halves and a sprinkle of dill before serving.
Protein Power Salad
Ingredients
3 Tbsp Balsamic vinegar
6 Tbsp Olive oil
Splash of orange juice
10 to 15 oz. corn
1 Cup pre-cooked chicken or shrimp
2 Cups grape tomatoes
8 Oz mozzarella cheese, cubed
2 Small avocados, sliced medium
Bunch of spinach
Scallions or onions, sliced thin
Fresh or dried basil to taste
Directions
First, make the dressing by mixing the Balsamic vinegar, olive oil and splash of orange juice and set aside. In a bowl, mix the chicken, spinach, corn, cheese, avocados and tomatoes. Add dressing and basil before tossing and serve.
White Bean Salad with Zucchini & Parmesan
Ingredients
1 Cup pre-cooked chicken or shrimp
2 Large cans cannellini beans, rinsed
1 Large can green beans, French cut
½ Cup fresh basil, shredded
1 Tbsp olive oil
2 or 3 small zucchini, thinly sliced
2 oz. Parmesan cheese
2 Lemons
Salt and pepper
Directions
Shred chicken and add to the white beans, green beans, basil and zucchini. Add salt and pepper to taste. Pour olive oil and squeeze both lemons to the mixture. Sprinkle with Parmesan cheese, toss salad and serve.
No-Fuss Zucchini Lasagna, Served Hot or Cold!
Ingredients
4 Zucchini
Cherry or grape tomatoes
Farmer cheese
Salt and pepper
Olive Oil
Basil leaves
Directions
Take a few scoops of farmer cheese and season it with salt, pepper and basil leaves. Slice zucchini in long, thin-to-medium slices. Slice tomatoes the same way. Begin layering zucchini with cheese and tomatoes. Drizzle the top with olive oil. You can serve this as a cold sandwich or wrap in foil and simply allow it to cook on the campfire for a short while if you want hot lasagna.
Tex-Mex Chicken Salad
Ingredients
1 Lb pre-cooked chicken (shredded) or shrimp
1 Small can black beans, drained
Tortilla chips or Tortilla shells
1 Large can corn
1 or 2 Avocado
2 Plum tomatoes, chopped
1 Red onion, chopped small
2 Bunches cilantro, chopped
Cayenne pepper
Chili pepper
Directions
Shred chicken and add cilantro, corn, beans, onions, and tomatoes. Season with chili and cayenne powder before mixing well. Place thin slices of avocado on top and serve inside a tortillawith chips.
RV Insurance
While you're out in your RV eating, drinking and laughing, we hope you are protected with Specialty RV Insurance. Auto Insurance does not provide adequate coverage for a motorhome or travel trailer. Speak with an Insurance Specialist about how often you use your RV and they will find you the lowest quotes from top carriers: (866) 501-7335.
---
The information in this article was obtained from various sources. This content is offered for educational purposes only and does not represent contractual agreements, nor is it intended to replace manuals or instructions provided by the manufacturer or the advice of a qualified professional.