Can You Eat Healthy on a Trip? Try These Tasty RV Recipes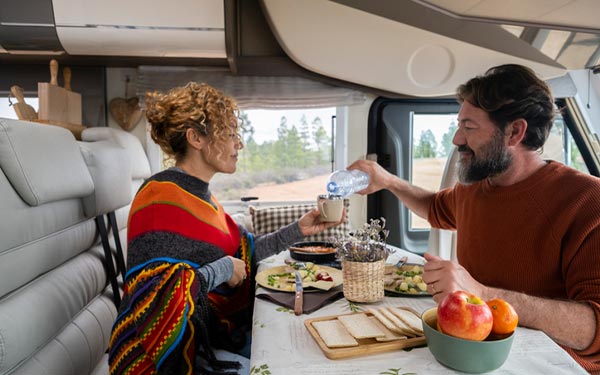 Cooking meals in your RV's kitchen can help you save on food expenses during a trip. Sure, sandwiches and smores are camping staples, but they aren't your only options. So whether you have a new year's resolution to keep or are simply looking to eat better on the road, here are five healthy RV recipes to try on your next adventure.
1. Camping Stir-Fry
Stir-fries are a great option if you're looking for healthy recipes that come together quickly in an RV. Furthermore, if you prep your ingredients in zip-lock bags ahead of time, all you'll need to put this meal together is a hot pan. Serve alongside your favorite kind of rice for a delicious and hearty meal.
Ingredients
1-2 pounds of protein of choice
Fresh vegetables of choice (pictured are broccoli, carrots, and green onions)
Oil for cooking
Minced onion
Minced garlic
Minced ginger
Sauce for the dish (soy, teriyaki, or stir-fry)
Salt and pepper to taste
Optional: nuts (cashews or peanuts)
Directions
Prepare ingredients ahead of time by chopping protein and vegetables and storing them in zip-lock bags.
Heat your pan, skillet, or wok over medium heat and add cooking oil.
Once the oil is hot, add your minced garlic, onion, and ginger, then pan-fry for 2 minutes.
Next, add your protein of choice and mix.
Once the protein begins to brown, mix in your chopped vegetables.
If you're using nuts, you can add them next.
Stir-fry until meat and vegetables are fully cooked through.
Add salt and pepper, then remove from heat.
Plate, top with chopped green onions, and enjoy.
Prep time: 15 minutes | Cook time: 15 minutes | Serves: 4
2. Hummus Avocado Wrap
There's something special about enjoying a meal with fresh ingredients when out in nature. The following recipe is a perfect lunch for those looking for a healthy midday bite. And as a bonus, it comes together incredibly quickly. Feel free to customize this recipe to fit your needs, such as adding chicken to boost your protein intake.
Ingredients:
4 large flour tortillas
4 tablespoons of hummus
1 cup of romaine lettuce
1 diced avocado
1 sliced red bell pepper
1 thinly sliced onion
4 tablespoons of feta cheese
2 tablespoons of fresh lemon juice
Optional: Greek dressing
Directions:
Begin by warming your tortillas for a few seconds in a microwave to soften them.
Next, spread hummus onto each tortilla.
Add the romaine lettuce, avocado, bell pepper, onions, and feta cheese inside the tortilla. Drizzle toppings with lemon juice and add Greek dressing if desired.
Roll the tortillas up tightly and enjoy.
Prep time: 5 minutes | Cook time: 5 minutes | Serves: 4
3. Grilled Lemon Pepper Salmon
You can't go wrong with fish when preparing healthy recipes on the road. Fish such as salmon are packed with nutrients and are low in saturated fat, making them a healthier option. This recipe utilizes a grill, but you can also use a hot pan and stovetop if you'd like. Grill your favorite veggies alongside these fillets for a filling dinner.
Ingredients:
3 tablespoons of olive oil
3 tablespoons of fresh lemon juice
Lemon pepper seasoning to taste
Salt to taste (only if lemon pepper seasoning contains no salt)
Four 6-8-ounce skin-on salmon fillets
Directions:
Begin by setting your grill to high heat. As the grill heats, brush the grates clean and wipe them 5-10 times with oiled paper towels until glossy to prevent sticking.
Combine olive oil with lemon juice and seasonings.
Brush half of the seasoning mixture onto each fillet, then place them skin side up onto the grill. Sear until their surface is firm and grill marks have formed. Do not move or flip too early.
Once the fish is almost done, about 5 minutes in, the fillets should release themselves from the grates. Gently roll the fillets over, then baste with the remaining seasoning mixture. If fillets feel stuck, they may need more time before flipping.
Once salmon reads an internal temperature of 145F, it is ready to be served.
Pro tip: if cooking inside, be sure to wash up and empty the trash of any fish skin, foil, etc. after eating to prevent odors.
Prep time: 5 minutes | Cook time: 15 minutes | Serves: 4
4. One-Pot Garlic Shrimp & Spinach
If you're looking for quick RV recipes, you can't beat this simple garlic shrimp and spinach dish. You only need one pot for this recipe, making it super easy to cook in an RV kitchen. Serve with a slice of whole-wheat toast and you'll quickly be coming back for seconds.
Instructions:
3 tablespoons of olive oil
6 diced medium garlic cloves
1 pound of spinach
1 pound of shrimp, peeled and deveined
1 tablespoon of chopped parsley
Salt to taste
Lemon zest from half a lemon
Pinch of crushed red pepper
Directions:
Begin by heating a tablespoon of oil in a large pot over medium heat.
Next, add half of the garlic and cook until slightly brown.
Add spinach to the pot with a pinch of salt and stir to coat. Cook for about 3 minutes.
Once the spinach is mostly wilted, stir in lemon juice, remove from heat, and transfer spinach to a bowl.
Increase heat to medium-high and add your remaining oil.
Add remaining garlic and cook until slightly brown.
Add your shrimp to the pot with a pinch of salt and crushed red pepper, then cook for 3-5 minutes.
Serve cooked shrimp over a bed of spinach and garnish with lemon zest and fresh parsley.
Prep time: 5 minutes | Cook time: 15 minutes | Serves: 3
5. Turkey Taco Foil Packs
Rounding out our list is a recipe that combines deliciousness and convenience: turkey taco foil packs. This meal is great for RV camping because it can go straight from your freezer to a BBQ grill. Two tacos, please!
Ingredients:
2 pounds of ground turkey (cooked ahead of time)
2 cups of diced tomatoes
2 cups of black beans
1 cup of corn
1 cup of chopped onions
1 cup of chopped red bell pepper
2 tablespoons of cumin
1 tablespoon of chili powder
2 teaspoons of oregano
2 teaspoons of paprika
A pack of flour or corn tortillas
Optional toppings such as sour cream, lettuce, cilantro, jalapenos, and avocado
Directions:
At home, cook your turkey and prep your vegetables. Next, combine all your seasonings and ingredients (minus toppings) in a bowl.
Divide the mixture into 4 to 5 servings and wrap each in heavy-duty aluminum foil folded into grill-ready packets. Freeze packets in a zip-lock bag.
At the campsite, thaw your meals overnight in the fridge.
Once thawed and ready to heat, place your foil packets on a hot grill for roughly 10 minutes or until heated through.
Remove from heat, add the turkey taco mixture to a tortilla, and garnish with your toppings of choice.
Prep time: 10 minutes | Cooking time: 20 minutes | Serves: 4
More RV Kitchen Recipes
Looking for more recipes for your upcoming camping trip? Check out our RV recipes to discover all kinds of camping meals that pair perfectly with any outdoor adventure. If you decide to bring any of these recipes to life, be sure to tag us on Instagram. For more general RV information, click here.
---
The information in this article is obtained from various sources and is offered for educational purposes. Furthermore, it should not replace manuals or instructions provided by the manufacturer or the advice of a qualified professional. No warranty or appropriateness for a specific purpose is expressed or implied.