RV Eats: 5 Memorial Day Grill Recipes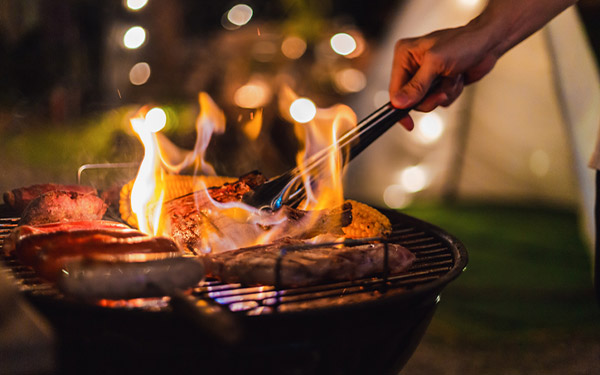 RV chefs, start your grills! With Memorial Day just around the corner, it's the perfect time to prepare yourself for an ultimate cookout with delicious grill recipes. While you can never go wrong with campfire staples such as hotdogs or burgers, it's nice to try something new from time to time.
So, to help you kick off the season as a true grill master, we compiled five simple (but tasty!) Memorial Day grill recipes to try this upcoming holiday weekend!
1. Garlic-Herb Grilled Chicken Wings
Ingredients
2 pounds of chicken wings (flats or drumsticks)
4-6 garlic cloves (finely chopped)
¼ cup chopped rosemary, thyme, and oregano
2 tablespoons of vegetable oil
1 ½ teaspoons of kosher salt
½ teaspoon of freshly ground black pepper
Directions
Pat wings dry with paper towels. Whisk together garlic, herbs, oil, salt, and pepper in a large bowl. Add wings to the mixture, then transfer into a resealable plastic bag. Allow chicken wings to marinate for at least 30 minutes.

Create a two-zone grill: medium-high and low heat. Working in batches, grill wings over medium-high heat while turning occasionally. Cook wings for about 15 to 20 minutes. If the wings begin to burn, transfer them to the low heat side of the grill to finish cooking. Remove wings from the grill once an instant-read thermometer registers an internal temperature of 165°F, approximately 5-10 minutes.

Transfer wings onto a platter. Re-season with additional salt and pepper if necessary and serve immediately.
Total Time: 1 hour (if cooking in batches) | Servings: 4
2. Grilled Santa Maria-Style Tri-Tip
Ingredients
2–3-pound tri-tip roast
1 tablespoon kosher salt
1 tablespoon of black pepper
1 tablespoon of garlic powder
1 ½ tablespoons of paprika
1 teaspoon of onion powder
¼ teaspoon of cayenne pepper
Directions
Combine all spices to form a dry rub, and then cover the tri-tip with the mixture. Let the tri-tip sit out (covered) for 1 hour so that it isn't cold when added to the grill.

Preheat the grill for both direct and indirect heat. Sear the tri-tip over direct heat for 5 minutes on each side, then transfer to the indirect heat and close the grill. Let the tri-tip cook until it reaches an internal temperature of 130°F for a medium-rare tri-tip. This should take around 20 to 30 minutes. Please remember that the temperature will continue to rise about 5 degrees after removing it from the grill.

Let the tri-tip rest for 10 minutes before slicing it. For best results, cut the tri-tip in half to separate the two different grains, then slice against the grain and serve.
Total Time: 1 hour and 10 minutes | Servings: 6
3. Grilled Lemon Pepper Salmon
Ingredients
3 tablespoons of olive oil
3 tablespoons of lemon juice
3 tablespoons of lemon pepper seasoning, or to taste
Salt to taste (only if lemon pepper seasoning has no salt)
Four 6–8-ounce skin-on salmon fillets about an inch thick
Directions
Heat the grill to high heat (+400°F). Brush grill grates well and wipe 5-10 times with oiled paper towels until grates are glossy to prevent sticking.

Combine olive oil with lemon juice and seasonings.

Brush half of the mixture onto the salmon then place fillets skin side up on the hot grill. Sear until their surface is firm and grill marks have formed. Do not move the fillets until they are ready to flip.

Once the fish is almost done, about 5 to 6 minutes in, the salmon will release itself from the grates. Gently slide a spatula underneath to roll fillets over, then baste with the remaining lemon mixture. If the fillet feels stuck, it is not ready to flip.

Once salmon reads an internal temperature of 145°F, it is ready to be served.
Total Time: 30 minutes | Servings: 4
4. Portobello Mushroom Veggie Burgers
Ingredients
4 portobello mushroom caps
4 burger buns
¼ cup of balsamic vinegar
2 tablespoons of olive oil
1 teaspoon each of dried basil and dried oregano
1 tablespoon of minced garlic
Salt and pepper to taste
4 slices of provolone cheese
Lettuce, tomatoes, and additional burger toppings as desired
Directions
Combine vinegar, oil, basil, oregano, garlic, salt, and pepper in a small bowl. Add mushrooms to the mixture and let them marinate at room temperature for about 15 minutes.

Preheat grill for medium-high heat, then brush grill grates with oil.

Place mushrooms on the grill while reserving some of the marinade for basting. Grill mushrooms for 5 to 8 minutes, or until tender. Brush with the marinade throughout cooking.

During the last 2 minutes of grilling, add cheese, if desired, on top of the mushrooms to melt the cheese.

Remove mushrooms, place on top of a bun, add additional toppings, and serve.
Total Time: 35 minutes | Servings: 4
5. Grilled Shrimp Tacos
Ingredients
1 pound of large shrimp, peeled and deveined
1 tablespoon olive oil
1 tablespoon cumin
1 teaspoon garlic powder
¼ teaspoon kosher salt
8 tortillas
3 tablespoons of mayonnaise
1 ½ teaspoons Mexican hot sauce (such as Cholula)
1 handful of fresh cilantro for garnish
2 limes, cut into wedges, for serving
Directions
Preheat the grill to medium-high heat.

Thaw shrimp and peel if necessary. Mix shrimp with olive oil, cumin, garlic powder, and kosher salt in a bowl.

Mix the mayonnaise and Mexican hot sauce together.

Warm the tortillas on the grill for 10 seconds per side. Next, grill the shrimp for 1 to 2 minutes per side until they are bright pink and fully cooked.

To plate, place grilled shrimp on top of a tortilla, drizzle with spicy mayo, then add a few cilantro leaves and a squeeze of fresh lime juice.
Total Time: 20 minutes | Servings: 4
Stay Protected with RV Insurance
No matter where the holiday weekend takes you, it's important to ensure that you're properly covered in case of an accident. The best way is to have proper specialty RV Insurance. Not sure if your current policy covers fire damage or campsite liability coverage? We can help! Speak with an RV Insurance Specialist today to learn more about the protection that's best for you by calling (866) 501-7335.
---
The information in this article is obtained from various sources and is offered for educational purposes. Furthermore, it should not replace manuals or instructions provided by the manufacturer or the advice of a qualified professional. No warranty or appropriateness for a specific purpose is expressed or implied.