Do I Need Boat Insurance? How Much Does It Cost?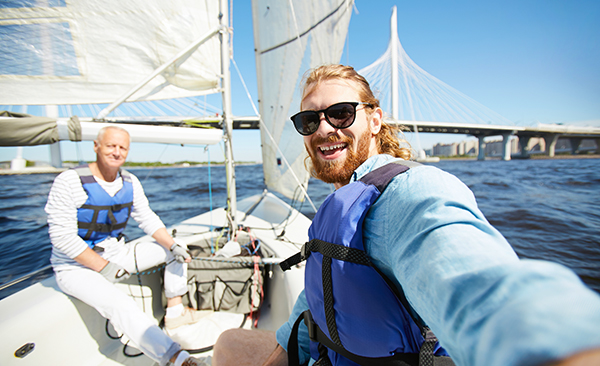 We'll be honest with you. Most states do not require you to carry Boat Insurance. However, your boat was probably a pretty large lump sum of cash, or possibly still an expensive monthly payment. That may also be your reasoning as to why you don't want to purchase Boat Insurance. We get it. You don't want to pile on another monthly payment.
But, here's the thing. Boat Insurance is actually quite important. In fact, it's probably the only thing keeping you from having to pay hundreds or even thousands of dollars out of your pocket in case of an accident.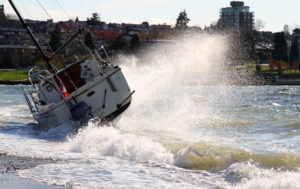 "Accident" is a broad term, too. Yes, it could mean hitting another watercraft or object while you're on the water. But it could also mean your boat gets stolen, vandalized or otherwise damaged. Seriously, think about it. What will you do if something bad happens to your boat? Who's going to pay for it if you don't have insurance? You.
So, we're here to tell you why you need Boat Insurance and how to get a low rate that hopefully won't put a huge dent in your bank account every month.
Why You Need Boat Insurance
First and foremost, if you lease or finance your watercraft, then your lender probably requires you to have Boat Insurance. Even if you don't owe any money on your boat, it is still susceptible to the damage we've already mentioned above. Are you still thinking that a boating accident won't ever happen to you? Think again.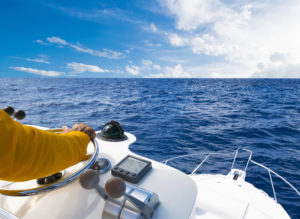 According to the U.S. Coast Guard, in 2017, there were over 4,000 boating accidents in the U.S. and over half of them incurred property damage or injuries. Additionally, over 1,000 of these accidents were caused by a collision with another recreational vehicle. Can you guess the total cost of those damages? Over $46 million.
Let's say you're a careful and cautious boater that never gets into a boating accident. Unfortunately, you can't control other people's actions, so what happens if your boat becomes victim to vandalism or theft? According to the National Insurance Crime Bureau, the most frequently stolen boat types in 2017 were runabouts, utility boats, cruisers and sailboats. Boat theft also occurred most frequently in Florida. Additionally, the holiday with the most watercraft thefts in 2017 was Memorial Day.
Does My Homeowners Insurance Cover My Boat?
Some boat owners incorrectly assume that their Homeowners Insurance also covers their boat, but this is usually not the case. Your Homeowners policy may only include your boat if it is small in size and has no engine or a small one (like a sailboat). If your boat is damaged while it's parked on your property, your Homeowners Insurance may provide some coverage, but not for vandalism or stolen contents. It's best to think of your boat like your car. It's unique and requires its own policy.
What Does Boat Insurance Cover?
Hopefully, you're now somewhat convinced that Boat Insurance is essential. At this point, you might be wondering how Boat Insurance works and what it covers. You should know that insuring one type of boat, like a trawler, is different from insuring a boat like a runabout. Regardless of what kind of boat you own, you should still have coverage. Just make sure it's the right type of coverage. You don't want to buy a yacht policy if you own a pontoon boat.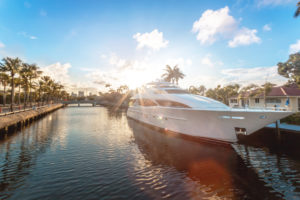 A standard Boat Insurance policy typically has Bodily Injury Liability and Property Damage Liability coverage, similar to that of an Auto Insurance policy. This Liability Insurance covers injuries or damages caused by your boat in an accident, up to your policy limits. For example, if your boat inflicts damage on a dock or other watercraft, your coverage will pay for those damages.
Your policy may also include Collision and Comprehensive coverage. Collision coverage will pay for the repair or replacement of your boat in the event of a collision, up to your policy limits. Comprehensive coverage will cover your boat if it is stolen, vandalized or damaged in an accident other than a collision. If your Boat Insurance does not include these coverages, we highly recommend adding them to your policy.
Recommended Boat Insurance Coverages
As with most other types of insurance, there are optional coverages you can add to your policy. Speak with your agent to figure out what coverage your lifestyle requires. Remember, it's hard to put a price on peace of mind. Additional coverage may provide better protection for your boat depending on your situation. With the right policy, you'll worry less and enjoy your boat more.
Other coverages you can choose to add to your Boat Insurance policy include:
Total Loss Replacement. Replaces your boat with the latest model, or a comparable one, if it is deemed a total loss.
Agreed Value Coverage. Compensates you for the amount initially paid to buy your insured boat. No deduction for depreciation and no deductibles are applied.
Uninsured Boaters Coverage. Covers medical treatment, wage loss and other damages sustained as a result of a boating accident in the case that the liable boater does not have enough or any Liability coverage.
Actual Cash Value. Provides compensation for your totaled vessel, determined by market value and condition of the insured boat at the time of the loss.
Disappearing Deductible. Reduces your Comprehensive and Collision deductibles for each claim-free renewal period up to 25%.
On-Water Towing & Labor. Reimburses you for costs incurred in the event that your vessel is towed.
Fuel Spill & Wreckage Removal. Covers costs if your boat causes any fuel spillage or wreckage that must be removed from the water.
How Much Does Boat Insurance Cost?
According to Trusted Choice, the average cost of Boat Insurance is $300-500 per year. However, many factors go into your Boat Insurance rate, including:
Boat Type
Boat Year, Make and Model
Driving Record
Boating Experience
Boat Length
Where You Use Your Boat
Boat Value
Boat Usage
Age of Boat
Boat Speed/Horsepower
Where You Store Your Boat
If you'd like a quick, easy and free quote on Boat Insurance, call an Insurance Specialist at (866) 501-7335.
Will My Boat Be Covered Everywhere?
Coverage Outside U.S. Waters
Some boat owners may not realize that their Boat Insurance policy has navigational limits. However, many policies include a navigational warranty that varies depending on the size of your watercraft. For example, coverage for boats that are 26-feet long or shorter may be limited to the inland or coastal waters of the U.S. and Canada. If you have a larger vessel, check with your insurer to see where you're covered.
It's best to have an idea of where you plan to take your boat when you purchase your policy. That way you can ensure you're covered in the areas you plan to travel. Some insurers may have the ability to provide you with insurance for a one-time trip, but always speak with your agent before sailing off.
Coverage On Land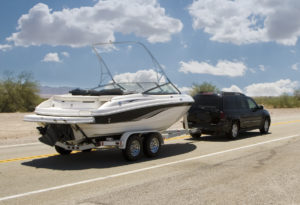 Boat Insurance typically covers physical damage to your boat, up to your policy limits, whether it's on the road or in the water. However, it won't provide coverage if you're found liable for damages that occur to another vehicle or person while you're hauling your boat. Typically, your Auto Insurance policy's Liability Insurance provides coverage for those types of damages. Additionally, if the vehicle you used to haul your boat is damaged in an accident, then your Auto Insurance policy's Collision coverage may cover those costs.
It's best to speak with your agent about how your Boat Insurance and Auto Insurance work to cover your boat while it's on land. In general, you probably need to purchase separate coverage specifically for trailers and other boat accessories to ensure those assets are protected in the event of an accident. Speak with an Insurance Specialist at (866) 501-7335 to discuss your coverage options and see what makes the most sense for you.
How Does Seasonal Boat Insurance Work?
If you own a motorhome, jet-skis, ATV or other type of recreational vehicle, then you may be aware that there are different seasonal insurance options out there. Therefore, it's no surprise that some insurance companies offer Seasonal Boat Insurance. You may consider this option if you only use your boat for a couple months out of the year. However, year-round Boat Insurance can be beneficial to you and your boat.
It's important to protect your boat even while it's in storage. That's because it's still vulnerable to damage from natural disasters, fire, flooding, theft and more. If you live in a hurricane-prone area, like Florida, having Boat Insurance year-round is essential.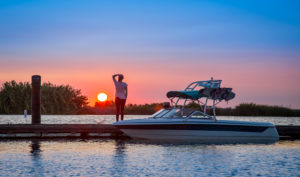 Some boat owners choose to cancel their Boat Insurance policy completely during the times of the year when they're not using it. You may think that this would save you money. However, most insurance companies reward loyal customers. For every claim-free period you have, you may receive a reduced deductible. If you cancel your policy every year, you'll have to pay your full deductible if you need to make a claim. Plus, some insurers may offer a loyalty discount on your premium after you've had a policy with them for a specified amount of time.
How Can I Save Money On Boat Insurance?
Boat Insurance can be more affordable than you think. In fact, there are many ways to find a policy that fits within your budget. Shopping around for different rates is the best thing you can do if you want to save money on insurance. Insurance companies also offer Boat Insurance discounts that you might qualify for that will lower your premium, including:
Multi-Policy Discount
Boater Safety Course Discount
Annual Payment Discount
Auto-Pay Discount
Multi-Boat Discount
Our Insurance Specialists can compare multiple carriers and low rates in minutes. They can also help you customize your policy and see which discounts your eligible for. To receive a free quote, call (866) 501-7335 today. Boat Insurance may just be more affordable than you think.
---
The information in this article is obtained from various sources. This content is offered for educational purposes only and it does not represent contractual agreements. It should not replace manuals or instructions provided by the manufacturer or the advice of a qualified professional. The definitions, terms and coverage in a given policy may be different than those suggested here. Such policy will be governed by the language contained therein, and no warranty or appropriateness for a specific purpose is expressed or implied.