10 RV Camping Tips From a Lifelong RVer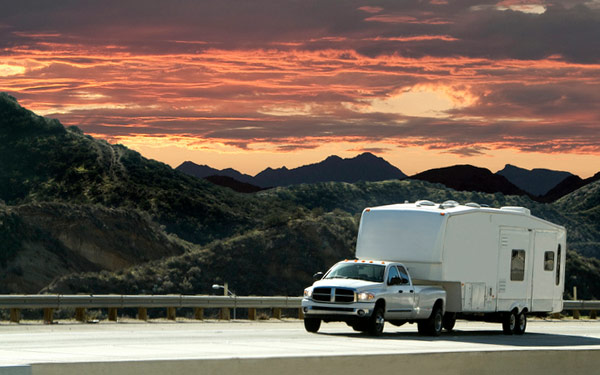 There's nothing like talking to someone who has been where you're going. This is particularly true when it comes to RVing. There really is a community for RVers and those who love camping in the great outdoors. It has less to do with years and more to do with enthusiasm for the people, places, and equipment that make RVing such a rewarding way to travel. 
Here at QRV, we asked some of our employees what camping tips they have for people who are interested in taking their first RV trip or want to rent or buy an RV. Many of them have been camping and RVing since they were toddlers, so they have experienced RVing from a lot of different viewpoints and are happy to share some things they've learned along the way.
1. Match Your Rig With Your Lifestyle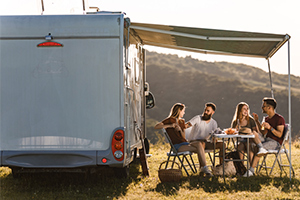 Whether you're about to embark on your first adventure or you're thinking about the jump to ownership, one of the best ways to ensure successful RV trips is to make sure the vehicle you rent or buy fits your most important needs.
Do you plan to do a lot of cooking? Look for a larger refrigerator, not a mini one.
If you want to be outside more than inside, look for awnings and outdoor refrigerators or stoves that are mounted on the vehicle's exterior.
Families with lots of toys, like bikes and sports equipment, need to look for ample storage.
Explorers who want to leave the campground and check out the surrounding areas may want to consider a trailer rather than a motorhome. This is also a good idea for families with young children. In case of an emergency, it's great to have a car at hand.
2. Check Out Both Private and State-Run Campgrounds
When many of us think of camping, campgrounds around national and state parks come to mind. According to California State Parks, "Each year, on average, more than 6.5 million visitors camp in our popular state parks." This makes sense as our nation boasts some of the most beautiful lands out there. However, when it comes to RVing, both public and privately-run campgrounds have a lot to offer. Government-run facilities are cost-effective, but they tend to book up early. Often, reservations open six months out and get booked up within minutes to hours of being released. Private campgrounds can be a little more costly, but they don't fill up as fast and you have a better chance of getting someone on the phone to help with your reservation. A few well-known public sites are Recreation.gov and ReserveCalifornia.com. Private sites include KOA.com, Camp-California.com, and CampCalNow.org.
By the way, when we say, "check out," we mean it. Posted photos often put the surroundings in the best light, kind of like real estate listings. If you can, read reviews or ask around in RV Facebook Groups for campers who have visited the facilities before.
3. Ensure the Campsite Is Suitable for Your Trip/RV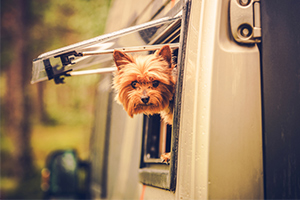 If you are used to tent camping, almost any site will do. For RV camping, here are a few questions you might want to ask:
Is the campsite long enough for your RV?
If you have slides (see Tip #7), is the campsite wide enough?
If your trip includes mountain destinations, will your rig fit under trees/branches?
Depending on what you're looking for, does the campground (or surrounding areas) offer trails, pools/lakes, group events, etc.
Do they allow pets?
4. Practice Driving and Plan for 2 (Drivers That Is)
While RVs are a lot easier to drive than you might think (much like a large SUV), you'll be more comfortable and confident on the road if you've had some practice – especially with turning, backing up, learning where controls are located, and navigating around a gas pump. It's a good idea to have two drivers practice and be ready to switch. Women are often hesitant to drive an RV, but they needn't be. Especially for longer trips, it's nice to be able to share the driving responsibilities.
5. Don't Fully Rely on GPS to Get You Where You're Going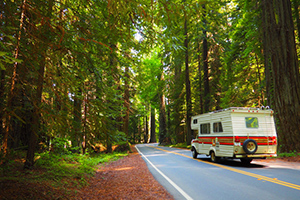 We've all become accustomed to entering an address into the GPS with no real idea where we're headed. However, this may be problematic when exploring less populated areas with spotty cell service and/or imperfect GPS mapping. Take the time to become familiar with the route before you hit the road.
6. Arrive in Daylight and Assign Set up Jobs
Plan extra travel time to be sure you arrive in daylight. Especially for newer and rental RVers, it's much easier to set up the equipment you are less familiar with when you're not running around in the dark with poor lighting. It's safer too. Another way to make the setup go smoothly is to assign tasks before arriving. Having a checklist and an idea of who is going to do what minimizes confusion and waiting around.
7. It's All About the Slides (or Slide-Outs)
Ahh, the slide-out. The RV world changed when slides were invented. Gone are the days of RVs feeling enclosed and tubular. Slide-outs mechanically slide open and extend the width of the vehicle. They make it feel more spacious and allow for bigger kitchens, furniture, and beds. You may not need them for short trips or just a few occupants, but if you want space and can afford it in your RV purchase or rental, look for units with full slides to make your RV "house" more like a home.
8. Create a Tradition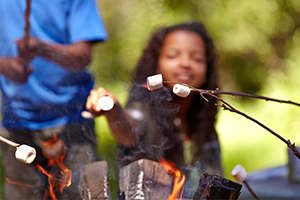 One way to avoid reservation hassles and create lasting memories is to make your RV trip an annual event! One of our QRV staffers meets up with a group of family and friends the same week year after year. Start planning ahead and book early while you're at the campground. That way you know you're all set for space – and probably the best spots – and you have plenty of time to look forward to getting together with your group again.
9. Join RV Facebook Groups
One way to access RV communities is through Facebook Groups. Many are private groups, so you'll need to request to join. You can use them to learn more about facilities, as in Tip #2. One of our QRVers highly recommends this as it's a great way to pick up last-minute reservations in popular destinations that others are about to give up! She's a Southern California native and an avid RVer. Here are a few of her SoCal favorites: Southern California RV Camping Group, SoCal Family RV Camping Group, SoCal Campsite Cancellations & Reservations. Search similar titles for groups in other regions.
10. Consider Specialty RV Insurance
Your auto insurance may cover your RV, but Specialty RV Insurance has added coverages to protect your home on wheels and your investment. Speak with a licensed RV Insurance specialist today at (866) 501-7335 to get a better understanding of what coverage you need for your RV. We can compare insurer's rates to help you discover the best rates and coverage options that fit your needs.
---
The information in this article is obtained from various sources and is offered for educational purposes. It should not replace manuals or instructions provided by the manufacturer or the advice of a qualified professional. No warranty or appropriateness for a specific purpose is expressed or implied.