10 Signs You're Ready to Swap Your Tent for an RV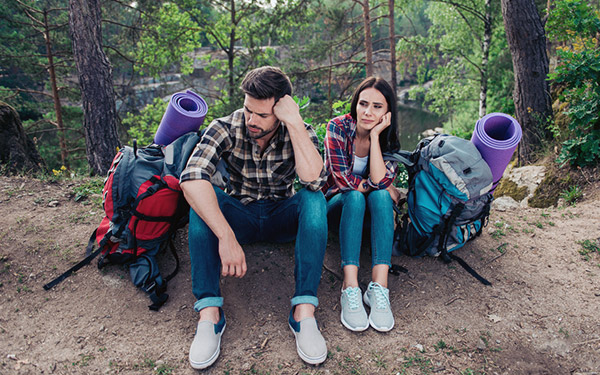 You love camping and have been doing it for years. It used to be that pitching a tent once or twice a year was enough for you. But lately, you're camping more than ever as adventure tourism is on the rise. A tent is a simple and affordable option. Yet inevitably, most campers find themselves considering an upgrade. Awful sleeping conditions, unpredictable weather, and lack of convenience and comfort from tent camping are some of the reasons why it may be time for you to invest in an RV. Here are 10 signs you're ready to swap that tent for a recreational vehicle.
1. Sleeping in a Tent is Not Comfortable
You've woken up sore from sleeping on the ground way too many times. It's gotten to the point where roughing it out is just not appealing anymore. After a long day of enjoying the great outdoors, wouldn't you want to lay down in a comfortable bed with silky sheets and enjoy a night of quality sleep? You don't need to worry about the ground being too hard, wet, or sloped with an RV. Not to mention plucking the sticks that might jab you in the back or all the creepies and crawlies that slither at night. RVs offer various comfortable sleeping arrangements from king-sized beds to bunk beds, all within four walls.
2. You've Gotten Drenched From Unexpected Downpours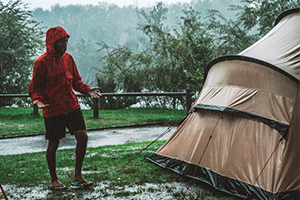 What is drearier than having your tent, clothes, sleeping bags, and gadgets soaked from an unexpected downpour? When inhospitable weather cancels your trip that you spent so much time and energy planning. You won't have to worry about uninvited weather conditions while camping in an RV. In fact, having an RV allows you to camp during any season you want or all year long. If it does start to rain, hunker down in your RV and enjoy a nice cup of hot cocoa. You'll be surprised that listening to the rain patter on the roof in a cozy bed is quite soothing.
3. It's Just Too Hot Outside!
Summertime is the perfect camping season. However, those beautiful sunny mornings can turn into major scorchers once the sun reaches its hottest point. Dehydration and heat stroke are fatal, especially on humid days or camping in the desert. When shady spots are hard to find, an RV awning can provide instant relief from the heat with little effort. RVs give you the versatility of enjoying certain hours of the day outside while spending the hottest hours indoors with the AC on full blast.
4. Setting Up Your Tent Is Exhausting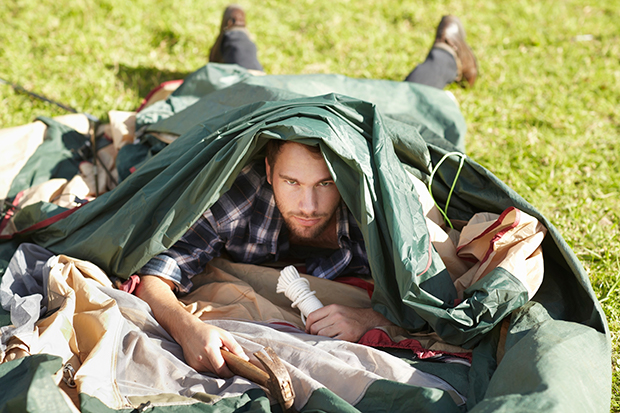 You used to be able to put your tent up in record time. But now it seems impossible because you are either missing a piece or it's too worn out. Perhaps, you arrived at your campsite late and now have to set up your tent in the dark. Frustrated because you can't see what you are doing, you're fumbling all over the place and starting to think this camping trip is off to a bad start. Eliminate the worry of setting up camp with an RV. You'll have the luxury of traveling on your own time with no worries. Most people imagine rigs cost an arm and a leg, but there are plenty of RVs that may fit your need and budget. Take a look at these towable campers under $25,000.
5. Camping Food Isn't the Healthiest
You probably realized by now that hot dogs, baked beans, and marshmallows are an unhealthy diet. It's okay to eat them once in a while because who doesn't love delicious campfire cooking? But you know you can't do this regularly, especially if you plan to camp for more than a weekend. Many RVs come with full-size kitchens to provide you with more options when preparing a meal. Plus, lugging around a bulky cooler with a limited amount of food is dangerous when exploring the great outdoors. An RV will help you store more food safely while securing it from wildlife.
6. You Need More Room To Bring Your Toys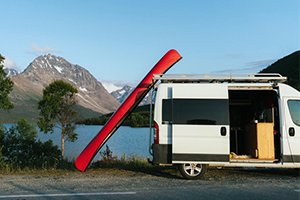 Why wouldn't you want to bring your boat, ATVs, or jet skis when you're on vacation? You worked hard for your toys and want to enjoy them as often as possible. We know it's a hassle carrying all your outdoor gear. Luckily, there are RVs designed specifically for your motorized toys in mind. A toy hauler is the best way to go if you want to bring all your equipment with you.
7. Porta-Potties Are Gross
You never thought the toilet meant that much to you until you used the porta-potties on the campsite. In an RV, you won't be horrified because the only people using the toilet are you and your loved ones. Ah, the luxury!
8. Tired of Long Lines To Take a Shower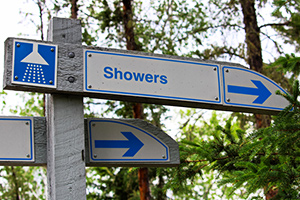 We bet you've gone as far as pouring water over your head and getting a little soap-time just to avoid those campsite showers. We feel your pain. The good news is that some RVs have full bathrooms and are a huge convenience. You can also buy an outdoor faucet to hook up to your RV for quick outdoor rinsing. These attachments are useful after getting off the beach!
9. The Nightmare of Packing
Packing for a camping trip is stressful. Multiply that stress by the number of kids traveling with you can take your anxiety to a new height. In an RV, there is plenty of closet and storage space to designate your belongings. Compared to tent camping, you're living out of a suitcase with dirty and clean clothes combined. Thanks to the extra space in an RV, you can bring more supplies with you versus a tent. That means no more extra trips to stock up on supplies when you're camping long-term.
10. Traveling With Children is a Hassle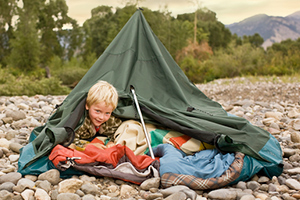 No matter how big your tent is, sleeping is going to be tight. Just imagine everyone packed together with sleeping bags, pillows, and luggage. You'd be amazed at how many people can sleep in a small RV. Even though an RV won't keep your kids from whining, they may complain less during a drive where they can watch movies or sleep in closed bedrooms. Additionally, grabbing snacks and using the toilet is much less of a hassle in an RV. Here are some of our tips to make traveling with kids easier.
Leave the Tent Life Behind and Jump Into RV Life
When you're ready to commit to more adventures with fewer discomforts, make sure to contact us for RV Insurance. The best way to ensure that your camping trip is relatively stress-free is to have the proper coverage for your rig. Speak with an RV Insurance Specialist today at (866) 501-7335 to discover the best rates and coverage options that fit your needs.
---
The information in this article is obtained from various sources and is offered for educational purposes. It should not replace manuals or instructions provided by the manufacturer or the advice of a qualified professional. No warranty or appropriateness for a specific purpose is expressed or implied.