RVing in the Desert Southwest: Destinations & Travel Tips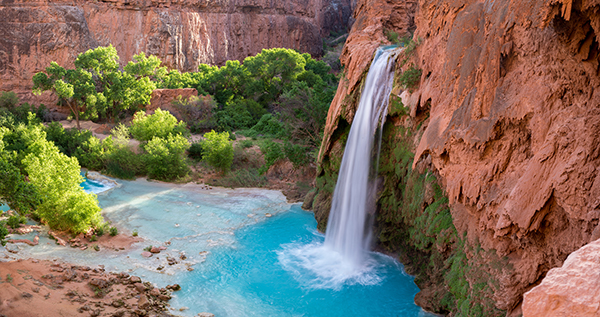 Some RVers always head to an oceanfront campsite, others like to be in the middle of a lush national park and some enjoy boondocking lakeside with their fully equipped RVs. There is also a breed of RVers that loves nothing more than to RV in the desert, specifically the desert Southwest. Arizona, New Mexico and Nevada are very popular with year-round RVers who migrate to warmer climates and settle down for a few weeks at a time.
Desert Southwest settings are also great for spring and fall RVing. Young people have also made Black Rock City in Nevada a landmark with the annual Burning Man Festival, where artists turn RVs into the most unimaginable machines on wheels. Below you'll get a feel for the beautiful Southwest, along with some of the more fabulous campsites in all three states.
Landscape of the Desert Southwest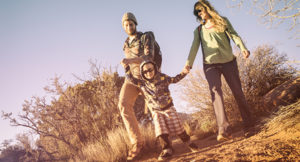 The desert Southwest is certainly not flat the way many people think it is. In fact, many deserts are not flat. Some have mountains, hills and all sorts of terrain that you would never imagine. It's not all barren land, either. You'll find forests, cactus, grass and even bushes and trees. Flowers also bloom across the landscape, and not just succulents. You'll find red and yellow flowers that grow low to the ground. There are sometimes sinkholes in the middle of the desert, too. These are always an exciting sight to see after rolling along miles of barren earth.
Is the Desert Southwest Unbearably Hot?
The answer is actually no, and especially not at night when it can get pretty cold. If you're at a high elevation, it gets even colder. Even during the hottest summer, you'll experience chilly nights. So, bring sweaters if you decide to go RVing during winter. If your pipes aren't winterized with special RV antifreeze, they may burst and cost you thousands of dollars to fix. You may also want to consider a furnace or a space heater.
If you're uncomfortable in very dry hot weather, you may not want to avoid the desert Southwest in summer and visit when it's a little bit cooler. Bringing a de-humidifier is another option. Remember that all these appliances will suck up a lot of your generator's juice. Plan accordingly, especially if you're dry camping with a small generator.
Is Camping Expensive in the Desert Southwest?
Some areas can be expensive, but not as much as you'd be paying to camp in California or Florida. For the most part, you're looking at rates ranging from $25-$50 a night. If you're boondocking, you pay nothing at all, but make sure you don't require any hookups. Also, be sure to dump in appropriate areas, not in the wild. Free camping is always the most budget-friendly option, but your RV must be self-sufficient. You also don't want to be stuck without water.
Top 10 Desert Southwest Campgrounds
The best part about the desert Southwest is you can make lots of friends, especially if you flock to the same location year after year. We've rounded up our top 10 campgrounds in the desert Southwest, so check 'em out below.
Arizona
1. Cave Springs Campground, Sedona. This campground is located in Oak Creek Canyon, Cave Springs. You'll be surrounded by red sandstone walls, a running creek, water holes and incredibly vibrant foliage. Spiritualists say that Sedona is one of the most powerful hot spots in the world!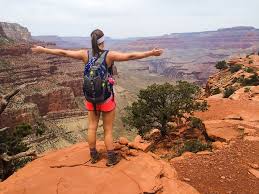 2. Cottonwood Campground. If you're interested in Pueblo culture and magnificent ancestral sites, this is where you want to be. You can hire a private guide at the visitor center for free. This camp is located in Joshua Tree.
3. Lynx Lake Recreation Area. If you need a lake, Lynx Lake in the Prescott National Forest beats anything you have had in mind. A campsite with a lake view is not easy to score so make reservations in advance. This place is conveniently affordable at about $18 a night.
4. Point of Rocks. This campground in Prescott, Arizona looks like the cliché of a desert. However, there's a sparkling lake right next door. If you need Wi-Fi and good hookups, this place is right for you.
Nevada
5. Hilltop Campground. If you want to visit Las Vegas before headinh=g out to more natural settings, this campground is just Northwest of Sin City. That means you get the best of both worlds. Situated in the Humboldt-Toiyabe National Forest, this spot overlooks the Mojave Desert.
6. Boulder Beach Campground. There are over 100 campsites just half a mile from Lake Mead. The best part is that the fee is only $10. Are you a beach fanatic? Then you may have to stop here, even in fall when it's still warm enough to go swimming.
7. Cathedral Gorge Camp. This amazing campsite within the Cathedral Gorge State Park is a classic desert setting but with all the modern amenities. There are electrical hookups are everywhere! Hiking trails boast a magnificent view of the canyon, too.
New Mexico
8. City of Rocks State Park. Want to see boulders made of volcanic ash? They're all here, scattered along the ruins of an old city. You will be sizzling hot here in summer. Spring and fall, however, are pretty perfect.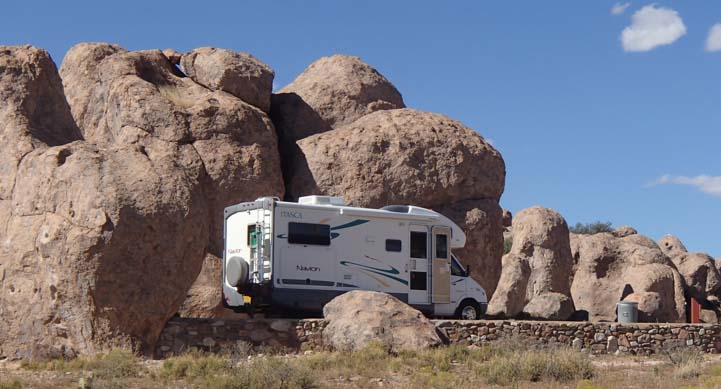 9. Rio Chama Campground. If you want to go on a boat ride, this campground is the place. However, it's only available to campers in the fourth site to the left of the campsite. It's worth reserving in advance for this treat, even though it's basically a paddle boat. You'll see lots of pretty junipers all along the river on this scenic camp situated on a sandstone cliff.
10. Jemez Falls Campground. Who said there are no fish in the desert? If fishing is your thing, this may be the perfect campground for you! You'll be only a few miles away from McCauley Warm Springs, too. Plus, it's only $10 a night.
RV Insurance
Whether you're camping close to home or driving to another state in your RV, make sure you're covered in the case of an accident. Even though you may drive your motorhome or trailer less often than your regular vehicle, chances are that repairs on it will cost much more after a collision. It's best to be in trustworthy hands. RV Insurance Specialists are here to match you up with the best insurance companies at the lowest rates. Get multiple quotes with one quick phone at (866) 601-7335.
---
The information in this article was obtained from various sources. This content is offered for educational purposes only and does not represent contractual agreements, nor is it intended to replace manuals or instructions provided by the manufacturer or the advice of a qualified professional. The definitions, terms, and coverage in a given policy may be different than those suggested here. Such policy will be governed by the language contained therein. No warranty or appropriateness for a specific purpose is expressed or implied.