9 Photo-Worthy Campsites & Where To Park Your RV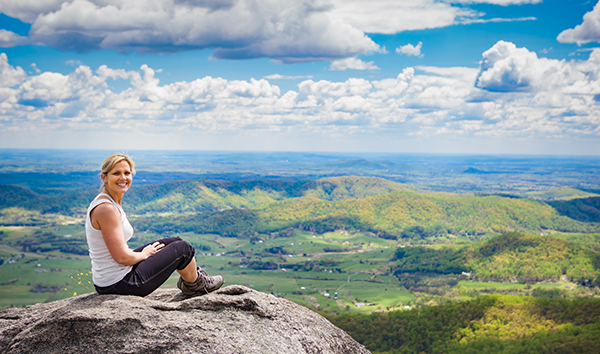 Whether you're a landscape photographer or an Instagram influencer, having the right backdrop is important. That's why we compiled this list of photo-worthy campsites that make taking the perfect picture easy for everyone. Trust us, it'll be hard to pick just one photo to post on your social media channels regardless of whether you use a professional camera or a cellphone.
Map out your destinations with our recommendations below. Then, plan your days around location and lighting. We suggest saving the best shots for the golden hour, which is about thirty minutes to an hour before the sun sets.
What are you waiting for? Get snapping!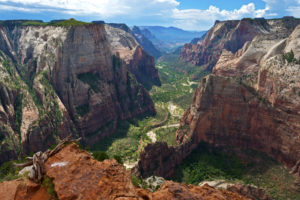 At Utah's first National Park, you can take breathtaking photos of giant cream, pink and red sandstone cliffs. There's also intricate canyons and geological rock formations you can use as the background to your next Instagram or Facebook post. If you haven't visited before, make sure you explore The Narrows, located at the narrowest section of Zion Canyon.
Where to take photos: Besides The Narrows, there are great photo opportunities at Angel's Landing, Kolob Canyons and Observation Point. Hiking, canyoneering, climbing and river trips are also popular activities within the park. We're sure you'll get an awesome action shot as you explore the wonders of Zion National Park.
Where to park your RV: You can park your RV at the Zion Canyon Campgrounds, but it's recommended that you book ahead because campsites fill quickly. We also suggest checking to see what trails are open and what permits are available before your trip.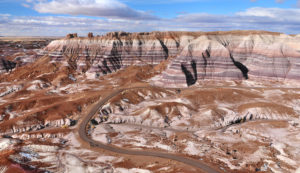 Located in the Arizona Painted Desert, this is one of the most unique campsites on our list. The Petrified Forest National Park is made up of colorful striped petrified logs that are scattered across the vast landscape. They have beautiful reds and oranges that make a picturesque backdrop for any photo.
Where to take photos: Visit the Jasper Forest, Agate Bridge and Blue Mesa area for some of the best photo opportunities. Blue Mesa is especially stunning as the rocks and sand turn into a striated rainbow of blues and whites. You can also stop by Newspaper Rock to lay your eyes on some of the best petroglyphs.
Where to park your RV: Unfortunately, there is no overnight parking at the park, but permits for backcountry camping are free. Otherwise, you can park your RV nearby at Holbrook/Petrified Forest KOA. Contact the campground for specific pricing.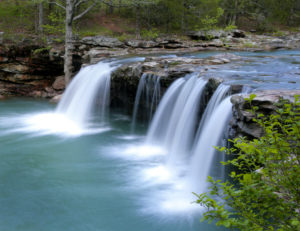 Arkansas may not scream photo-worthy to you at first, but there are many more picturesque places than you think. Take Ozark National Forest, for example. Here, you'll find beautiful countryside with 9 beaches, 400 miles of hiking trails and thousands of acres of lakes and streams. Do you know what that means? Tons of places to take pictures!
Where to take photos: Whitaker Point, Big Bluff and Compton's Double Falls are all unique and striking in their own way. Waterfall hunting is a favorite activity here, so you're sure to find a beautiful background for your photos. Falling Waters Falls provides a particularly photogenic scene.
Where to park your RV: There are several RV camping areas at Ozark National Forest that you can find here. Reservations and pricing vary depending on the site, but we recommend booking ahead of time or arriving early if possible.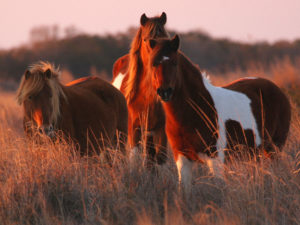 Here you can explore the coastal bay, oceanfront beaches, salt marshes and maritime forests. There's so much to do at Assateague Island, including hiking, swimming, paddle-boarding, kayaking and more. It's definitely one of those campsites that you'll want to spend a few days at to ensure you see it all.
Where to take photos: Assateague Island is known for its wild horses that wander the forest and beaches. You'll want to make sure you get some shots of these majestic creatures, who are most active during dawn or dusk according to the Island's website. Wherever you spot the horses, don't get too close because it could be dangerous for both you and them. For some tips on taking great long distance photos of the animals, visit here.
Where to park your RV: The Assateague Island campgrounds are about 10 miles south of Ocean City and start at $16 per night. Depending on the time of year, some campsites are only available via reservation. Make sure to plan your trip and call ahead of time.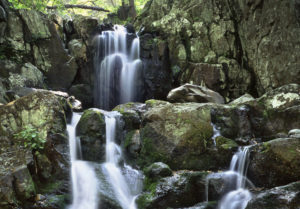 Shenandoah National Park may be a mouthful to pronounce, but it has a little bit of everything. The park consists of over 500 miles of trails, lush forest views and gushing waterfalls. If you take the popular hiking trail up Old Rag Mountain, make sure you have a spare battery or portable charger for your phone or camera. The hike can take up to eight hours round trip, but the photo-worthy scenery will be worth it.
Where to take photos: Many overlooks and waterfalls in Shenandoah National Park will provide you with great photo opportunities. For some of the most stunning photos, visit Big Run Overlook, Overall Run Falls and Doyles River Falls.
Where to park your RV: The park has 4 campgrounds and 3 of them allow RVs. They start at $15 per night and some need to be reserved ahead of time.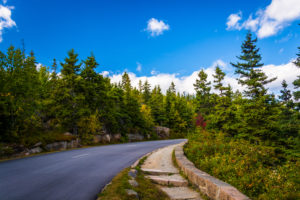 Just imagine 17 million acres of forest, 32,000 miles of rivers and streams and 6,000 lakes and ponds. That's what makes up the backdrop to your next Instagram post at Acadia National Park. The park is also home to the highest rocky headlands along the Atlantic coast of the U.S. with 7 mountain peaks above 1,000 feet.
Where to take photos: Park Loop Road is a 27-mile system that offers breathtaking views of the ocean's shoreline, mountain silhouettes and lush forests. You can also hike 8 miles up the Sough Ridge Trail to find the highest point on the North Atlantic Seaboard where you can capture the sunrise before anyone else. Yes, you can take some epic photos of it, too.
Where to park your RV: Blackwoods Campground is open year-round, but it's rare to find a campsite upon arrival, so it's best to book your spot pretty far in advance. There's also the Seawall and Schoodic Woods campgrounds available.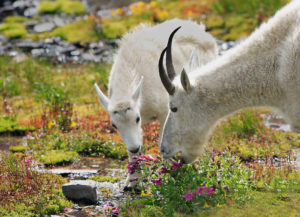 There's so much to do and see at Glacier National Park that it's hard to know where to begin. We'd recommend seeing at least one of the massive glaciers left, as they melt more every year. You also have the option to hike, fish, boat and more. During spring and summer, it's important to check the constantly changing weather conditions so you can prepare for your trip beforehand.
Where to take photos: Go to Goat Haunt if you want fewer people to photobomb that background of your pictures. Visit Lake McDonald, the largest lake in the park, in the winter for amazing snowy views. Venture to Logan Pass for beautiful fields of colorful wildflowers in the summer. Lastly, take a hike on Hidden Lake Trail to capture a photo of a mountain goat up close.
Where to park your RV: The park offers 13 drive-in campgrounds, but only 7 are recommended for RVs. Prices start at $10 per night and more than double during peak summer season. Some campsites are first come, first served.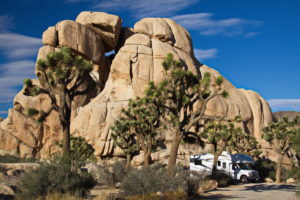 A popular camping destination year-round, Joshua Tree National Park is where the Mojave and Colorado Desert come together. With the combination of these two distinct desert ecosystems, you'll find a variety of plants, animals and weather. You can enjoy the park by hiking, biking, rock climbing and stargazing.
Where to take photos: The unique Joshua Tree plant makes for an Instagram-worthy photo, and you can find some of the largest ones at Covington Flats. A popular lookout is Keys View because you can see everything from the Coachella Valley and Salton Sea to the Santa Rosa Mountains and San Jacinto Peak. If you're lucky, you can get a shot of the Cottonwood Wash dry falls that only turn into a gushing waterfall during wet seasons.
Where to park your RV: There are 8 campgrounds at Joshua Tree National Park, but only half require reservations. Hidden Valley Campground has the most sites available that accommodate RVs and are first come, first served. However, the park is popular so booking in advance is recommended.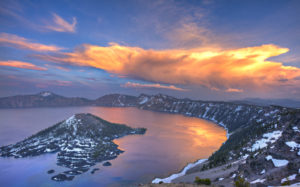 Home to the country's deepest lake at 1,943 feet, Crater Lake National Park is a sight to behold. Surrounded by sheer cliffs, pine trees and a dormant volcano, it's basically a nature-lover's dream. Many explorers hike up the legendary Pacific Crest Trail or go in search of the "Old Man of the Lake," which is a 30-foot tree stump that's been mysteriously sticking up out of the lake for over 120 years.
Where to take photos: After snapping a shot of the beautiful deep-blue waters of Crater Lake, explore the many other photo opportunities available here. There are over 20 scenic overlooks, but you can get an epic angle of Wizard Island from Watchman Overlook on Rim Drive. You can also take a guided boat tour for an epic shot of the pure, blue water surrounding you.
Where to park your RV: Mazama Campground allows RVs up to 50 feet and starts at $22 per night. You can reserve a campsite online or by phone, but the campground isn't open year-round so plan accordingly.
You Need RV Insurance at All Campsites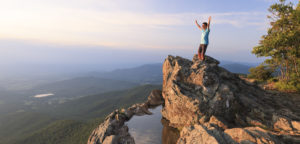 Where will your photography take you next? No matter where you travel to, you need the right RV Insurance. Your standard Auto Insurance will not cover your home-on-wheels. Our Insurance Specialists can find you full coverage for a great price. All you have to do is give us a call at (866) 501-7335 for a free quote.
---
The information in this article is obtained from various sources. This content is offered for educational purposes only and it should not replace manuals, instructions or the advice of a qualified professional. The definitions, terms and coverage in a given policy may be different than those suggested here. No warranty or appropriateness for a specific purpose is expressed or implied.