10 Best RV Campgrounds and Resorts in California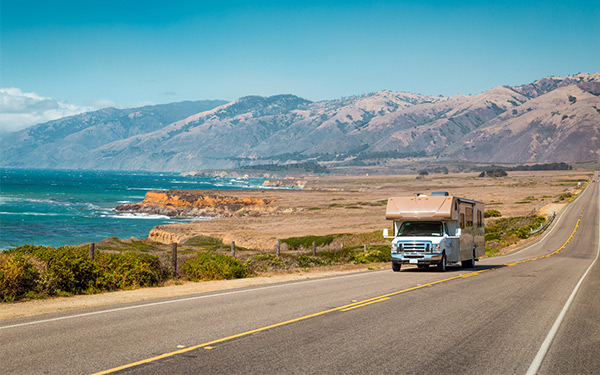 California has some of the most breathtaking RV campsites and resorts in the world. Each of the thousands of parks across the state has a unique offering from swimming at private beaches, horseback riding, trekking the mountains, fishing, and exploring the beautiful California desert. You just have to choose what kind of adventure you want. If you're planning to visit California, don't count on just driving up and paying for a spot. Take some time to explore the RV's campground and surroundings ahead of time. The following are some of our favorite California RV campgrounds and resorts that are perfect year-round!
1. Kamp Klamath RV Park and Campground – Klamath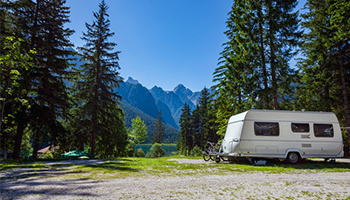 Kamp Klamath's campsite is located right along the mouth of the Klamath River that offers numerous recreational activities. The camp boasts breathtaking views of some of the lushest forests in California. It's no wonder why Steven Spielberg filmed The Lost World: Jurassic Park here. If you're a boat lover, this park offers a 45-mile round-trip jet-boat tour into the wilderness. Fishing for local salmon and steelhead is another sought-after activity. This is a pretty tech-savvy campground with full hookups. All sites offer free cable tv, WIFI, hot showers at its recently remodels and upgraded bathrooms, laundry facilities, and an RV dumping station.
Contact: (707) 482-0227 | View Website
2. Jumbo Rocks Campground – Joshua Tree National Park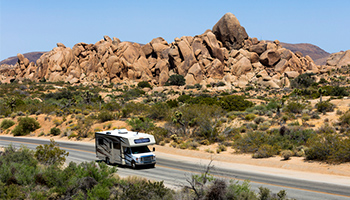 Camp among the boulders that makes Joshua Tree National Park one of the most popular desert campgrounds. Huge jumbo rocks formed by volcanic activity surround the campsite creating a rock jungle gym for climbing enthusiasts. There are no hookups or drinking water in the campground. However, the town of Twentynine Palms is only 12 miles away. Reservations are required for all of their 124 campsites during busy months, from September to May.
Contact: (760) 367-5554 | View Website
3. Lassen RV Resort – McArthur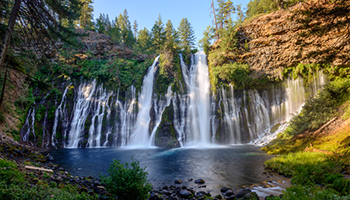 Situated between Mt. Lassen and Mt. Shasta is a stunning 68 forested acre campground. The forest wraps around peaceful lakes, rivers, and quaint towns of McArthur where you'll find local dining and great hospitality. The resort's unique location gives you convenient access to some of the major national parks of California. It's the perfect base camp to visit Burney Falls State Park, Lassen National Volcanic Park, and Lava Beds National Monument. And yes, you can see actual lava flow at the Lava Beds! Lassen RV Resort offers full hookups and even cabin lodging if you don't have an RV.
Contact: (530) 336-5657 | View Website
4. South Carlsbad Beach Campground – Carlsbad Beach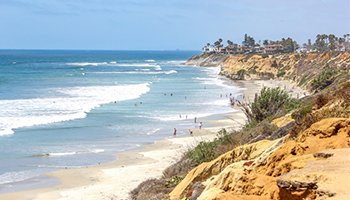 Who needs a beach house when you can park your RV right on the edge of this popular San Diego coastline? South Carlsbad Beach Campground is very popular so it's best to have a reservation.  It has a total of 223 campsites. 13 campsites include full hookups and 138 of the campsites are located on a bluff overlooking the Pacific Ocean. The campground features gorgeous beaches with swimming, surfing, snorkeling, kayaking, and a stunning backdrop for jogs and strolls. Plop right onto the beach by accessing the campground's wooden staircases. Grocery stores and restaurants are a few miles away if you need supplies or want to take a break from camping. For a side trip, the kids will love Legoland as it's only 1.5 miles away!
Contact: (760) 438-3143 | View Website
5. Emerald Desert RV Resort – Palm Desert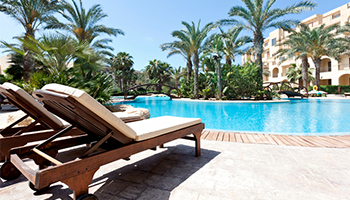 If you prefer to vacation in luxury, this RV resort in Palm Desert may be just the place to visit. The gated campground features 261 RV sites in addition to 14 on-site villas for non-RVers. The property includes lush manicured lawns, concrete pads, tennis courts, two resort-style swimming pools, hot tubs, two spas, and a putting green. The Emerald Desert RV Resort also offers secure RV storage and storage lockers in case you ever need to put your rig away during the off-season.  It's the perfect desert escape with top resort amenities.
Contact: (877) 624-4140 | View Website
6. Pacific Dunes Ranch & RV Resort – San Luis Obispo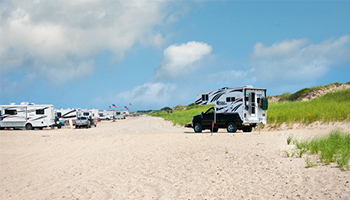 This unique campground is nestled among rolling dunes and a marine reserve near California's Pismo Beach region. Although you can't ride ATVs here, visitors can enjoy numerous activities from guided horseback riding, fishing, and other water sports right on its private beach. If sipping local wine is on your must-do list, this campground is the perfect spot to park your rig and head over to San Luis Obispo's wine country to enjoy over 30 world-class vineyards.
Contact: (805) 489-8100 | View Website
7. The Springs at Borrego RV Resort – Borrego Springs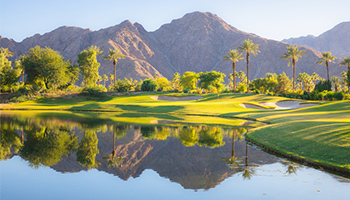 A few years ago, the National Association of RV Parks and Campgrounds voted The Springs as "The Best Small RV Park of the Year." Take a closer look at this luxury resort set in the desert and you'll see why. If you're a golfer, you'll be impressed with The Springs Golf Course, a beautiful 9-hole championship course with lakes, waterfalls, and lots of sand traps. If you're an artsy camper, there are galleries and a performing art center nearby. Along the campgrounds, you'll also find life-size metal sculptures of prehistoric animals that once lived in the area. This luxury resort boasts WIFI, cable television, immaculately clean facilities, mineral baths, and spa massages. You can also take a nice stroll into the village of Borrego Springs, which is only one mile away from the campsite and filled with desert-themed shops.
Contact: (760) 767-0004 | View Website
8. Sequoia RV Ranch ­- Three Rivers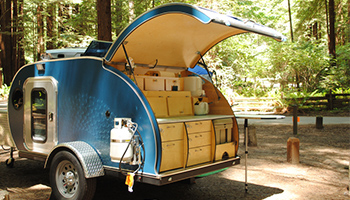 Dubbed as the Land of Giants, Sequoia National Park features huge mountains, rugged foothills, deep canyons, and the world's largest trees. The Sequoia RV Ranch is located only 8 miles from the south entrance of the National Park in the gateway town of Three Rivers. The ranch offers hiking, biking, and rafting in a breathtaking natural setting. The best part of the secluded campsite includes a spring-fed swimming hole and a fishing hole located on-site nearby Kaweah Lake. There, you can go swimming, boating, water-skiing, and fishing as well.
Contact: (559) 561-4333 | View Website
9. The Sky Valley Resort and RV Park – Desert Hot Springs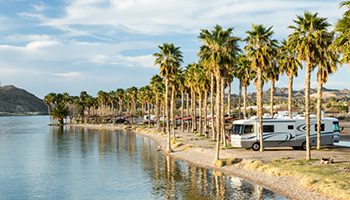 This 250-acre resort and RV park is a popular hot springs destination and an alternative to disperse camping at nearby Joshua Tree. Water from natural hot springs in the area is channeled to this resort for guests to enjoy 5-star spa treatments. If you're suffering from stress, back pain, insomnia, arthritis, or sore muscles, you may want to take part in the resort's hydrotherapy. If you're looking to stay busy, the resort includes two clubhouses, pickleball courts, dog parks, tennis courts, game rooms, fitness centers, swimming pools with nets, and golfing at the Caliente Springs.
Contact: (760) 329-2909 | View Website
10. Furnace Creek Campground – Death Valley
Death Valley is the hottest, driest, and lowest (sea-level) National Park of North America. We know it sounds extreme, but on the contrary, it delivers an abundance of life with plenty of adventures, especially in cooler months. Lush wildlife is spread across 3.4 million acres of desert and mountain terrains, despite the morbid name. Death Valley also lends its quiet grounds and dark skies to visitors who like to go stargazing. The Furnace Creek Campground is the only campsite in the area that is reservable and has hookups with drinking water, picnic tables, flush toilets, and a dump station. Plus, it's only 15 miles away from the famous Badwater Basin salt flats!
Contact: (760) 786-3200 | View Website
---
The information in this article is obtained from various sources and is offered for educational purposes. It should not replace manuals or instructions provided by the manufacturer or the advice of a qualified professional. No warranty or appropriateness for a specific purpose is expressed or implied.