Top 6 OHV Trails for ATVers, Motorcyclists & Dirt Bikers
We live in a country that's very diverse when it comes to climate and terrain. There are countless OHV trails that are perfect for ATVers and dirt bike riders alike. Chances are that you can find plenty of off-road trails near where you live or within a short driving distance. We've chosen to share the OHV trails that have become popular among riders because they are most ideal. So, if you get bored with your usual playground and want to check out an entirely different scenery while riding your toys, these are our favorite spots. Just remember to ride safely!
Brawley, California
Glamis is probably the most well-known one on this list. Located in Southern California, the Imperial Sand Dunes are what make this town famous. All types of riders visit Glamis for its 40 miles of sand dunes, with OHV trails ranging from easy to difficult. One dune, called Oldsmobile Hill, is where thousands of onlookers gather to watch sand racing. Glamis becomes unbearably hot in summer, so plan to visit in early spring or fall. If you own an RV, you're in luck because there are several campsites near the dunes. They also include public bathrooms.
Moro Plantation, Maine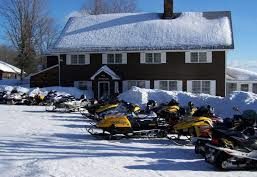 In northern Maine, there is a lodge called Katahdin Lodge. It offers access to the Arastook County ATV Trails and the Maine Interconnected Trail System (ITS). Since there are only spots for 25 lodgers, you need to book early. Then you can ride over 1,000 miles of beautifully scenic OHV trails. There are drastic changes as you ride along the terrain, so you'll never get bored. There's also bear and moose sightings, so keep your eyes peeled. If you like ATVing in snow, there's no better place to be than here in winter.
Marble Falls, Texas
Hidden Falls Adventure Park is a must-see if you're in Texas. This park is an off-road gem consisting of 240 miles of OHV trails, all rated by difficulty. Bring your ATV, motorcycle or truck to have the time of your life. Not only is riding out here amazing, but Hidden Falls is also very scenic. You'll find natural springs and waterfalls, as well as opportunities to hike, fish and mountain bike. There's also a shooting club right in Hidden Falls where you can take a course if needed. Your RV has a choice of sites for dry camping or with full hookups. There are also RVs available for rent, as well as cabins and bunkhouses. There are even ATV and dirt bike rentals at Hidden Falls Adventure Park, so this is a great place to take a buddy who's never ridden before.
Oceano, California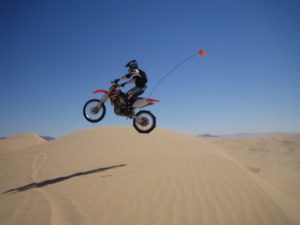 Even the name is poetic. Oceano Dunes, previously known as Pismo Beach, is 3,600 acres of beach. The best part? Half of these acres are open for ATV and OHV riding. This is the only place in California where you can drive your truck or motorcycle out to the sand and pick a place to set up camp. The views are beautiful, even if the dunes don't quite compare to the ones in Glamis. This is a great place to go if you're a rider looking to escape the oppressive heat of Southern California's summers. During the day, it's all about riding, surfing, swimming and fishing. If you're into horseback riding, you can also find that here. Hopefully, your RV has a bathroom because you won't find anything more than old-school outhouses in this area. But there's always the option of staying in a nearby hotel.
Moab, Utah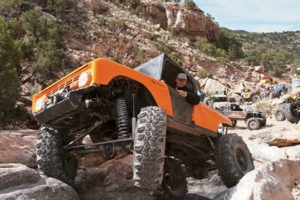 Red-rock trails and lots of national parks are what Moab, Utah is best known for. It's a popular spot for outdoor enthusiasts in general, but for riders, there's no beating the hundreds of miles of OHV trails. Many of these trails are public land, but make sure you have the right insurance because it may be required in some areas. There's something in Moab for everyone. There's amazing scenery, challenging trails and even easy-going rides. You should note that some terrain requires 4×4 capabilities to cross, so don't wander off somewhere and get stuck! If you're RVing, park at one of the national parks after you make a reservation in advance. There are also plenty of motels and hotels catering to tourists who love riding as much as you do.
Sawtooth National Forest, Idaho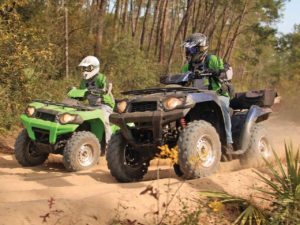 The Baumgartner trails in this forest are known to offer amazing riding adventures. Located alongside the South Fork Boise River, this terrain has incomparable views as you take on hundreds of miles of ATV and single-track motorcycle trails. The ATV trails are less daredevil-ish than the motorcycle ones and a moderately experienced rider should be fine out here. There are several campgrounds in the area that cater to RVers. You'll also find lodgings about 30 miles away, so make sure to book in advance. If you're up for a challenge, the Baumgartner trails should be at the top of your travel list. Trust us, the half hour drive every day from the hotel will be worth it.
ATV Insurance
Your ATV is an investment that you don't want to lose. Carrying ATV Insurance allows you to ride on the trail with peace of mind. Plus, it's usually required when you're driving on most state-owned property. You should also know that your Homeowner's Insurance won't cover your ATV once it leaves your property, nor will your Auto Insurance. So, speak with an Insurance Specialist at (866) 501-7335 to learn about your coverage options today. Our agents will also help you get the best rate and see what discounts you qualify for. If you have multiple recreational vehicles, ask about bundling for even more savings.
---
The information in this article is obtained from various sources. This content is offered for educational purposes only and does not represent contractual agreements, nor is it intended to replace manuals or instructions provided by the manufacturer or the advice of a qualified professional. No warranty or appropriateness for a specific purpose is expressed or implied.