Joy Riding Without Worries: Why Do I Need ATV Insurance?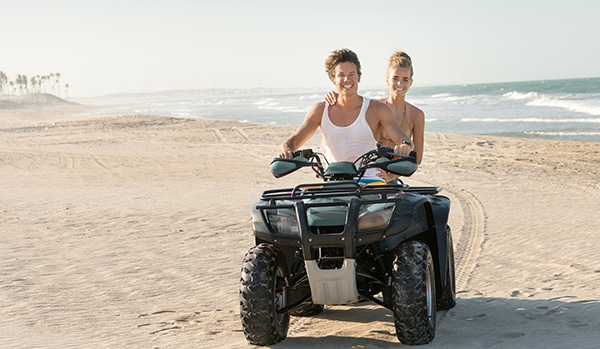 Riding an all-terrain vehicle like an ATV is nothing short of breathtaking. Taking a ride at top speed along sand dunes or through the trees in the woods is one of the best feelings in the world. Of course, there's always the risk involved, too. Even wearing all the appropriate headgear, you can still get into an accident that causes physical injuries and even property damage to your own ATV and maybe someone else's. That's why it's important to have ATV Insurance.
An ATV accident can be very costly. ATV Insurance is not something you should think twice about. It's a must-have form of protection for the wise pleasure seeker. You can get seriously injured if your flip your ATV, and it happens to the most experienced drivers too!
ATV Safety Tips
Below are a few safety tips you should keep in mind wherever you take your ATV on the open road.
Blind Spots. Each kind of terrain presents its unique set of challenges. Hikers often appear when you least expected them. There may be bumpy trails and fast turns that lead to a tree. Accidents often happen when riders are not expecting on-comers at a bend. This is especially true on a hill, where you can't see the other side. Beware of sudden obstacles, people or turns that may cause a collision.
Noises. Make sure your ATV has a spark arrestor because most state parks require you to have one. Even if the park you plan to ride in doesn't require it, you should consider one anyway. What happens if you're caught riding without a spark arrestor where it is required? You can end up in civil or even criminal trouble.
Riding Etiquette. Know your hand signals, whether you're riding alone or with a group. Signal all oncoming traffic including other riders, hikers, horseback riders, etc. If you're with a group, choose a person as the leader. This leader should always let on-comers know how many people are in your pack. The last rider should hold up a fist to indicate that they're last.
Speed. Do not go full speed on narrow trails. They are often crowded and filled with hikers. Always slow down where you anticipate people or if you hear an oncoming rider. Let faster riders pass you. Ride defensively, as you would a car.
ATV Insurance Coverages
ATVing can be as dangerous as it is fun. It's always better to be safe rather than sorry. That's why you should always carry ATV Insurance. There several kinds of coverage that are available within a comprehensive ATV Insurance policy.
The most standard ATV Insurance coverages include:
Bodily Injury. This covers the cost of injuries to others if you are found at-fault for an accident.
Property Damage. This covers damage to another person's property, or public property, in an accident you caused.
Collision. If you have a collision with another ATV, or anything for that matter, this coverage helps cover the costs of repair or replacement.
Comprehensive. If your ATV gets damaged in a non-collision incident, this coverage helps cover the costs of repair or replacement. Comprehensive Insurance covers damage done by fire, theft, vandalism and more.
Medical Payments. This coverage helps pay for medical costs if you're injured in an accident. Typically, passengers are also covered, as long as the person operating the ATV is at least 16 years old and has a valid driver's license.
Uninsured/Underinsured Motorist Coverage. As you can imagine, there will be many uninsured riders if you take your ATV to private areas or if your state has no laws requiring ATV Insurance. However, what happens if you get into an accident with a rider that doesn't have Liability Insurance? Then you'll need this type coverage to ensure your expenses are covered.
There are many companies that offer ATV Insurance, but our Insurance Specialists will shop rates for you and find the one that best fits your needs and budget. Just call (866) 501-7335 for a free quote today. Discounts often apply, especially if you bundle your ATV Insurance with Motorcycle Insurance or RV Insurance.
Speak With An ATV Insurance Specialist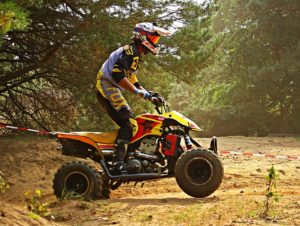 In many states, you're required to carry ATV Insurance. This is especially true in state parks or any other type of state-owned property. Like Auto Insurance, the minimum requirement is Liability Insurance. If you're financing your ATV, you are most likely required to carry ATV Insurance. Your lender will have specific coverage requirements. Regardless of where you plan to ride, it's always best to be financially protected with full ATV Insurance coverage.
Are you interested in great coverage for a low rate? Then speak with an Insurance Specialist at (866) 501-7335 for a free quote in minutes.
---
The information in this article is obtained from various sources. This content is offered for educational purposes only and does not represent contractual agreements, nor is it intended to replace manuals or instructions provided by the manufacturer or the advice of a qualified professional. The definitions, terms and coverage in a given policy may be different than those suggested here. Such policy will be governed by the language contained therein, and no warranty or appropriateness for a specific purpose is expressed or implied.