Kick Off Summer With These Fourth of July Recipes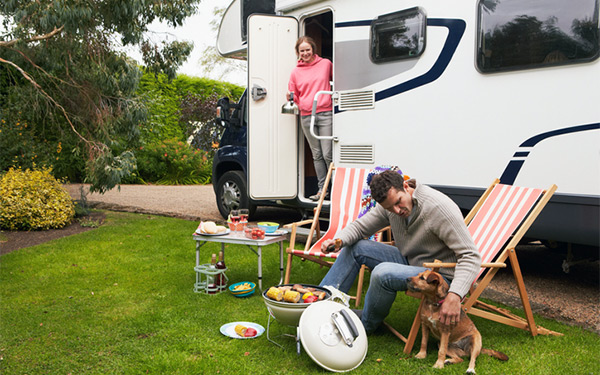 Yes, it's almost the 4th of July, and that conjures up images of flags, fireworks, beaches, and barbeques. We're all foodies when it comes to holiday picnics and parties, so we've assembled some new recipes featuring the foods and bright colors of the season. Even if you have some traditional family favorites, these are some new ideas if you'd like to change things up this year.
Fresh and Flavorful Strawberry and Blue Cheese Bruschetta Appetizer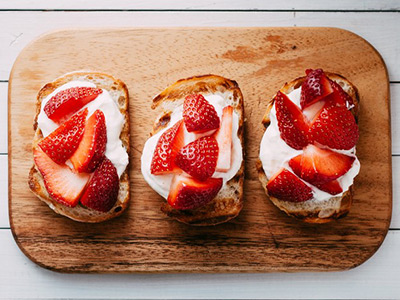 Here's an easy but fancy-looking appetizer that's sure to please everyone.
Ingredients for 12 servings
12 medium strawberries, hulled and sliced
1 teaspoon sugar
1/4 cup (2 ounces) reduced-fat cream cheese (Neufchâtel)
¼ cup crumbled blue cheese
1-2 teaspoons water, if needed
1 tablespoon finely chopped fresh chives, plus more for garnish
¼ teaspoon freshly ground pepper
12 slices whole-grain baguette (1/4 inch thick), warmed or toasted
Directions
Combine strawberries and sugar in a medium bowl and let stand while you make the cheese spread.
Combine cream cheese and blue cheese in a small bowl using a fork. Add water, if necessary, for a thick but spreadable consistency. Stir in 1 tablespoon chives and pepper.
Spread a teaspoon of the cheese mixture on each piece of baguette. Top with the sliced berries. Garnish with a sprinkle of chives, if desired.
Source: EatingWell.com
---
A Tangy and Delicious Tomato, Balsamic & Bread Salad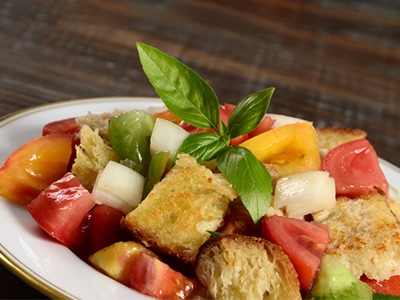 The trick on this salad is to use a slightly dried out (but not stale) crusty loaf of bread, so it soaks up the yummy dressing.
Ingredients
2-3 fresh tomatoes (about 3 cups), chopped
1/3 loaf of French bread, slightly dry, cubed (or have equal parts as tomatoes)
½ cup fresh basil leaves, chopped
1 small cucumber, peeled, quartered, and sliced
¼ cup olive oil
¼ cup balsamic vinegar
½ tsp each of salt and pepper
Directions
Cube the bread and leave it out to dry for a few hours.
In a second bowl, chop the tomatoes, cucumber, and basil. Set aside.
In a 3rd bowl, mix the olive oil, balsamic vinegar, salt and pepper. Set aside.
When ready to serve, combine the bread and vegetables into one bowl. Drizzle the dressing over and toss well.
---
A Classic American Burger – Made to Perfection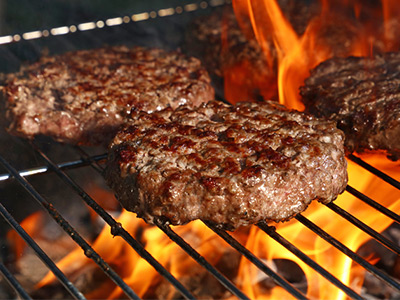 Want to know the secret to making the best hamburgers ever? Skip the frozen patties and make them from scratch! This recipe includes tips to make sure they are tender and juicy.
Ingredients for 6 burgers (1/3 pound each)
2 pounds (32 ounces) 80/20 ground beef, cold
4 cloves garlic, minced
2 tablespoons minced onion
1 tablespoon Worcestershire sauce
1 3/4 teaspoons freshly ground pepper
1 1/2 teaspoons salt
6 hamburger buns
Butter for buns
Cheese, if desired
Directions
Put the chilled ground beef in a mixing bowl and sprinkle over the other ingredients. Fold the meat over just enough to blend, but don't overhandle the meat.
Divide the meat into 6 equal parts. Gently form each portion into a patty about 4-inches across with 1-inch sides. Add a shallow depression in the middle to keep the patty from puffing up in the center during grilling. Cover and keep chilled until ready to grill.
Heat a gas or charcoal grill. Butter the insides of all the buns and set them near the grill.
Place patties on the grill over direct heat and cook to your desired doneness:

Rare burgers – cook for 4 minutes total (125°F)
Medium-rare burgers – cook for 5 minutes total (135°F)
Medium burgers – cook for 6 to 7 minutes total (145°F)
Well-done burgers – cook for 8 to 9 minutes total (160°F)
Flip the burgers at least once during cooking, but do not press down on the patties at any time or you'll lose the juices.

When you have about 1 minute left to cook, add cheese to the burgers if desired and put the buns on the grill over indirect heat.
Remove burgers and buns from the grill and transfer to a clean platter. Let the burger rest for 1 minute before serving.
Adapted from: Simplyrecipes.com
---
Chile-Lime Shrimp Skewers for the Seafood Lovers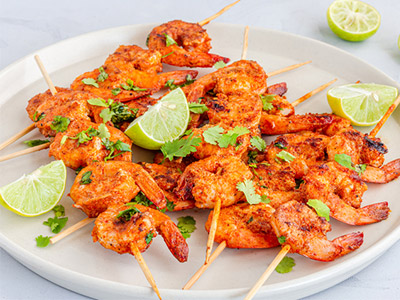 Forget the fourth of July fireworks, this chile-lime shrimp is its own dynamite! The combination of hot pepper and acidic lime flavors gives these skewers a unique flavor.
Ingredients for 4 generous or 6 smaller servings
1 ¼ lb. medium-large shrimp
1 tsp. finely shredded lime peel
1 tsp. lime juice (about 1 ½ limes)
1 jalapeno, seeded and finely minced*
1 Tbsp. garlic, minced
2 Tbsp. low-sodium soy sauce
3 Tbsp. olive oil
1 tsp. chili powder
¼ tsp. cayenne powder
2 Tbsp. chopped cilantro
1 Tbsp. honey
Directions
In a medium bowl, combine all ingredients except shrimp and stir well.
Peel shrimp and devein if needed, rinse and pat dry with paper towels.
Put shrimp in a large resealable bag along with the marinade. Rub the marinade into shrimp.
Place in refrigerator for 20 minutes, halfway through, turn bag to redistribute the marinade. (Note: Do not marinate longer than 20 minutes or the lime juice will "cook" the shrimp.)
Skewer the shrimp, about 4-6 per stick. (You can double skewer, using two sticks, to make shrimp more stable on skewers.)
Grill shrimp on oiled grill rack 2 minutes per side, or until opaque.
*Jalapenos contain oils that can burn skin and eyes. Avoid direct contact as much as possible by wearing gloves, or if using bare hands wash well with soap and water.
---
Who Can Resist a U.S. Flag "Poke" Cake?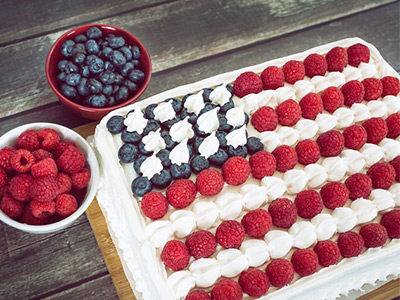 This is one your parents may remember and it's a classic fourth of July recipe. This refrigerated sheet cake is cool and refreshing. It can be decorated with blue and red berries to create and celebrate the Stars and Stripes!
Ingredients
White cake mix, plus ingredients on the box
1 package (3 oz.) strawberry jello, plus 1 c. boiling water and ¾ c. cold water
3-4 cups whipped cream
Directions
Mix cake according to package directions. Bake in a 13×9 inch pan at 350 degrees until cake tests are done. Cool cake for about 20-25 minutes
While the cake cools, dissolve jello in boiling water. Add cold water and set aside.
Using a meat fork, butter knife, or the back end of a wooden spoon, punch holes into the cake about 1 inch apart. Slowly pour in jello aiming for the holes. Refrigerate for at least a few hours to overnight.
Prepare whip cream and spread on cake.  Create a stars and stripes design using blueberries and strawberries or raspberries.
Adapted from: Lilluna.com
Safety and Fun this Fourth of July
There you have it – simple and delicious fourth of July recipes from appetizer to dessert. Great food can enhance any holiday celebration. And, however you are enjoying this 4th of July holiday, please do it responsibly and safely. Want more quick and easy grill recipes? Check out these delicious grill recipes that will get the whole family drooling!
---
The information in this article is obtained from various sources and is offered for educational purposes. It should not replace manuals or instructions provided by the manufacturer or the advice of a qualified professional. No warranty or appropriateness for a specific purpose is expressed or implied.