Don't Make These 5 Common RV Insurance Mistakes!
Whether you are a first-time RV owner or an experienced full-timer, insurance for your rig is a necessity. We get it. Insurance is the last thing on your mind and it's not fun to deal with. But it may provide a sigh of relief knowing you're covered in case anything happens to your RV. At QuickRVInsurance, our RV insurance specialists have seen mishaps an RVer may experience when they're out on the road. We'll share the most common mistakes RVers can make when insuring their RVs so you can avoid them.
Mistake #1: Relying On Your Auto Insurance Policy To Cover Your RV
The most common and costly mistake an RV owner can make is assuming their RV is fully covered under their auto or homeowner insurance policy. What most newbie RV owners do not realize is, recreational vehicles are better protected with specialized RV insurance than with other policies. The reason why is because RVs are much more intricate than a car. It has unique functionalities and amenities to make your camping experience more enjoyable, but that also means you are exposed to greater risks. A specialized RV insurance policy helps protect your personal belongings and covers mishaps your rolling home may encounter. Here are some of the coverages an auto policy won't have:
Total Loss Replacement Coverage
Campsite and Vacation Liability
Personal Belongings Coverage
Coverage for Full-Time RVers
Seasonal / Storage Option
Disappearing Deductible Coverage
Special Windshield Deductible
Emergency Travel Expense
24-Hour Roadside Assistance for RVs
Mistake #2: Not Choosing The Right Total Loss Settlement Option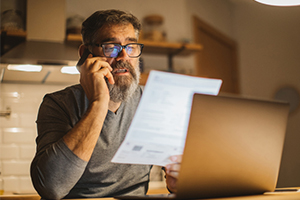 If you already have an RV policy, pat yourself on the back for taking the first big step in protecting your investment. The next thing you should be aware of is making sure you picked the right total loss settlement option for your RV. In a scenario where your RV is determined a total loss, the type of settlement option you selected on your policy determines your payout amount or replacement. However, these total loss settlement options have limitations in terms of which RVs may qualify, and not all insurance carriers offer them. Below are four total loss settlement options, QuickRVInsurance specialists can explain them and help you choose
Actual Cash Value
Purchase Price Guaranteed
Agreed Value
Total Loss Replacement
Mistake #3: Declining Emergency Roadside Assistance Coverage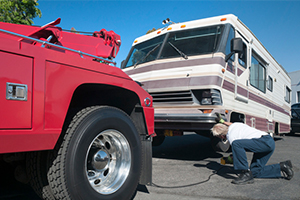 A tire blowout may seem like an easy fix in a regular car. But when you're driving a rolling home loaded up with all your camping gear and luggage, experiencing a tire blowout and fixing it gets a bit more complicated. So, another costly mistake is declining emergency roadside assistance coverage. According to Home Guide, an 80-mile tow of an RV cost between $450 to $600. As one of the most commonly submitted RV claims, having emergency roadside coverage ensures your RV is fixed quickly so you can get back on the road.
On a side note, tire blowouts may often be prevented by checking your tire pressure before traveling. Make sure your tire isn't overinflated, flat, or worn out from wear and tear. This is not to say nothing will happen if you've done all your checks before hitting the road. Anything can happen! But the extra time spent inspecting your tires before cruising off can provide you with peace of mind and decrease the risk of a tire blowout.
Mistake #4: Not Shopping Around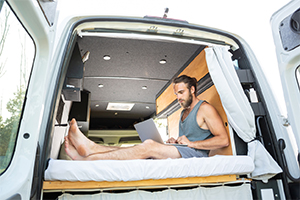 Insurance companies operate in a highly competitive market and rates adjust often. So, make sure you shop your RV insurance rate annually to ensure you're getting the best deal for your lifestyle. Your insurance carrier now may have given you the best rate last year but may not be able to do so today. Additionally, conduct some research before you pick an insurance carrier. In the event of an accident, you'll want to make certain an experienced company will help you when you need it the most. At QuickRVInsurance, we work with reputable RV insurance carriers to provide you with the best combination of price and protection. Here are a few of our insurance partners you may have heard of:
Foremost
Safeco
National General
Nationwide
Progressive
Mistake #5: Having Inadequate Liability Coverage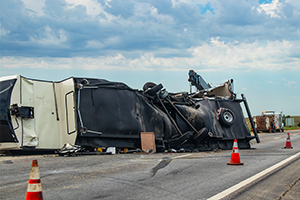 Don't skimp out on liability coverage when purchasing your RV policy. Liability coverage protects you in the event your RV hurts someone or damages their property. Choosing lower liability limits may leave you with enormous financial gaps. It's worth noting medical bills and lost wages may quickly exceed minimum liability limits leaving you to pay for additional expenses out of pocket. Instead of choosing little more than your state-required minimum liability, evaluate your financial situation and select a limit that best reflects your affairs.
How an Experienced Agent Can Help You Save on RV Insurance
Did you know major life events like moving to a new town, getting married, retiring, and much more may cause your RV insurance rate to drop? Be sure to speak with a licensed RV insurance specialist today at (866) 501-7335 to review your policy. We'll help you search for potential discounts and compare multiple insurance companies' rates to ensure you're getting the best rate possible.
---
The information in this article is obtained from various sources and is offered for educational purposes. It should not replace manuals or instructions provided by the manufacturer or the advice of a qualified professional. No warranty or appropriateness for a specific purpose is expressed or implied.