Should I Buy a Diesel or Gas RV?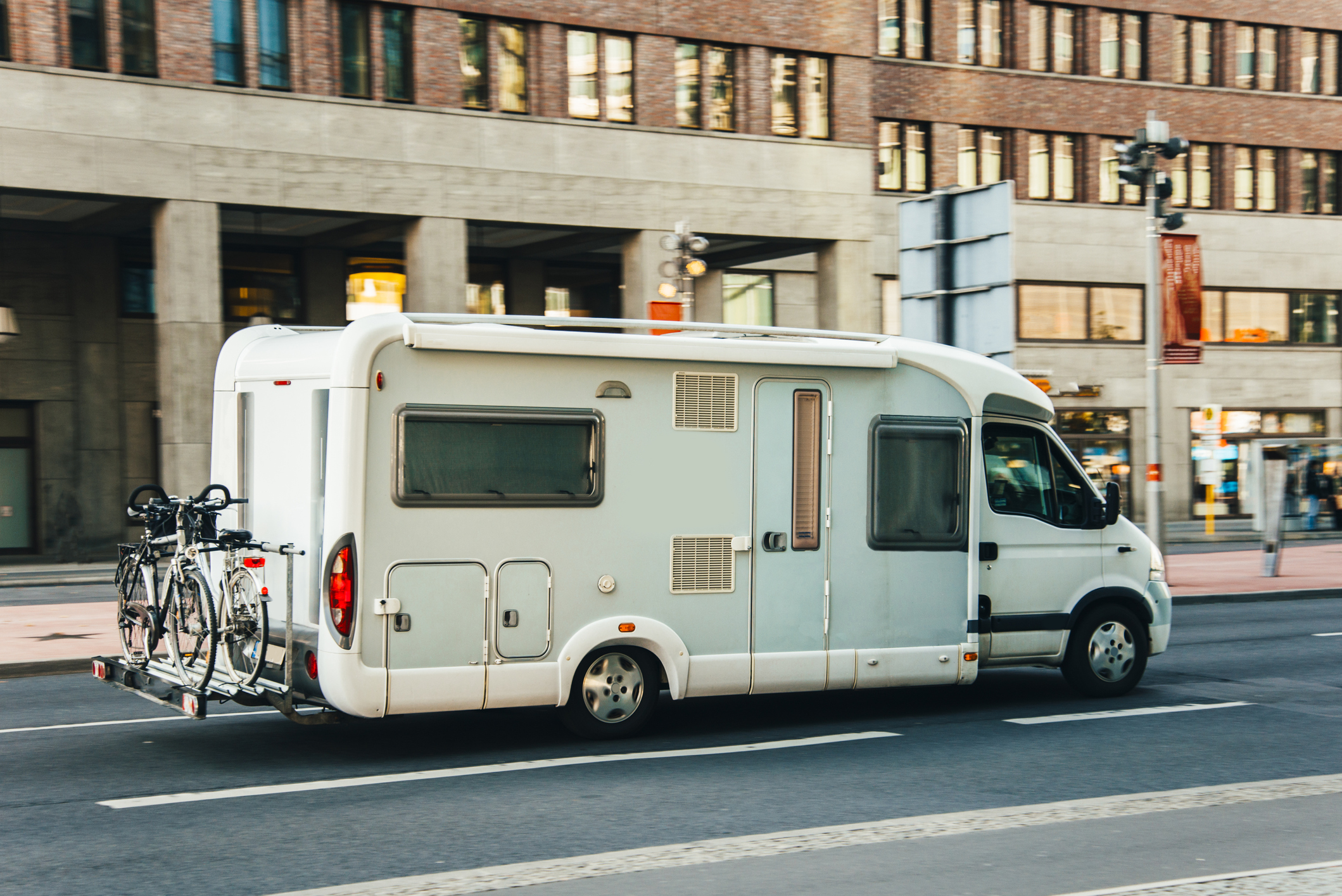 If you've been thinking about buying an RV, then you've probably come across this dilemma: Should I buy a diesel or a gasoline RV? Truly only you can answer that question for yourself, but we've come up with some pros and cons to help you decide. Here's everything you need to know about engine type, fuel efficiency, chassis and price. In the end, it's really up to your personal preference, your budget and how frequently you plan on using your diesel or gas RV. Whatever you end up buying, we're sure you'll have many memorable adventures in it. We also hope you'll get the right Specialty RV Insurance to protect your asset. Call and speak with an Insurance Specialist about your options at (866) 501-7335.
Engine Type
In a diesel RV, the engine is in the back and in a gas RV, the engine is in the front.
Diesel RV
The rear engine in a diesel RV keeps the cabin quiet, although there will always be road noise, creaks and vibrations during travel. The good thing about diesel engines is that they're designed to last a really long time. You won't have to worry about wearing out your RV's engine, even after you put a hundred thousand miles on it. These engines are also designed to have significantly more torque at lower engine speeds. This allows the RVs to climb hill and mountain grades more easily. However, a diesel engine is much more difficult and costly to maintain. Maintenance includes large-volume oil changes, frequently replacing two or more fuel filters, and filling up with expensive diesel fuel.
Gas RV
The front engine in a gas RV is louder and produces more heat in the driver's area. That heat can be a good thing in the winter or a bad thing in the summer, so it's important to think about what time of year you'll be using your RV the most. Will you be making road trips to Mexico in the summer or going ice fishing in the winter? The engine will most likely be the noisiest during acceleration or when climbing hills. It should quiet down once cruising speed is reached, though. Gasoline engines can also produce more horsepower, but not a lot of torque. That means you can go fast, but may have a harder time going up hills and mountains. Since the engine is in the front, the generator is mounted closer to the bedroom which could be a problem if you're a light sleeper.
Fuel Efficiency
When comparing the two, diesel RVs are much more fuel efficient than gas RVs.
Diesel RV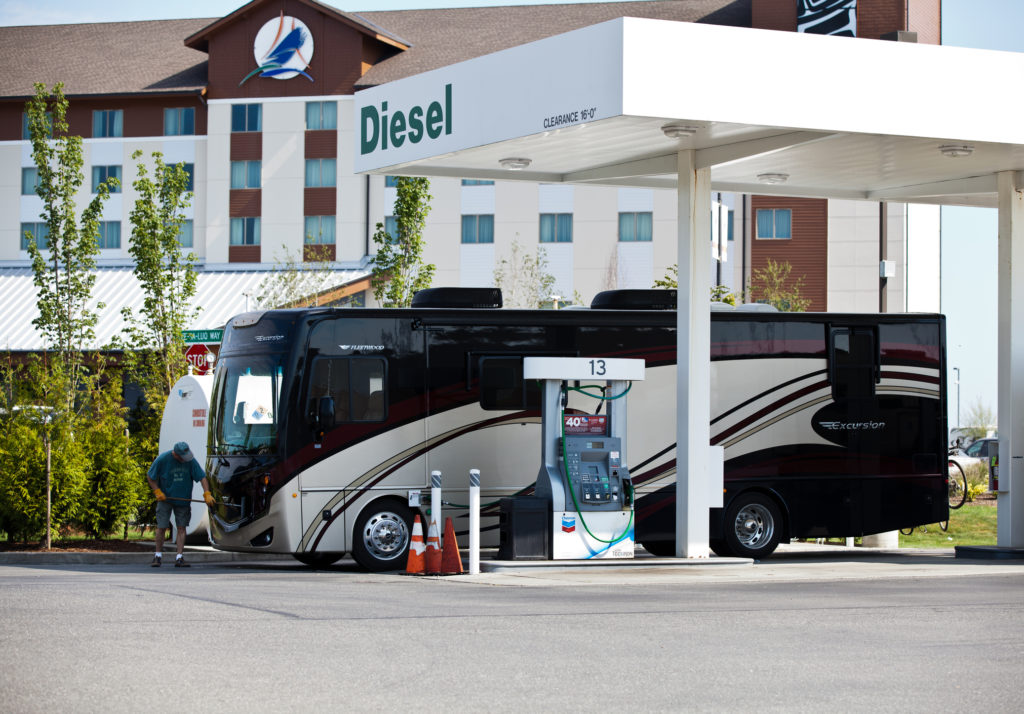 Diesel fuel may be more costly, but it has a greater energy value and higher energy density. This means that diesel fuel can offer up to 10% better fuel economy than gasoline. While diesel fuel is typically more expensive than gasoline, a diesel RV's improved fuel efficiency may make up for the cost in the long run. Are you planning on putting a lot of mileage on your RV, like driving cross-country or living in it full-time? Then it probably makes more sense to choose a diesel RV for its fuel efficiency.
Gas RV
Although gas RVs are less fuel efficient, gasoline is usually much more affordable than diesel fuel. Regular gasoline can also be found pretty much anywhere and at any gas station you come across. On the other hand, diesel fuel can be a little more difficult to find. If you're planning on using your RV for nearby camping trips, weekend getaways or other recreational activities, then a gas RV can be the perfect choice for you. Basically, if you don't plan on living in your RV for a long period of time, choosing a gas RV could be the more efficient option.
Chassis
Diesel RVs have a larger chassis allowing for a larger cargo capacity, while gas RVs have a smaller chassis and therefore a lighter weight and less cargo capacity.
Diesel RV
Most diesel RVs have Air Ride Suspension that stabilizes the vehicle for a smoother ride with less roll and sway. Diesel motorhomes also have a better turning radius and sit lower to the ground. They also have the capability of towing between five and ten thousand pounds depending on the model. Although the chassis is larger and heavier, diesel RVs have air brakes that provide the power for stopping such a heavy vehicle. Unfortunately, most service and chassis repairs must be made in a manufacturer shop or at authorized truck repair facilities. This can be expensive and difficult to find. However, diesel RVs usually require less frequent servicing and repair than gas RVs because they're built to last longer.
Gas RV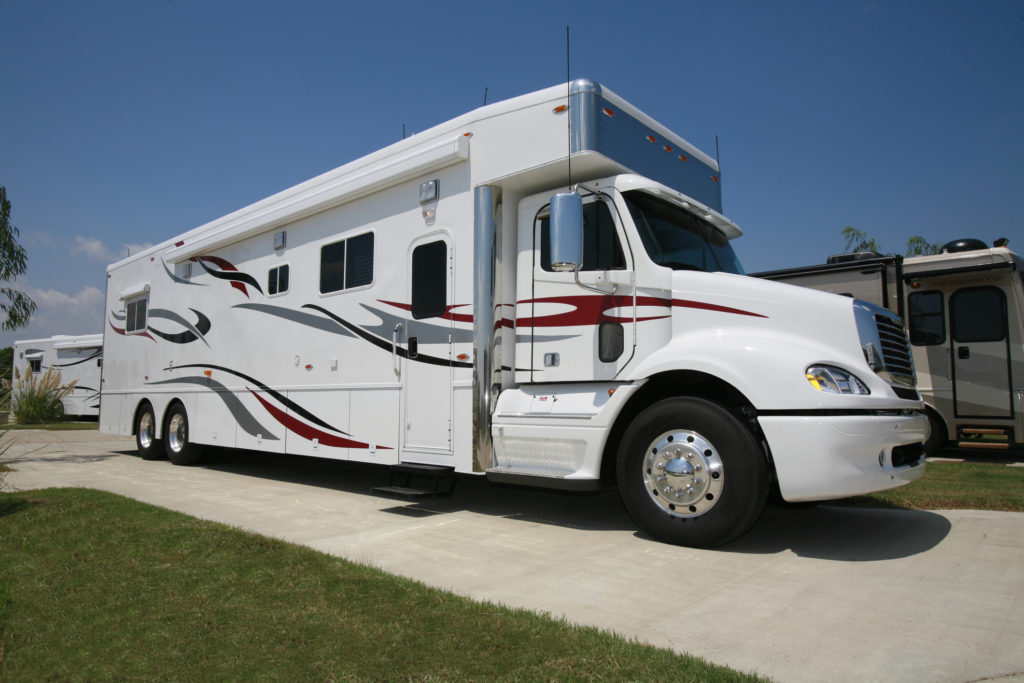 The chassis of a gas RV sits higher off the ground and driving one has been described as similar to driving a large truck. The turning radius on a gas RV is good, but the chassis usually has more roll, sway and bump than a diesel RV. The brakes on gas RVs aren't as reliable, but they're lighter so it shouldn't make a huge difference. Maintenance for gas RVs are also less expensive and repairs are typically cheaper, faster and more readily available. Most gas motorhomes produced today are built on the Ford P-53 chassis with a V-10 engine. That means that almost any shop that can work on a Ford can work on a gas RV. If you know how, you could even take oil changes, fuel filter replacements and other small tasks into your own hands.
Price
One of the biggest determining factors when deciding what RV to purchase is price.
Diesel RV
Diesel RVs do have a longer lasting engine, require less frequent maintenance and have better fuel efficiency. But they come with a significantly higher price range than gas RVs. In fact, diesel RVs can be up to tens of thousands of dollars more expensive than gasoline RVs. They tend to provide more comfort and usually have a better resale value, but if price is your main decision maker, then a diesel might be a little outside of your budget. This is also why diesel motorhomes are better for long road trips or full-time living, as you're truly making an investment in your RV.
Gas RV
Yes, gas RVs tend to be more affordable than diesel ones. But you will be giving up the luxury and comfort that comes with a higher price tag. If you only go on a few short road trips a year, then saving money and opting for a gas RV can make a lot of sense, especially for your wallet. You can still get luxury features in a gas motorhome and you'll be paying less for gas, maintenance and any repairs your RV might need.
Your RV Lifestyle
Overall, there are many pros and cons about both diesel and gasoline RVs. We've listed some of the main factors to consider when deciding on what type of RV to purchase, but there are even more smaller differences that may sway you one way or the other. Ultimately, you should choose the RV that will fit your lifestyle and travel plans the best in the long run.
RV Insurance
Once you make your decision and purchase your RV, make sure you have Specialty RV Insurance. Just having auto insurance is not enough to cover either a diesel or gasoline motorhome. To find out more information about what type of RV insurance you need, speak with an Insurance Specialist about your options at (866) 501-7335.
---
The information in this article is obtained from various sources. This content is offered for educational purposes only and does not represent contractual agreements. It should not replace manuals or instructions provided by the manufacturer or the advice of a qualified professional. The definitions, terms, and coverage in a given policy may be different than those suggested here. Such policy will be governed by the language contained therein, and no warranty or appropriateness for a specific purpose is expressed or implied.