7 DIY RV Storage Ideas and Organization Tips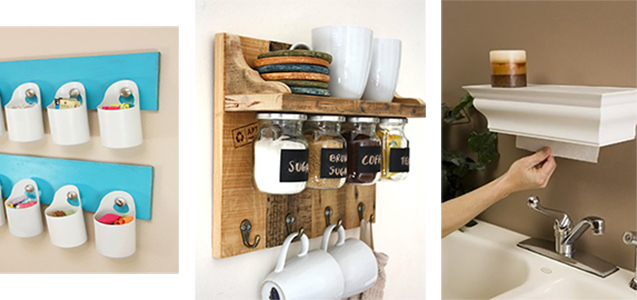 Living in an RV full-time is an exciting alternative to living in a house or apartment. However, if you don't take care to utilize some tried-and-true RV storage ideas to declutter your space, you will end up feeling cramped and claustrophobic after just a few days. Luckily, there are tons of tips and tricks to help you combat a chaotic living situation in your motorhome.
The following are some of our favorite RV storage ideas and DIY projects that will save you money and space.
Create a zone for everyone's sunglasses and keys. Who doesn't always lose their sunglasses and keys? In an RV, there's no room to just toss your things around. Use simple wood boards and durable string or rope to create a spot to organize everyone's sunglasses and keys. This will free up space while also keeping your RV organized.
Use hanging jars to store small items in the kitchen. You don't have to compromise on bringing all your kitchen essentials into your new home. By screwing the lids of mason jars under cabinets, you'll have additional space to store your condiments and anything else that may otherwise get in the way. Check out DIYyourcrafts.com for more small kitchen ideas and hacks.
Use a magnetic spice rack for more counter space. Again, you want your RV to really feel like home. So, if you tend to cook a lot, you can still bring along all those spices. You'll need just a few items and some time to make this magnetic spice board. It's sure to save you a lot of counter space. Check out the easy instructions at instructables.com to get started.
Compartmentalize your things with recycled hanging containers. Create hanging bins out of old plastic containers that ran out of disinfecting wipes. Or, you can use any empty containers for this fun DIY project. It will give each person in the family some space for their personal bath essentials. Learn how to create your own mini cubbies at makeit-loveit.com.
Store sheets in matching pillow cases. We all know that the top sheet is the easiest one to fold. However, take time to carefully fold the fitted sheet, too. If you do, you can store both in the matching pillow cases! This will open up more space and your sheets won't get as wrinkled. Also, it will be much easier to find your matching bed sets.
Make an L-shaped shelf for additional space by your bed. You can buy something like this at Ikea, but really, you could easily make one yourself. Using an L-shaped nightstand will give you an area to place your book at night while also giving you more floor space since it's connected to the wall. If you're really ambitious, you can even create more storage space with additional shelving on the bottom half of this makeshift nightstand.
Place paper towels under a crown molding, which doubles as a shelf. With the paper towel hidden away under the crown molding, you'll create more shelf space in the kitchen. This little trick also looks great and can hold lots of things above, like dish detergent or hand sanitizer.
RV Insurance
Remember, having a good-looking and comfortable RV is important, but so is protecting your investment. Make sure to contact us for RV Insurance if you haven't already. It might be more affordable than you think!
---
The information in this article is from various sources. This content is offered for educational purposes only and does not represent contractual agreements, nor is it intended to replace manuals or instructions provided by the manufacturer or the advice of a qualified professional. The definitions, terms and coverage in a given policy may be different than those suggested here. Such policy will be governed by the language contained therein.