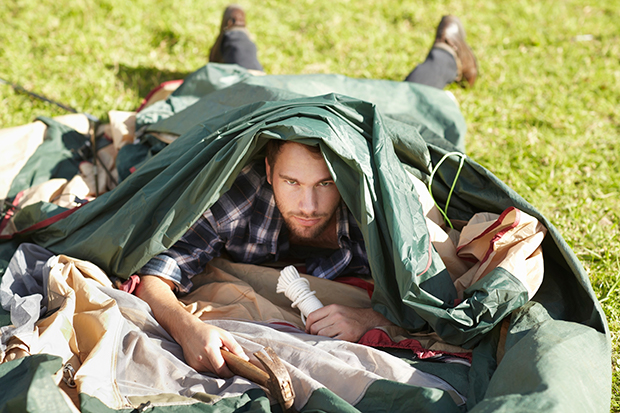 You love camping and have been doing it for years. It used to be that hitching a tent once or twice a year was enough for you to get your fill but lately you're camping more than ever and your plans have become more elaborate.You want to bring along all your fun toys, like your brand-new water skis and dirt bikes, which don't fit in the car. You also want to camp during the fall, when it's a little chillier. However, you don't want to spend all that money staying in a cabin. What to do? Well, it may just be time for you to invest in an RV and RV insurance. Check out our list of 10 signs that you're ready to swap that tent for an RV already.
You would just rather just sleep in the backseat of your car.
You've woken up sore way too many times. It's gotten to the point that you really hate the sleeping part of camping and it has little to do with not wanting to enjoy the great outdoors. The great news is that RVs make sleeping at a campground much more comfortable. The bigger the RV, the more space for beds. However, smaller RVs can have dinettes and sofas that pull out into beds. You'd be amazed at how many people can sleep in a small RV – sometimes 6 or more! If you have kids, bunk beds are great for space saving.
You've gotten drenched from unexpected downpours in the middle of the night. Yep, it happens to the best of us, even with an emergency weather radio to guide us. You can still choose to sleep outside even after buying an RV but it's nice to have some shelter in case of rain or even a serious chill. In fact, you can camp during any season if you have an RV.
It's just too darn hot outside! Being an avid camper, you definitely take many trips during the summer. You've enjoyed plenty of beautiful sunny mornings that turn into major scorchers once the sun reaches its hottest point. You look forward to camping trips but dread becoming completely dehydrated and feeling really uncomfortable, especially on humid days.RVs give you the versatility of enjoying certain hours of the day outside while spending the hottest hours indoors with the AC blasting. The best part: You can read a book or watch a movie in comfort while waiting for the sun to go down a little.
Struggling in the dark while setting up your tent ruins your day. What a way to end the day: stressing out because you can't see what you're doing. Flashlights don't light up the whole area either, so you're fumbling all over the place. You could try to get back to the campsite while it's still light out but do you really have to cut your night short just to avoid this headache? No, you could simply buy an RV. Most people imagine really pricey home-on-wheels but there are many types of RVs and you could probably find a small one that fits your needs for just a few thousand dollars.
You want to eat like a human being again. Sure, if you are going camping less than a handful times a year, it's cute to eat hot dogs and baked beans all the time, but you know you can't do this regularly, especially if you plan to camp out every single weekend on extended holidays. Not only is typical camping food not the most healthy diet, franks and beans get old fast. Many RVs come with full-size kitchens, microwaves, refrigerators and all the amenities you're used to in your home. If those RVs don't fit in your budget, you can still fit an old-fashioned ice box (a much cheaper alternative to a small fridge) to place in a small trailer. And, it's still easier bringing a BBQ in a trailer than it is in a car. How nice would it be having your own BBQ, rather than using the communal ones at the campsites, which aren't always clean.
You want to bring all your motorized toys with you. Well, why wouldn't you want to bring a boat, your ATV or your jet skis when you're on vacation? The stuff is all paid for, but it's always a hassle trying to transport your toys, especially several at the same time. Buying an RV with a toy hauler is the best way to go if you want to bring all your equipment.
You're tired of the long lines you have to stand on to take a shower at the campsite. Yeah, you've even gone as far as just pouring water over your head and getting a little soap-time in there just to avoid those public showers. We feel your pain. The good news is that some RVs have full bathrooms. Chances are your showers in the RV will be much shorter than those you take at home (small water tanks allow for limited hot water), but for some campers this is still better than using public facilities. You can also buy an outdoor faucet to hook up to your RV for quick outdoor rinsing. These attachments are especially useful after getting off the beach!
Porta-potties are just plain gross. You never thought the toilet meant that much to you until you became a serious camper and had to use the porta-potties on the campsite. In an RV, you won't be horrified because the only people using the toilet are you and your loved ones. Ah, the luxury!
Packing for a camping trip is a nightmare! You fold and pack your clothes carefully and they are completely wrinkled as soon as you go to wear them. Separating dirty clothes from clean ones becomes a problem too when you're living out of a suitcase.In an RV, there is plenty of closet and storage space. You can just hang your clothes before setting off towards your destination. You can keep a hamper for dirty clothes in your storage area. You've got it: No more bulky luggage!
Traveling with children is a hassle. Even though an RV won't keep your kids from whining or getting sick during a trip, they may complain less during a drive where they can watch movies or sleep in an actual bed rather than in a car, where everything is harder to do. In an RV, grabbing snacks and using the toilet is much less of a hassle. Plus, fewer pit stops makes for a faster trip to the campsite!
When you're ready to make a commitment to many more adventures with fewer discomforts, make sure to contact us for RV insurance. You'll be surprised how affordable it is!
The information in this article was obtained from various sources. This content is offered for educational purposes only and does not represent contractual agreements, nor is it intended to replace manuals or instructions provided by the manufacturer or the advice of a qualified professional. The definitions, terms and coverage in a given policy may be different than those suggested here and such policy will be governed by the language contained therein. No warranty or appropriateness for a specific purpose is expressed or implied.