RV-Friendly Snowboarding Destinations on the West Coast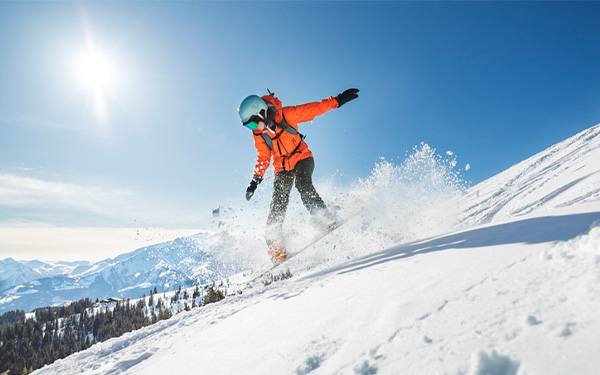 If you're like us, you know the fun doesn't stop just because the temperature drops. If there's one thing to look forward to each winter, it's fresh snow on slopes perfect for snowboarding. And if you're located on the West Coast, there are countless trails and resorts to explore. So without further ado, here are six snowboarding destinations located throughout California, Oregon, and Washington.
Snowboarding Destinations on the West Coast
1. Mammoth Mountain, California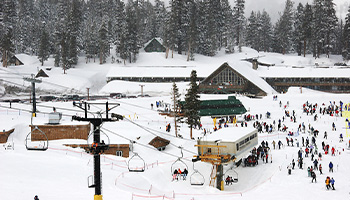 Kicking off our list is a location any avid snowboarder or skier should already know: Mammoth Mountain. Located in the Inyo National Forest, Mammoth Mountain is home to the highest lift in California at 11,053 ft. Because of this, the snowboarding season tends to last longer in Mammoth than in other locations, making it an ideal place to visit all throughout the winter and early spring.
However, don't be intimidated if it's your first visit. While there are plenty of advanced trails for experienced riders, Mammoth Mountain also offers activities for those not interested in snowboarding, such as tubing, snow play, and gondola rides.
RV-Friendly Places to Stay:
2. Crystal Mountain, Washington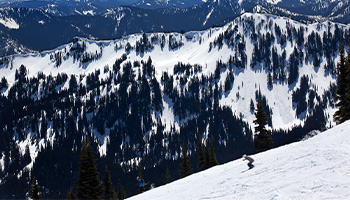 Visiting the pacific northwest should be on everyone's bucket list. Not only is the area beautiful throughout the year, but it's also home to plenty of snowboarding destinations. If you'd like to hit the slopes with an active volcano as your backdrop, then consider heading towards Crystal Mountain Resort.
Located within Mount Rainier National Park and just an hour and a half south of Seattle, Crystal Mountain is one of Washington's largest ski resorts. Want to know the best part? The resort offers RV camping that will put you steps away from its lifts!
RV-Friendly Places to Stay:
3. Mount Bachelor, Oregon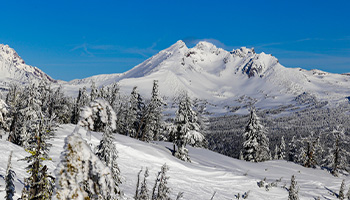 If one volcano didn't pique your interest, then maybe another will. Mount Bachelor is a dormant stratovolcano located in the Cascade Range of central Oregon—it's also home to one of the best snowboarding destinations in the state.
With over 4,300 acres available for skiing and snowboarding, Mount Bachelor has something for everyone, regardless of experience. If you're a skilled rider, be sure to take advantage of the lifts that take you to the summit to get a 360-degree view of the surrounding landscape. If you're new to the sport, consider enrolling in the resort's Ski or Ride in 5 program for discounted lessons, rentals, and lift tickets.
RV-Friendly Places to Stay:
4. Lake Tahoe, California and Nevada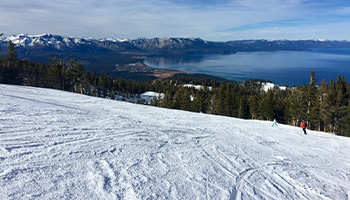 If you're looking for a snowboarding destination that has it all, then you'll want to head toward Lake Tahoe. Known throughout the state as a popular destination year-round, Lake Tahoe transforms into a snowy wonderland during the winter months.
You'll find no shortage of resorts located throughout the Lake Tahoe region. And as a bonus, plenty of RV parks and state-maintained sno-parks allow overnight parking in the area. Some of our favorite resorts include Heavenly, Sierra-at-Tahoe, and Palisades Tahoe. Fun fact: Palisades Tahoe was where the 1960s winter Olympics were held!
RV-Friendly Places to Stay:
5. The Summit at Snoqualmie, Washington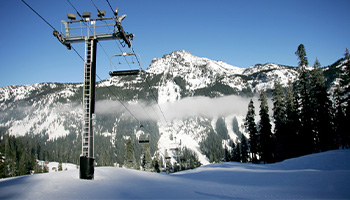 If you're looking for a quick getaway near a major city, look no further than The Summit at Snoqualmie. Located just 45 minutes outside of Seattle, The Summit is a great snowboarding destination for those looking for a more family-centric resort that isn't as big as others on our list.
The resort allows overnight RV camping. However, it limits reservations to just three nights a week. But, because it is close enough to the city, you shouldn't have any problems finding other options less than an hour's drive away.
RV-Friendly Places to Stay:
6. Willamette Pass Resort, Oregon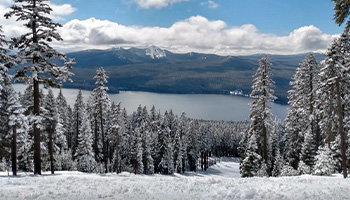 Ending our destinations list, we have Willamette Pass Resort located southeast of Eugene. With 29 trails to choose from, Willamette Pass is one of the smaller resorts on our list. However, that doesn't mean it lacks any flare.
Willamette Pass Resort is home to one of the steepest runs in the world, known as RTS. With a slope that reaches 52 degrees at its most vertical, this run should only be attempted by the most experienced riders. It was at this location that a top speed of 116.56 mph was achieved during the 1993 Subaru Speed Skiing Championships!
RV-Friendly Places to Stay:
Keep Your Rig Protected
Having a specialized RV policy is essential regardless of where the road takes you on your next RV adventure. Before trekking toward a new destination, it's a good idea to review your policy and add any coverage types that could be useful. For example, adding RV roadside assistance may serve as a safety net when traveling through harsh weather.
To learn more about the different types of RV coverages available, give our insurance specialists a call today at (866) 501-7335.
---
The information in this article is obtained from various sources and is offered for educational purposes. Furthermore, it should not replace manuals or instructions provided by the manufacturer or the advice of a qualified professional. No warranty or appropriateness for a specific purpose is expressed or implied.