California's Top Snowmobiling Destinations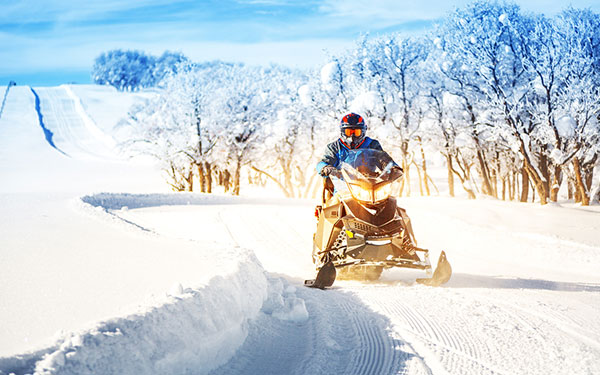 Whether you're a seasoned rider or new to the sport, there are few adventures more exciting than coasting down a trail on your snowmobile. While many only associate California with endless beaches and sunny weather, there are plenty of snowmobile trails for riders to enjoy throughout the state. With the snow season well underway, we put together our list of the top 5 California snowmobiling destinations to visit on your next winter adventure.
Our Top 5 Snowmobiling Destinations in California
1. Lake Tahoe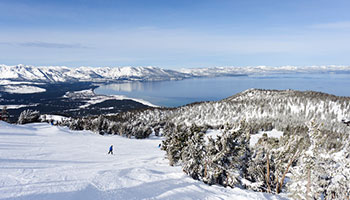 Lake Tahoe, which recently experienced record levels of snowfall, is home to endless snowmobile services such as rental shops, accessible lodging, and guides. This destination offers fun for the whole family with multiple snowmobile rental services to take advantage of during your getaway. We recommend signing up for a guided tour with the Zephyr Cove Snowmobile Center to get breathtaking views of Lake Tahoe. On the tour, you'll ascend to 9,000 ft to get a stunning overview of the lake's cobalt-blue waters.
2. Mammoth Lakes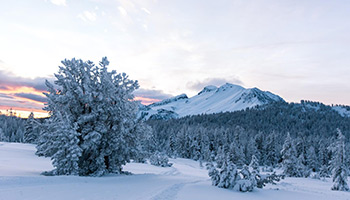 Averaging an annual snowfall of 17.1 feet, it's no secret that Mammoth Lakes is one of California's best winter destinations for skiing, snowboarding, and snowmobiling. In addition, Mammoth Lakes has endless resources for those beginning their snowmobile journey, such as easy snowmobile rentals and tours. Home to one of the most extensive trail systems in the Eastern High Sierra, riders can venture from elevations of 7600 ft to 9100 ft to experience beautiful panoramic views. Furthermore, riders can also explore several areas of interest, such as bubbling hot springs, volcanic craters, and picture-perfect vantage points that are all accessible by snowmobiles.
3. Mt. Shasta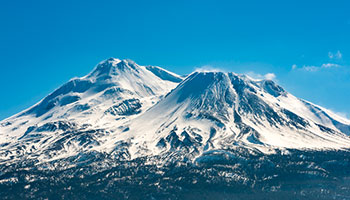 Home to the Tri-Forest Snowmobile Trail System, Mt. Shasta has over 260 miles of trails frequently used by snowmobiles, skiers, and dog sleds. With four parks containing necessary winter amenities such as warming huts, restrooms, and loading ramps, Mt. Shasta is a winter oasis waiting to be enjoyed. Be sure to take advantage of the Tri-Forest Snowmobile Trail System by visiting each of the three National Forests — the Klamath, Shasta-Trinity, and Modoc National Forests. You won't need to pay any fees to use these trails, but you must properly register your snowmobile to avoid penalties.
4. Kern Plateau Area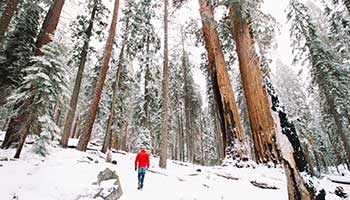 If you're in Southern California, you don't have to travel too far north to ride your snowmobile. The Kern Plateau Area is located northwest of Bakersfield and is home to roughly 120 miles of snowmobile trails. Riding towards Sherman Peak, snowmobilers will climb in elevation from 7,800 ft to 9,990 ft while taking in scenic views of the Sequoia National Forest. With over 12 trails to choose from that are suitable for all riders, the Kern Plateau Area is a great winter destination for novice snowmobilers.
5. Yuba Pass Snow Park Area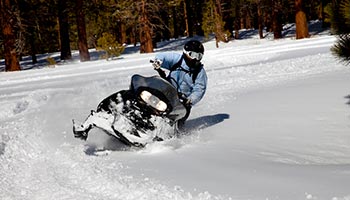 Located northwest of Truckee and west of Sierraville in Sierra County, the Yuba Pass Snow Park Area, is one of California's snowmobile hotspots. With over 150 miles of snowmobile trails cared for by the California/Nevada Snowmobile Association, this destination offers breathtaking views of the Sierra Valley. This winter retreat has plenty of snow-cleared parking and restrooms for visitors year-round, but keep in mind that permits are required between November 1st and May 31st.
Snowmobiling Safety Tips to Remember
Snowmobiling is an exciting sport that provides countless hours of exhilarating fun, but it can quickly become dangerous without the proper precautions in place. In honor of International Snowmobile Safety Week, which begins on the third Saturday of January, we put together a list of snowmobile safety tips that will keep you and your family safe:
Keep your snowmobile well maintained. Be sure to complete safety checks before and after each ride.
Always wear a helmet and appropriate clothing for the weather conditions.
Never exceed a trail's posted speed limits.
Never ride alone. Always ride with a friend and communicate with others where you're going.
Never drink and drive.
Know before you go—always check the day's weather forecast and understand where you're going.
Always reduce your speed if riding at night.
Be sure to take a snowmobile safety course to be well prepared in the event of an emergency.
Always carry basic emergency supplies on your snowmobile.
Stay Protected with Snowmobile Insurance
No matter where your winter adventures take you this season, it's essential to have the proper coverage in the event of an accident. While snowmobile insurance varies by state, our team of specialists can help guide you towards the right policy that fits your needs and budget. Give us a call today at (866) 501-7335 for a free quote and more details.
---
The information in this article is obtained from various sources and is offered for educational purposes. It should not replace manuals or instructions provided by the manufacturer or the advice of a qualified professional. No warranty or appropriateness for a specific purpose is expressed or implied.