RV Renovations of Your Dreams: What You Should & Should Not Add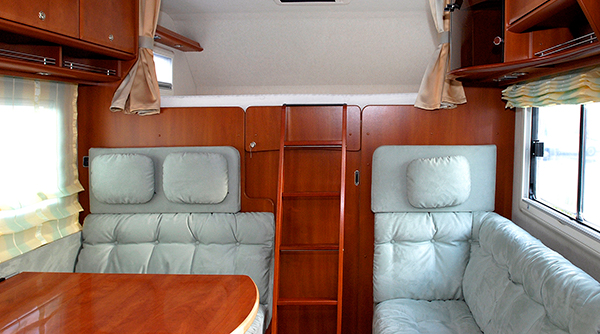 Like many Americans, you may be thinking about buying a used RV or travel trailer. You're probably looking for something that is in good mechanical condition with plans to completely gut it and renovate it to make it truly yours. Refurbishing an RV is like building a whole new home. To help you with your unique RV renovations, we've listed some suggestions that may save you money, add a special touch or make a seemingly impossible task easier. Get your hammers and saws ready to customize the home-on-wheels of your dreams.
RV Flooring
So, you just bought a new RV. Well, it's used, but it's new to you. To make it new, you probably have a long list of RV renovations ahead of you. First things first: the floors. Carpets are usually a nightmare when combined with hiking, fishing and other RVing adventures. This is mostly because they usually mean tracking in a big mess. Did you inherit a nasty carpet when you bought your RV? Well, then you might be wondering if you should replace the carpet with a new one. In fact, you most definitely should replace it, just not with more carpet. Instead, we'd recommend hardwood floors. They are much easier to clean and much more affordable to maintain.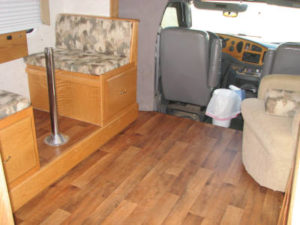 And you don't have to spend thousands of dollars on real hardwood floors. There are faux-wood and other styles of laminates that are easily to kept clean and still look nice while costing significantly less. Measure the floor of your RV and order the type of flooring you want directly from the source instead of from a retail store. This will save you even more money on your RV renovations.
Warning: Beware if you are cutting into an RV's existing laminate flooring. Are you digging into wood products less than two years old? Then there is a big risk of formaldehyde being released. Most RV floors contain formaldehyde, so you may consider tiling on top of existing floors. If not, ventilate while you work and wear a mask. After you're done with the main area, remember the kitchen! Replacing the vinyl tiles in your kitchen alone will make the RV feel brand new. Get creative with what you choose. This is your chance to make the space your very own!
RV Dining Table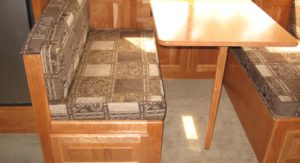 Since your RV is used, chances are that you have one of those affixed dining tables that are bolted to the floor. It's probably not in the best shape either. Our recommendation? Chuck it and replace it with something you love. If you're really handy, you can build your own. Either way, make sure it's fixed or bolted down properly. That includes the chairs, too.
Warning: Many people rip out all affixed furniture and use a regular table and chairs instead. Real furniture will definitely feel cozier and give your RV a homier feel. But, what if you have a collision? You should consider which objects may turn into dangerous projectiles in the event of a crash. Most tables and chairs carry enough weight that you won't have to worry about everything knocking around once you start driving. You should still consider what may happen upon impact. Every piece of furniture in your RV should be secured down with bolts and brackets.
RV Windows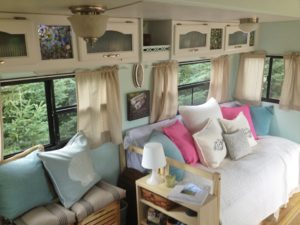 If you have to replace your RV windows, you should be able to find replacements online that sell used RV appliances and fixtures. You may even find great deals on Craigslist, Amazon or other distributors. Don't be afraid to buy used parts as long as they are in good condition. This is a great money saver when it comes to RV renovations.
If the RV windows are in good shape, you should still take care to upgrade the window treatments in a used motorhome. Also, consider making or buying curtains for the RV instead of using shades. Insulated curtains will keep your RV cool/heated depending on if you're using AC in summer or a heater in winter. You'll save money by using curtains, which will also lend a more charming and personal feel to your interior.
RV Upholstery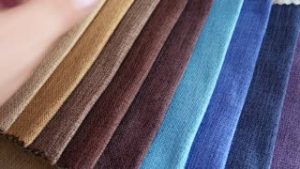 Does the motorhome you bought or are considering buying have built-in RV upholstery that is neither comfortable nor pleasant to look at? If the original RV cushions are actually comfortable enough, you may consider reupholstering with some exciting colors that will work well with the new floors you've chosen. If you're feeling really inspired to save some cash on your RV renovations, you can do the sewing yourself for even more savings. Anything DIY will also add a personal touch and homey-feel to the interior.
Warning: Many people make the mistake of buying furniture that is not made for RVs without taking measures to keep everyone safe. Keep safety in mind when you're replacing old RV furniture with new pieces that are not necessarily meant for motorhomes. If your furniture is not bolted down, it can turn into a lethal projectile during a collision. Remember, you can use any furniture as long you take care to secure it with metal brackets. Also, always measure your new furniture properly. There are plenty of modern or rustic love seats and sofas that are trim enough to fit the narrow interior of a trailer. Just make sure the furniture you buy will squeeze through the RV's door. Otherwise it'll never make it inside!
RV Walls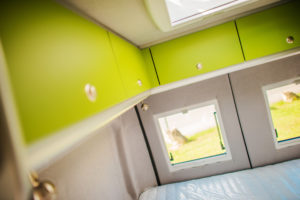 One of the most difficult type of RV renovations are the walls. Redoing an RV's walls may include even more work if you're ripping cabinets and installed furniture out of the trailer too. Make sure to smooth the walls so they look completely polished. Take care to sand and paint (or wallpaper) them before bringing in new furniture. Also, create hiding areas for loose wires for a less scattered look. Note that the existing wallpaper, which you may hate, only seems permanent because it's too difficult to remove. Don't fret. You can always paint over it or cover it with new wallpaper. Consider wainscoting for an old-fashioned look or use molding for a classic feel.
Insuring Your RV & RV Renovations
Once your RV renovations are complete, you'll want to protect your investment. It's important to have Specialty RV Insurance for the usual problems that may arise, like accidents or vandalism. It's also important that you re-evaluate the new worth of your RV after all the money spent refurbishing it. RVs are usually covered for "current retail value" and saving the receipts from your RV renovations is important in establishing that value in the event of a claim. Speak with an RV Insurance Specialist today at (866) 501-7335 for a new and inclusive RV policy.
---
The information in this article is obtained from various sources. This content is offered for educational purposes only and does not represent contractual agreements. It should not replace manuals or instructions provided by the manufacturer or the advice of a qualified professional. The definitions, terms, and coverage in a given policy may be different than those suggested here. And such policy will be governed by the language contained therein, and no warranty or appropriateness for a specific purpose is expressed or implied.