The Best Ways to Do Laundry When RVing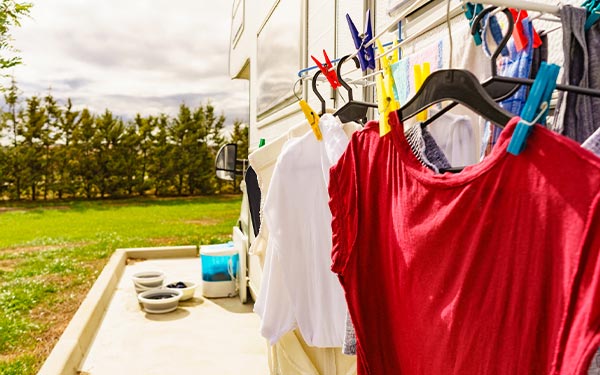 Traveling in an RV can be so freeing. However, there's one aspect of everyday life that we can't escape even when on the road: laundry. Wouldn't it be nice if our dirty clothes could wash themselves? Knowing how you'll handle laundry can keep things rolling smoothly when on an extended RV trip. So, to help you avoid any laundry issues on the road, here are a few different options and tips to consider.
Different Ways of Doing Laundry When Traveling in an RV
1. Doing Your Laundry at a Campground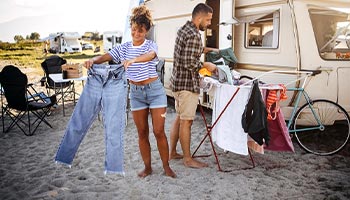 If you prefer staying at RV campgrounds that offer full RV hookups, it's likely that these locations also have on-site washers and dryers for visitors to use. For example, you can expect popular campground networks such as Good Sam Campgrounds, KOA, and Thousand Trails to provide campers with clean laundry facilities. If you stay at state or national parks, some may have on-site laundry facilities, but the condition or availability of the equipment can greatly vary.
However, remember that RV campground laundromats tend to be more expensive than other options outside the campground. Basically, you'll be paying for the convenience of not having to leave the park.
Pro tip: consider doing laundry early in the morning or later in the evening to beat the crowds.
2. Stop at a Laundromat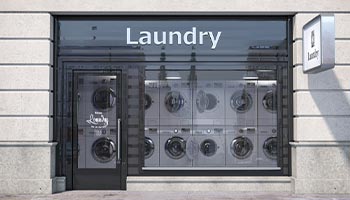 If you don't mind hunkering down for an hour or two once a week, going to a commercial laundromat is likely your easiest laundry option.
Although you don't get the convenience of washing on-site at the campground, you will have access to larger machines for a reasonable price. If you choose this route, consider doing laundry on the days you're heading toward a new destination. That way, you can look for options along the route you're traveling.
When visiting a new laundromat, don't be afraid to speak to locals. Laundromats are community staples with lots of traffic, so you may discover a new adventure or less-known destination by talking to others.
3. Purchase a Portable Washing Machine
Although laundromats are bountiful, they may not be the most cost-effective option if you travel in your RV for most of the year. While a $2.00 washing load may not seem like much initially, it can add up over time. Instead of overspending at the laundromat, consider purchasing a portable washing machine. Unlike traditional washers, portable machines are less expensive and don't require as much space.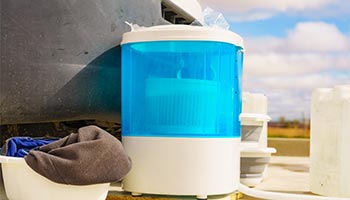 On average, portable RV laundry machines cost anywhere between $150 to $300. What makes these machines convenient is that they hook up directly to any faucet and only need a sink or tub to drain the used water. Afterward, you can simply air dry your clothes. Be sure to check any campground rules before hanging clothes to dry on a line outside your rig.
While this option may be excessive for a weekend solo RVer, it could be worth it for RV families who go on long trips for convenience alone.
4. Installing a Full Washer & Dryer
Unless you travel in a Class A or large Fifth Wheel, it's likely that your RV does not have a full washer and dryer unit. However, that does not mean that it cannot. Although installation can be a challenge and expensive, it is possible to install laundry machines inside of most RVs. Doing so will require you to select an appropriate unit with specifications that match your RV's preexisting hookups and electrical wiring.
Specifics and overall costs will ultimately depend on what is possible within your rig. Due to the scope of the job, we recommend to at least consult with an RV contractor that specializes in RV modifications.
5. Do It Yourself
When it comes to doing laundry, the cheapest option will always be to do it yourself by hand. You can easily take care of a small pile of clothes quickly with access to a sink, a bucket, and some detergent. However, this doesn't mean it's okay to do laundry at a stream or river. When traveling, always be mindful of what you leave behind.
Quick RV Laundry Tips
Scrub bags – If you plan on washing your clothes by hand, investing in a portable wash bag may be worth considering. They're super portable and can speed up the process.
Use laundry strips – When on the road, space is everything. So, if you're carrying detergent, consider purchasing zero-waste laundry strips or tablets to ditch bulky plastic bottles.
Laundry bag vs. bin – Not sure where to keep dirty laundry? Use a laundry bag, which is much more flexible than a solid bin.
Reserve a campground day if boondocking – Although boondocking is fun, booking a campground day every so often to handle laundry and other chores can be helpful.
Keeping Your RV Protected
Whether you own a full-size motorhome or campervan, keeping your rig protected with a specialized RV policy is crucial. Unlike a standard auto insurance policy, an RV policy can include additional coverage types that cover a wider range of situations you may find yourself in. To learn more about RV insurance and how to find coverage, give our RV insurance specialists a call today at (866) 501-7335.
---
The information in this article is obtained from various sources and is offered for educational purposes. Furthermore, it should not replace manuals or instructions provided by the manufacturer or the advice of a qualified professional. No warranty or appropriateness for a specific purpose is expressed or implied.