20 Golden Rules of RV Etiquette: Making Friends (Not Enemies) at the Campsite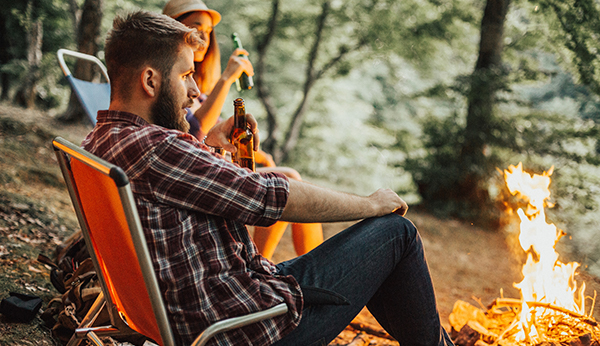 When you live in a house or apartment, being a good neighbor requires common sense and compassion. Having RV etiquette at campsites is not much different. RVers spend a good amount of time outside while they're parked. So, you should remember that it's not just your vacation once you're on the campground. Intruding on someone else's good time should be the last thing you want to do. It's best to always treat other campers the same way you want to be treated. That is, with respect.
However, you may end up getting a lousy neighbor who breaks every RV etiquette rule we've listed below. But don't despair! Most RVers are a great and friendly bunch so anything else will likely be a rare experience. Before you become "that guy," however, we've compiled a list of general rules so that you and everyone else around you can have a nice vacation at the campsite you're visiting. Plus, these tips will ensure that you'll be allowed back for a reunion with the new friends you make.
The 20 Golden Rules of RV Etiquette
Always read the rules at each campsite. They can also be a good indicator of the RV etiquette rules you should be following. Each location is different and it's important that you abide by the specific rules that apply to the one you're currently staying at. You certainly don't want to get kicked out or banned from visiting again.
Keep music and other noise levels down according to the campsite's set quiet hours. This includes voices and laughter. It's usually best to take it inside after 10 pm.
Turn off outdoor lights and generators during quiet hours. You don't want to disturb those who have to wake up early the next morning.
Avoid arriving during quiet hours. If you can't avoid it, keep your set-up to a minimum until the morning to keep the noise to a minimum.
Drive slowly on campground roads. There are often children running around as well as pets.
Pick up after your pets and don't let them roam into other people's campsites. You never know when someone has an unfriendly pet or just wants privacy.
Keep your pets quiet. If you can't get them to stop barking or howling, you will quickly make your neighbor miserable.
Stay on your side of the campsite and hook-up. Don't let your slide-outs and other belongings take over your neighbor's space. Yes, even a little bit counts.
There is usually a preferred orientation for parking your RV. Check the campground map or see how everyone else is angled and do the same. This is not the place to stand out in a crowd.
Make sure you know what you're doing at the dump station. Get in and out as quickly as possible without making a mess. However, do make sure to secure your connections so you don't spill. If you're new to RVing, practice at a dump station close to home before visiting a campground. Before leaving for your trip you should make sure your hoses are in good shape. A torn hose will create a huge mess and cause some angry RVers.
Don't start washing your RV at the campground, especially if it's explicitly forbidden in the campsite's written rules. Most places do not allow you to use the water for washing. If they do allow it, take care not to spray your neighbor's site or RV.
Don't trespass into your neighbor's space. No one wants to have an uninvited guest so avoid bothering your neighbors unless it's an emergency. Don't cut through your neighbor's site to get to where you're going either. Make sure to explain this rule to children as well.
Only build campfires in designated areas and keep the area as clean as you found it.
Do not burn trash in your campfire. The smell will upset people and it's generally against the rules of most campgrounds. It is also a fire hazard.
Make sure your campfire is completely out before you leave the area. Never leave a burning fire unattended, even if it is only smoldering. Visit our other pages for more on how to build a proper fire and how to properly put it out.
Don't leave your trash around in any areas along or on the campsite. Make sure that the items you brought with you will not blow away with the wind either. Yes, trash includes empty bottles, cans, cigarette butts and cartridges.
If you're boondocking and there is another group nearby, make sure to keep your distance. There's a reason you both chose to avoid the RV park. Chances are the other group wants privacy, so give it to them. If you're running the AC, make sure to create some space due to the fumes and carbon monoxide your generator will be exuding.
When using the restrooms in the campground, don't leave a huge mess. Clean up after yourself and leave the area in good shape.
Leave your campsite looking exactly as it did before you showed up. This is a good rule to set into practice so you don't get banned from a great place to unwind.
Don't be late for check out. Others may be waiting to set up in your site. Be courteous of their time.
Always Be Considerate & Kind
From privacy-seeking boondockers to newbies of the RV community, a little kindness can go a long way. The 20 golden rules of RV etiquette above are the basics that you should always follow when RVing. There's nothing worse than a confrontation when you're just trying to have a good time. It's good to remember that a little consideration and respect can make all the difference.
RV Insurance
It's always wise to have the right Specialty RV Insurance on your motorhome, trailer and other vehicles like boats and Jet Skis. Regular Auto Insurance does not provide adequate coverage for an RV. Speak with an Insurance Specialist about bundling your insurance products and to get multiple quotes from top insurers in just one quick call: (866) 501-7335.
---
This information is obtained from various sources. This content is offered for educational purposes only and does not represent contractual agreements, nor is it intended to replace manuals or instructions provided by the manufacturer or the advice of a qualified professional. The definitions, terms and coverage in a given policy may be different than those suggested here. Such policy will be governed by the language contained therein.