RV Campground Memberships That Will Help You Save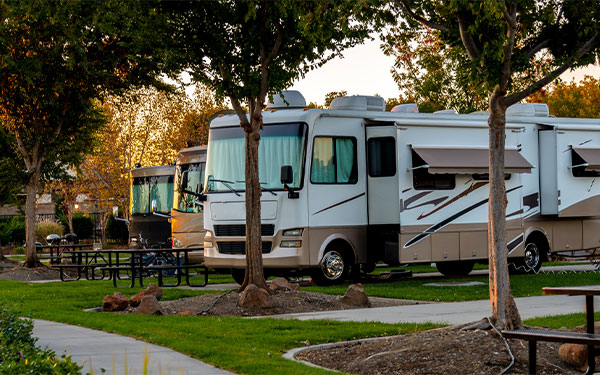 As an RVer, you likely understand how quickly RV travel costs can add up when going from campsite to campsite. Plus, with RVs skyrocketing in popularity over the years, seeing denser crowds at key RV destinations is fairly common. Thankfully, there are plenty of RV campground memberships you can join to help you save on nightly fees. Although not a complete list, here are five RV campground memberships that are a great starting point for most adventurers.
1. Passport America

Starting our list is an RV campground membership that can pay for itself in just a few stays: Passport America. For over 30 years, Passport America has provided its members with up to 50% off their nightly stay at over 1,100 campgrounds across the United States, Canada, and even Mexico.
If you're still not sold, the Passport America website makes it easy to search through their list of participating campgrounds, giving you more information on available amenities, photos, and current prices. In addition, their app allows you to enter your planned route and search for participating sites along the way.
Pro tip: RV campgrounds within the Passport America network operate independently, so discounted rates may vary depending on the time of year and your length of stay.
RV membership price: $44/year
Pros:
Up to 50% discounted rates at partnered campgrounds across the United States, Canada, and Mexico.
Route planning is available through the mobile app.
You can search the free campground catalog prior to joining.
Cons:
Discounts may vary, especially during peak seasons.
You must book reservations with the campground directly and not on the Passport America website.
RV campgrounds may have varying amenities.
2. Good Sam

With over 2 million members, there are no RV campground memberships as popular as Good Sam. While other clubs simply provide you access to partnered sites, the Good Sam club goes above and beyond by providing members with additional benefits catered for RVers. Examples include a virtual mailbox service, fuel and propane discounts, and trip planning services.
After joining Good Sam, you'll receive 10% off your nightly rate whenever staying at a partnered RV campground. Plus, their website even makes searching for your next destination easy by grouping campgrounds into experience types, such as water fun, family camping, and snowbird destinations.
RV membership price: $29/year
Pros:
Fuel discounts at select fueling locations.
A list of over 2,400 amenity-filled campsites.
Free RV dumping services at select Camping World centers.
Cons:
10% off campground fees isn't a lot compared to other clubs.
Popular campsites can sometimes be difficult to book.
3. Harvest Hosts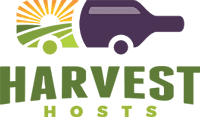 How does spending a night in your RV at a winery or golf course sound? Harvest Hosts is a unique RV membership club that allows RVers to spend their nights at locations not traditionally meant for RVs. Because Harvest Hosts destinations aren't traditional campgrounds, there aren't any nightly fees that you'll have to pay when staying at a partnered location. Instead, Harvest Hosts asks that you support your host location with a purchase in exchange for your stay.
Although Harvest Hosts has thousands of locations to choose from, many do not have any hookups or dumping stations available. In fact, to become a Harvest Hosts member, your RV must be self-contained with its own toilet, water tanks, and cooking facilities. Due to these requirements, Harvest Hosts is best for those who enjoy boondocking and are looking for unique one-night stays.
RV membership price: $99/year
Pros:
Available sites include wineries, breweries, museums, ranches, and golf courses.
No overnight RV fees.
Large selection of places to choose from.
Cons:
Self-contained RVs only.
Stays are limited to one night only for most sites.
Higher membership fee compared to other options.
4. Boondockers Welcome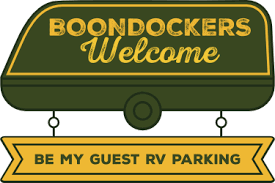 Like Harvest Hosts, Boondockers Welcome provides dry campers with free overnight parking at unique locations. The main difference, however, is that the Boondockers Welcome network is comprised of privately-owned homes and land. So instead of staying at a winery, you'll be staying on the property of a fellow RVer. Because of this, over 70% of Boondockers Welcome hosts offer hookups.
When staying at a Boondockers Welcome site, you aren't expected to pay your hosts, opening the door for huge saving opportunities. If you're an avid boondocker, Boondockers Welcome is the perfect way to stay at unique locations while building new connections with like-minded RVers along the way.
Boondockers Welcome is a Harvest Hosts company, so you can purchase a deluxe pass for $169/year that will allow you to stay at over 7,000 different properties across both catalogs.
RV Membership price: $79/night
Pros:
Hosts are primarily RVers themselves.
No overnight campground fees.
More hookups are available than Harvest Hosts.
Cons:
The average length of stay is 1-2 nights.
Some properties may have size restrictions for larger RVs.
Pets aren't always allowed.
5. Thousand Trails

Ending our RV campground memberships list is an option that combines a little of everything we've seen. Thousand Trails is an RV campground membership that allows you to stay free at some of the nation's premier RV camping sites. The Thousand Trails campground network is divided into five separate zones, such as the Southwest or Northeast. When joining, you select the zone you're interested in and immediately gain free access to each affiliated campground with the zone. You can also purchase access to additional zones for an added cost.

Thousands Trails is best for full-time RVers, or those who hit the road frequently. Although it's price tag is high compared to other memberships on our list, most sites on the Thousand Trails network have average nightly rates of around $60. So, as a Thousand Trails member, you'll likely break even after just 12 nights and still have a year left of destinations to explore.
Although your stay is free as long as you remain inside your zone, the standard membership includes a few limits. For example, the standard membership allows you to stay free for up to 14 days. After 14 days, you must leave the network for 7 days before reserving a new site for another 14 days. Still, the Thousand Trails membership may be worth it for those who stay in a general area and prefer campgrounds with additional activities and amenities.
RV membership price: $670/year
Pros:
Longer stay options available.
No nightly camping fees.
Campgrounds typically have more amenities compared to other clubs.
Cons:
Limited selection compared to others.
Higher annual membership cost.
Must leave the network for 7 days after staying for 14 days at a time (can be avoided by purchasing an elite plan).
Stay Protected No Matter Where the Road Takes You
No matter where your travels take you this year, having the right RV protection is important. A specialized RV policy offers additional coverage to protect you from the unexpected. Whether it's full-timers liability, roadside assistance, or personal effects coverage, our RV insurance specialists can help you build a policy that works best for you. To get started today, give us a call at (866) 501-7335.
---
The information in this article is obtained from various sources and is offered for educational purposes. Furthermore, it should not replace manuals or instructions provided by the manufacturer or the advice of a qualified professional. No warranty or appropriateness for a specific purpose is expressed or implied.