Helpful Tips & Easy Recipes for RV Boondock Cooking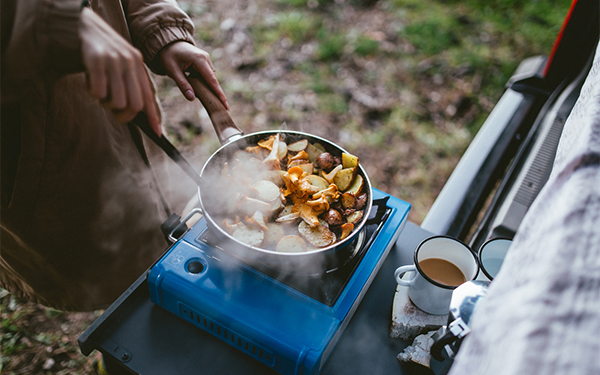 If you enjoy boondocking, you know how much camping off-grid can help you save on lodging costs. However, camping without any hookups does bring its own set of challenges, especially in the kitchen. Although you have limited resources when boondocking, it's still possible to cook a hearty meal after a full day of exploring. Looking for RV boondock cooking recipes and tips? Let's cover some basics to kick-start your next trip.
RV Boondock Cooking Tips
Boondocking takes you off the beaten path towards beautiful remote locations you won't find in crowded RV campgrounds. However, that remote beauty often comes at the cost of not having hookups for water or electrical access to power your RV's appliances. Although a couple of bread slices and some deli meat works well in a pinch, cooking a hot meal is much more fun. Here are a few tips to help you do it when boondock cooking.
1) Prep at Home Whenever Possible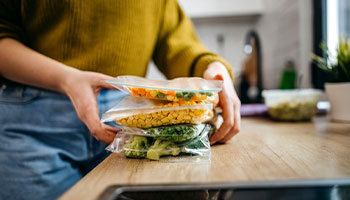 Preparing your ingredients while still at home will simplify the cooking process on the road. You'll be amazed how much less space vegetables take when chopped and bagged ahead of time.
If you're limited on freezer space, we recommend stocking up on prepped components instead of full meals. For example, you can prepare meat, sauces, and broths before leaving and then use them to build various dishes once at your destination.
2) Fill Your Small Kitchen with Quality Cookware
When you're out in the wilderness, the last thing you want is for your gear to fail. Although it's tempting to stock your RV kitchen with the cheapest utensils and cookware, doing so could cause headaches down the line.
We don't recommend bringing your most expensive pot with you, but you should consider purchasing a durable pan made of cast iron that can handle any cooking environment. If you have the space for it, a cast iron Dutch oven is another key component to have in your boondock cooking arsenal that will significantly expand your recipe potential.
3) Have Different Heat Sources Available
If there's one thing about boondocking that you can predict, it is that boondocking is unpredictable. While one location may have fire pits, another site may not. To keep your belly full, you must have access to various heat sources.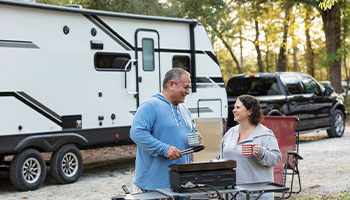 Electrical: with a solar panel or generator set up, you can power electrical appliances such as an air-fryer or instant pot that do the cooking for you.
Portable grills: no matter where you go, you should always have a backup portable grill that runs on propane. These are typically inexpensive and lightweight and can be a lifesaver when you find yourself in a pinch.
Fire: you can find fire pits in certain areas designated for dispersed camping. When available, don't be afraid to use your fire pit to prepare full meals instead of just s'mores. Cautionary note: be sure to look up and follow local fire restrictions when visiting a new area.
4) Consider Your Water Usage
When boondocking, water is worth its weight in gold. You must effectively ration your water usage daily to ensure you don't run out during your trip. To avoid excess water usage, consider packing biodegradable or paper consumables to reduce the number of dishes you must clean. And for any pans, dishes or utensils you must wash, use a paper towel to wipe off any food scraps before washing to limit the water you use.
Pro tip: too much soap will require more water to properly rinse. Use a spray bottle filled with water and concentrated dish soap to limit water consumption when boondocking.
5) One Pot Meals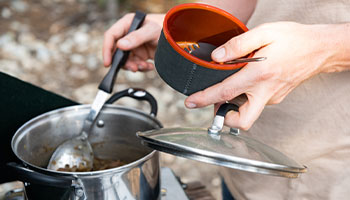 Recipes you can make in a single pot will be your best friend when RV boondock cooking.
Hearty examples include stir fries, soups, stews, and even pasta recipes, but you can get as creative as your setup allows. And if you followed our previous tip and purchased a cast iron Dutch oven, you'll open the door to plenty of recipes you wouldn't expect to be possible while boondocking.
Simple and Delicious RV Boondocking Recipes
1) Chicken Fajitas Freezer Meal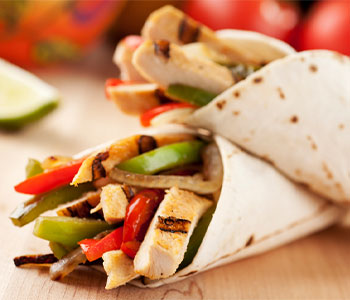 Preparing and freezing your ingredients in advance makes it easy to have delicious meals like chicken fajitas at camp, even when boondocking.
Ingredients:
2 boneless skinless chicken breasts, sliced into thin strips
1 red and 1 green bell pepper, sliced into thin strips
1 red onion, sliced into thin strips
1 tablespoon of olive oil
¼ cup of low-sodium chicken broth
1 tablespoon of lime juice
1 teaspoon of chili powder
½ teaspoon of onion powder, garlic powder, and salt
¼ teaspoon of black pepper
Optional ingredients for serving: tortillas, salsa, sour cream, shredded cheese, black beans, and guacamole
Instructions:
At Home:
Label a gallon freezer bag with the date and recipe's name.
In the bag, place the chicken, bell peppers, onions, olive oil, chicken broth, lime juice, and seasonings and shake to mix the ingredients together.
Work as much air out as possible from the bag and seal tightly.
Place bag flat inside of a freezer and freeze for up to 3 months.
At Camp:
Place your bag of frozen ingredients into the fridge to thaw out overnight.
Once thawed, heat a large skillet to medium-high heat.
Dump the ingredients from the bag into the skillet. Cook until the chicken is browned and cook through, allowing for the vegetables to tenderize. It should take 10-15 minutes.
Once cooked, serve chicken fajitas on a plate with tortillas and optional serving toppings if desired.
Prep time: 20 minutes | Cook time: 15 minutes | Serves: 4
2) Brats with Peppers and Onions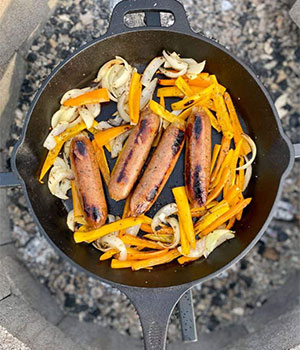 Bratwursts are great for RV camping because they're easy to pack, are full of flavor, and go well with just about any vegetable. Throw them on a bun, and you have a quick and easy meal ready in no time.
Ingredients:
1 pound of bratwurst
1 red bell pepper, sliced
1 green bell pepper, sliced
1 yellow onion, cut into thick wedges
1 tablespoon of olive oil
Salt and pepper to taste
Sandwich rolls, if desired
Spicy mustard, if desired
Instructions:
In a hot cast iron pan, add your onions, peppers, oil, and seasonings together and mix to incorporate.
Add your bratwursts into the pan. Continue to cook until the vegetables have softened and your bratwursts have reached the internal temperature indicated on their packaging.
If using sandwich rolls, toast them over indirect heat.
Once bratwursts are cooked, serve them alongside the vegetables on a plate or in a bun and enjoy.
Prep time: 5 minutes | Cook time: 15 minutes | Serves: 4
3) Campfire Hash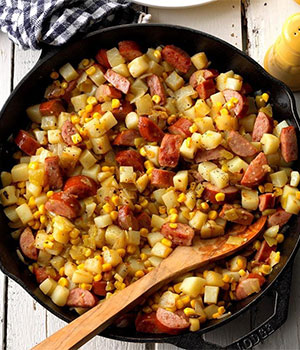 Looking for a quick boondock cooking meal before heading off to your hike? This simple hash recipe uses just a few ingredients and can be prepped at home to save time.
Ingredients:
1 pound of smoked sausage
4 potatoes, peeled and cubed
1 large onion, chopped
2 garlic cloves, minced
1 can of kernel corn, drained
2 tablespoons of cooking oil
1 can of chopped green chiles (optional)
Instructions:
Add the cooking oil and chopped onion into a large skillet over medium heat, cook until tender, then add minced garlic.
Add cubed potatoes to the skillet and continue to cook, uncovered, for an additional 20 minutes. Stir occasionally to prevent potatoes from burning.
Add in smoked sausage and continue to cook until browned, 10-15 minutes. Once the sausage is cooked, mix in corn and chilies to allow them to heat through.
Serve on a plate and enjoy.
Prep time: 15 minutes | Cook time: 35 minutes | Serves: 6
RV Recipes for Your Next Adventure
Want to discover more RV recipes for your upcoming camping trip? Our RV Recipes section is loaded with all kinds of recipes that pair perfectly with any outdoor excursion. Whether you're in the mood to grill or need to satisfy a sweet tooth craving, we have you covered. For more general information regarding RVs, click here.
---
The information in this article is obtained from various sources and is offered for educational purposes. Furthermore, it should not replace manuals or instructions provided by the manufacturer or the advice of a qualified professional. No warranty or appropriateness for a specific purpose is expressed or implied.