13 Kitchen Gadgets Every RVer Needs to Save Space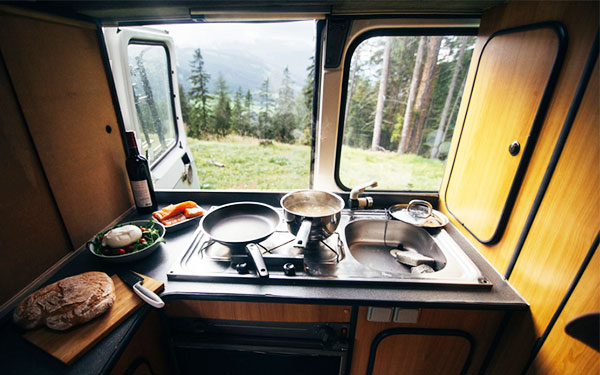 No matter how big your RV is, finding enough storage space can be challenging, especially in the RV kitchen. Stop trying to cram all your kitchen appliances in your cupboards or on your counter. Those spaces are limited! Choose the right kitchen gadgets that are space savers and have multiple functions. It's time to ask yourself what you really need in your RV kitchen. Check out our list of 13 kitchen gadgets designed to help you declutter and save precious space.
1. Instant Pot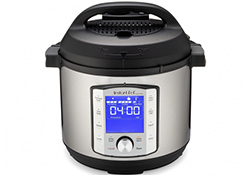 By far, the most useful and our favorite kitchen appliance is the Instant Pot. If you don't already have one, get one. With an Instant Pot, you can do just about everything. It's a pressure cooker, slow cooker, rice cooker, steamer, food warmer, and even yogurt maker with meals prepared at a fraction of your time. Check out instant pot recipes and get yours here!
2. Hand Blender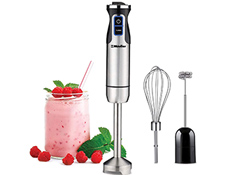 Blenders and food processors are space-hoggers. Ditch them and get yourself a hand blender. It's compact, versatile, and super easy to clean. Whip up some delicious treats like smoothies, salsa, whipped cream, soup, and baby puree. Some hand blenders includes whisk and milk frother attachments as well. Pick one up at Amazon here.
3. Anything Collapsible!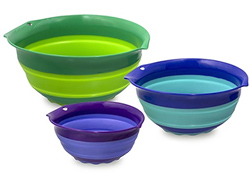 You can't go wrong with anything collapsible. It's a huge space saver when you're living tiny. Luckily, they have made almost every kitchen storage item collapsible from dishware and colanders to mixing bowls and measuring cups. Go crazy and take a look at this list of collapsible kitchen items you might need.
4. Stackable Pots and Pans with Removable Handles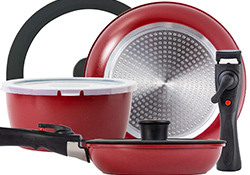 Yes, you read that right. Removable handles! Because we all know how annoying it is putting pots and pans away when the handles take up unnecessary space. Cover lids are also included so you can pop a lid over it and store leftovers in the fridge. Save space and time with less cleaning! See for yourself here.
5. Kitchen Drawer Tray for Silverware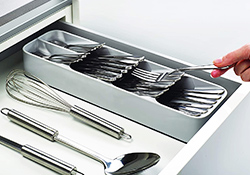 Does your bulky silverware tray take up the whole drawer? You can save half of that space with this Joseph Joseph organizer tray. Its unique design creates more space by stacking your cutlery on top of each other instead of side by side. You know what to do here.
6. Stackable Cooking Utensils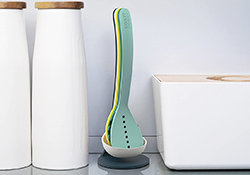 Here's another unique Joseph Joseph tool designed to save you kitchen space. Their 5-piece kitchen utensils include a slotted spatula, spaghetti server, slotted spoon, solid spoon, and ladle. All of these utensils are stacked together by their magnetic handles. Check out this kitchen gadget here.
7. 5-Piece Kitchen Gadget Set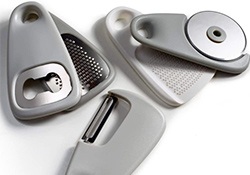 This is the ultimate kitchen gadget set perfect for RVers and campers looking to declutter their kitchen accessories. The gadget set includes a bottle opener, grater, pizza cutter, peeler, and grinder. The best part about this? It's stackable and listed as one of the best gifts for RVers. Gift one here.
8. Magnetic Knife Holder Strip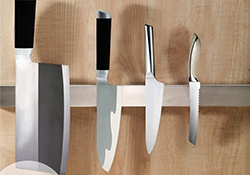 Make your RV look like a renowned Michelin-star kitchen with a magnetic knife holder strip. If you can secure your knives on the wall and save drawer space, why not? It's not just for knives. We've seen people use the magnetic strip to hold their tools, spice containers, and even keys. Get yours here.
9. Spice Organizer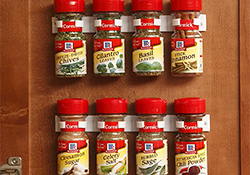 Speaking of spice containers, this spice gripper strip that you can attach to your RV cabinets has over 6,000 reviews on Amazon. You can cut the strips to custom fit your cabinets. These grippers make it easy for you to reach and grab your spices, stay organized, and save space. Take a look here.
10. Roll-Up Dish Drying Rack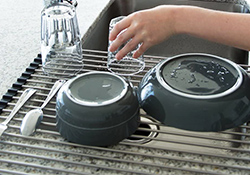 This roll up dish drying rack is a huge counter space saver! Place this dish drying rack directly over your sink to dry dishes. Roll it up and tuck it away in your drawer when not in use. Check it out here.
11. Charcuterie Board with 7 Cutting Mats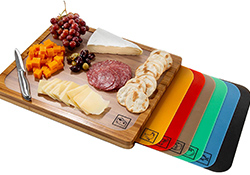 For charcuterie lovers, we have something special for you. This bamboo charcuterie board is not only beautiful and durable but also functional. It comes with seven additional color-coded cutting mats to avoid cross-contamination. Additionally, you can tuck them away inside the board. Show off your charcuterie skills with this.
12. Coffee Pour-over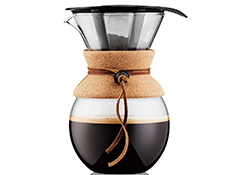 Can you think of the easiest way to ruin your day? Not having your morning ritual of delicious, hot brewed coffee can turn you into a grouch! This coffee pour-over allows you to brew your liquid gold in minutes. Not only is it portable and a space saver, but you also don't need to plug it into an outlet like other coffee machines. Grab your coffee pour-over here.
13. Mason Jars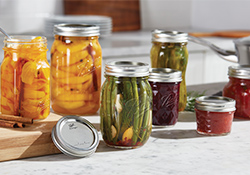 We didn't feel right leaving this one out, so we added Mason jars to the list because they have so many functions! Use them as regular drinking cups, food storage, or a vase for wildflowers. Walmart has some affordable ones in various sizes here.
Don't Forget to Protect Your Kitchen Gadgets!
After adding some of these kitchen gadgets to your shopping cart, make sure you protect all of your items in your RV with Personal Property coverage. Speak with an RV Insurance Specialists today by calling (866) 501-7335 to see what's covered. You deserve the peace of mind that things you worked hard for are protected.
Want more tips on how to stay organized? Check these articles out:
---
The information in this article is obtained from various sources and is offered for educational purposes. It should not replace manuals or instructions provided by the manufacturer or the advice of a qualified professional. No warranty or appropriateness for a specific purpose is expressed or implied.