New Versus Old RV Floorplans: What's the Difference?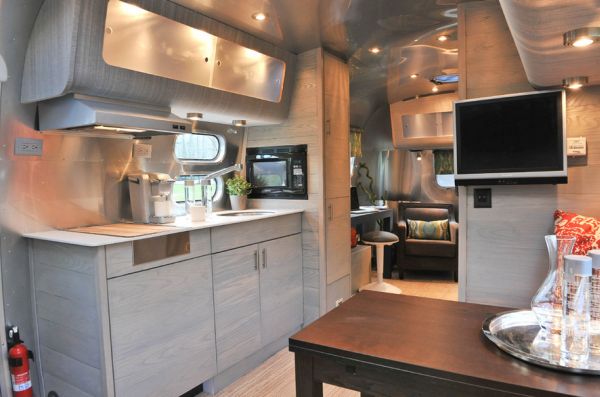 There are many reasons why people buy used RVs instead of new ones. For one thing, they are usually far less expensive and are perfect for DIY folks who want to renovate and customize their vehicle to their exact liking. Let's face it, people feel guilty completely gutting something that still has that new car smell. The biggest trend these days is that people are buying "used but new" RVs. Many people turn in their brand new RVs only after a couple of years for a newer model. Buying a two or three-year-old RV is much, much less expensive than buying one with the sticker price still on it. Some even claim that buying a rig that has been mildly broken in is a good thing and they're glad to buy second-hand.
Ideally, people buying brand new RVs will have spent a few years exploring different kinds of motorhomes, campers, trailers, and even bus conversions to see how many amenities and how much space they will need to be comfortable.
Getting Ready to Shop for a New Motorhome?
If you've done your exploring and are ready to splurge on a brand new rig, you may wonder what you're paying for (we said it would be expensive!). Well, you certainly won't have to worry about what kinds of scrapes the vehicle has gotten into before you bought it, so you're definitely buying peace of mind.  It's also true that each model year has a more innovative design, more technology, lighter material that takes off hundreds of pounds that results in better fuel efficiency. You'll also be getting a more up-to-date entertainment system and a sleek RV interior.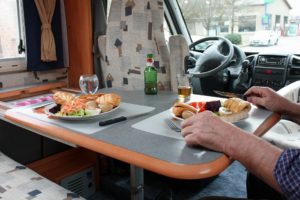 All in all, you're paying for comfort and ease. Let's put it this way: If you're a glamper, not a camper, you're probably the ideal owner of a new (or fairly new) RV.
The following are some features you can expect to see in newer RVs but not older ones:
Quiet air conditioners with sensors that manage power shared with other appliances to prevent shorting fuses and tripping breakers.
Built-in signal boosters for devices and television(s).
USB hookups.
Full-sized residential refrigerators.
Beds that drop down from the ceiling.
Electric fireplace.
Memory foam mattresses.
Better insulation reduces the need for heat and AC.
Outdoor kitchens that unfold from the RV's exterior.
Layouts that rearrange sectional furniture so you have more open space.
Multi-purpose furniture, like dining sections, also serve as sofas and beds.
Adjustable lighting (color, intensity) inside and outside.
Much higher holding tank capacity for gray and black water (dumping less often) on larger models.
Exteriors with or without traditional graphics.
Convection ovens instead of regular ovens.
Solar power hookups.
Either more space for more amenities or the same space with more amenities.
Composting toilets on smaller models.
Surround sound and video switch systems.
Built out of materials that prevent mold, mildew and rot.
Freshwater tank readout near the utility bay or the external fill inlet.
Up to 100-gallon fresh water tank in many new floorplans.
Level floors in C-Class vehicles, with raised roof and recessed floors by 4 inches.
LED light fixtures (so you save on electricity and reduce the heat inside your cabin).
Wireless intranet system for multiple devices, phone, audio, lighting and video.
12V or 120V audio and video equipment.
Latches on interior doors and drawers to keep them from opening while the vehicle is in motion.
Extra storage near the door or stairwell.
Much more space for trash (up to 13 gallons).
Modern faux-wood or faux-stone floors that are much easier to clean and come with optional rugs/carpets.
Better construction that reduces or eliminates water leaks from outside.
Smaller, lighter overall construction which saves on fuel.
If you're buying a new or used RV, you'll want to protect your investment and yourself in the event of a mishap. Buying specialty insurance that is specific to the RV lifestyle is the wisest decision you'll ever make. Auto insurance is simply not adequate, not even for people who only use their RVs seasonally. Speak with an Insurance Specialist about discounts and get some free quotes by calling (866) 501-7335 or simply clicking here.