Halloween RVing: The 13 Spookiest Haunted RV Parks in the U.S.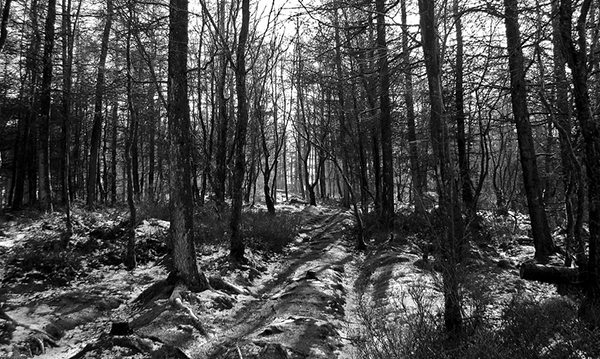 There are plenty of spooky-looking and dilapidated RV parks all over the country, but who wants to stay in them? When we say spooky, we don't mean haunted RV parks that are lacking in amenities and pleasant views. We're talking about being out in nature with restless spirits! Even if you don't believe in ghosts, what could be more fun than RVing on Halloween in a legendary spot that hundreds of people claim is haunted? The kids will love nothing more than visiting a haunted campsite, but they may end up sneaking into bed with you in the middle of the night.
Trust us, you'll have a great time telling ghost stories around a campfire at any of the following haunted RV parks, so hurry up and pack!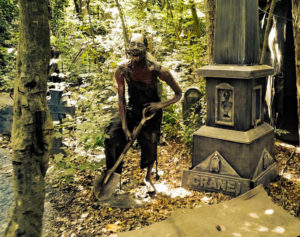 Just the name alone makes this the perfect RV park to visit on Halloween. The history of the place is just as cool because in the 1990's, the owner created the venue for kids after visitors asked him to do it. Since then, the RV park has grown into a national attraction, so reserve as far in advance as possible. Discover haunted mansions, haunted forests with scary zombies (created by the owner) and just about any kind of nightmare you can imagine.
Go into town for endless sources of entertainment, including walks on the beach, parasailing, great restaurants and fun bars. At the beautiful resort, you'll also have plenty of things to do, like swimming, fishing, ping pong, darts and a basketball court. There's also a dog park for your furry friends. As for the basketball court, however, there's something you should know. A young man who committed suicide a few years ago is rumored to haunt the court. He usually appears around 4 a.m. Oh, boy!
Within one of the most scenic National Forests in the country, there is a campground located in Holy Ghost Canyon, also known as Black Canyon. It's believed that a priest was killed here by a Pueblo native in the 1680's and that his ghost still roams the place. You'll find the campground in the far end of the State Route 63, near the Pecos River and Jacks Creek campground. Bring extra flashlights… just in case.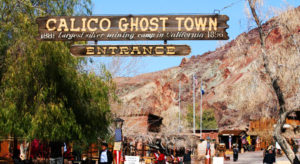 This abandoned mining town in California has become a tourist attraction, especially for ghost hunters. The campground is situated near the town's main graveyard, where visitors have reported shadows of non-existent people, floating orbs across the sky, ghost lights and plain old ghostly apparitions. Oh, and it's a beautiful place to go for a hike up the mountains, too.
Here, you'll find spectacular river views and perfectly tropical landscaping all throughout the RV park. If history is your thing, then you'll have to see the Battlefield State Historic Park, the San Jacinto Monument and the famous battleship just a few miles away. Rumor has it that ghosts of dead soldiers roam the RV park at night. Some even say they hear gunshots and screaming in the middle of the night.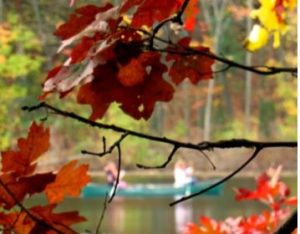 Of all the haunted RV parks, the lore behind the haunting of Camp Roger will send a chill up your spine. Apparently, a young camper drowned in the camp's lake many years ago. Since then, there have been sightings of his apparition running around the hills near the lake. Many visitors claim they've heard the boy say, "I'm going to push you in the lake," before disappearing. This Christian youth and family camp would seem like the last place to house restless spirits but at least the boy's ghost isn't rumored to be sinister at all.
This campground is only 8 miles from the site where Ichabod Crane comes face-to-face with the legendary Headless Horseman. Locals and visitors say that he still roams the area looking for his head. This area is also home to the burial grounds of the Kitchawank Indians. Locals claim that the native spirits were disturbed when their remains were disinterred by archaeologists. Now, you can camp here and wait for ghosts (with and without heads) to stir you awake in the middle of the night.
This haunted campground is near both the Ohio and Indiana border. It was named after the nearby DarkSyde Acres Haunted House, which features attractions for kids and adults. According to many visitors, the 38 sprawling acres of campsite are truly spooky. The haunted mansion, which draws most visitors, is over 70,000 square feet of screaming fun, so get ready to use those lungs. As one of the most haunted RV parks, you're sure to have some epic Halloween fun.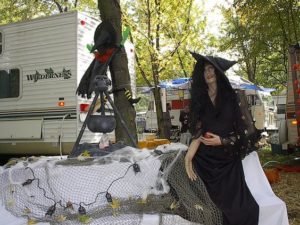 This seemingly serene and charming motel and RV park has had a number of reports regarding the Caboose rooms and suites. Visitors say they've heard strange sounds in the middle of the night, seen flickering lights and, most strangely, seen a ghostly man (a train conductor?) with a lantern walking around in the middle of the night. People have also heard whispering during the middle of the day when no one's talking. But you'll be staying in your RV so you're safe, right?
Situated in sunny southern California, you're sure to enjoy relatively warm weather here, even in October. While it may be full of sunshine and smiles during the day, this park is rumored to be haunted and full of strange sightings at night. Visitors claim they've heard footsteps outside of tents and RVs when there was no one there. Some have even seen apparitions, namely a woman dressed in white who hangs out near the trees. She's said to laugh and sing sometimes.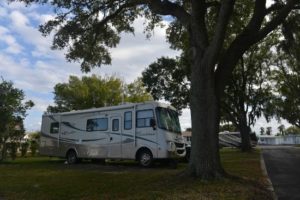 This green, lush RV park and resort couldn't look more normal if it tried. While visitors do the usual activities like hiking and shopping during the day, the clubhouse here has spooked more than a few people after dark. Reports of knocking sounds have led some to believe that there is a ghost trying to communicate with them. Some say that if you sit at the center table, you'll hear loud breathing each time you speak!
People from all over the country visit Big Sur, but not usually for its ghosts which are supposedly only interested in the land situated atop a sacred Esalen Indian burial ground. Fernwood campground is stunningly beautiful, but in the early hours of the morning, visitors have reported sightings of the ghost of a Native-American male in a corn mask running around amongst the rented cabins. But if you're bringing your RV, you probably have nothing to worry about.
During the day, unsuspecting visitors enjoy the relaxing atmosphere and beautiful lake here. The nearby town of Bandera is also full of entertainment, including a staged gun-fight in the middle of the street. It's only after midnight that this place turns spooky and a woman's ghost appears at the recreation center. She always stands there facing the wall in a corner of the room. Some have even heard her humming before she disappears. If you like spooky, make sure this destination is on your list of haunted RV parks to visit.
The spookiest thing you can do this Halloween is go RVing without the right RV Insurance. You need Specialty RV Insurance to be fully covered and worry-free. Call an Insurance Specialist to receive a free quote at (866) 501-7335.
---
The information in this article is obtained from various sources. This content is offered for educational purposes only and does not represent contractual agreements. It should not replace manuals or instructions provided by the manufacturer or the advice of a qualified professional. The definitions, terms and coverage in a given policy may be different than those suggested here. Such policy will be governed by the language contained therein.