5 RV-Friendly Destinations to See Fall Foliage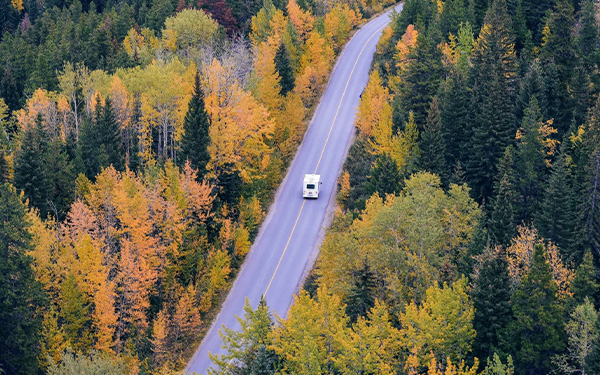 Although summer is prime RV season, the fun doesn't have to end after Labor Day. For many RVers, fall is the perfect time to squeeze in one last trip before winter weather rolls around. The days are cooler, you get to experience fall foliage, and campsites aren't as crowded—what's not to love?
If you're hoping to immerse yourself in autumn, consider visiting one of our favorite fall RV destinations below.
1. Olympic National Park, Washington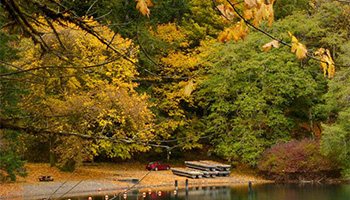 Who says you can't experience fall foliage on the west coast? Kicking off our list is Olympic National Park, located in Washington.
Known for its lush green forests and elk population, Olympic National Park is a must-visit for nature lovers year-round. During fall, however, the park's forests come alive with colorful mushrooms and trees. As you coast along the Olympic Peninsula Loop, a 300-mile-long road surrounding the park, you'll take in all the beauty of the Pacific Northwest.
Olympic National Park has seven campsites open year-round on a first come, first served basis. However, please note that these sites have no water or electrical hookups. For sites with hookups, you'll need to venture outwards to Duc Hot Springs Resort or Log Cabin Resort, which are both run by a park concessionaire.
2. Great Smokey Mountains National Park, North Carolina and Tennessee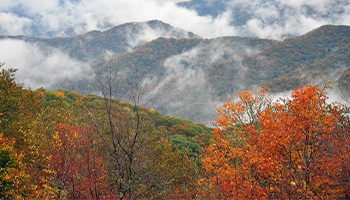 Known throughout the country as one of America's most visited national parks, there's a lot to love about Great Smokey Mountains National Park. The park is located on the North Carolina-Tennessee border and is home to some of the country's most stunning fall foliage. From mid-September to early November, the park's trees undergo an incredible transformation as the leaves develop their fall colors. We recommend visiting sometime during mid-October to see the colors at their peak.
There are multiple sites to choose from during the fall foliage season, depending on the size of your rig. Both the Smokemont and Cades Cove campgrounds can accommodate large RVs—up to 40 feet for motorhomes and up to 35 feet for trailers. To beat the crowds, we recommend booking as early as possible.
3. Glacier National Park, Montana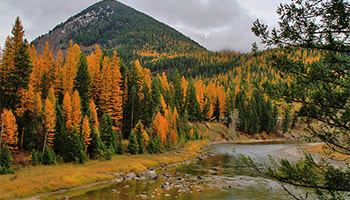 When visiting Glacier National Park in Montana, you'll understand why it's known as the Crown of the Continent. With over 700 miles of trails, the park is a perfect destination for adventure seekers. To view Glacier's fall foliage, you'll want to head out sometime between mid-September and late October. You'll be surrounded by golden aspen trees and river shores when visiting.
Glacier National Park is best suited for those who enjoy boondocking, as no full-hookup sites are available inside the park. However, there are numerous campsites outside the park that offer additional amenities.
4. Shenandoah National Park, Virginia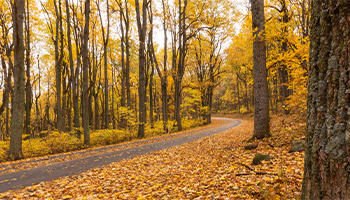 There's no better way of experiencing the beauty of fall foliage than by driving through the center of Shenandoah National Park on Skyline Drive.
Located just 75 miles outside Washington D.C, Shenandoah National Park is home to over 200,000 acres of endless greenery and wildlife. And with average fall temperatures ranging from 49 to 60 degrees, it's no wonder the park is a popular autumn destination.
Unlike other parks on our list, Shenandoah's busy season is typically during fall. To beat the crowds, we recommend traveling during the week. In addition, the park's two northern entrances tend to draw the most visitors.
5. Aspen, Colorado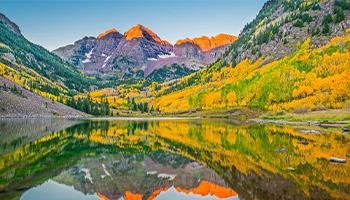 While many may know Aspen, Colorado as a skier's paradise, the region is just as beautiful during the fall. During this time of year, the area's trees transform into a sea of bright reds and yellows, giving off the quintessential feel of autumn.
Although Aspen's busy season is usually during winter, the area does see an increase in visitors during the fall months because of the fall foliage. To avoid crowds, we recommend visiting on a weekday.
Whenever visiting, be sure to visit the Maroon Bells, which are two of the most photographed mountains in North America.
Keeping Your RV Protected
Whether heading across the country towards a new destination or taking a weekend trip in-state, keep your RV protected with a specialty RV policy. Unlike a standard auto policy, an RV policy offers greater protection, such as Awning Coverage, which will cover damage to a rig's awning. To learn more about the specialty coverage options available under an RV policy, call our insurance specialists at (866) 501-7335.
---
The information in this article is obtained from various sources and is offered for educational purposes. Furthermore, it should not replace manuals or instructions provided by the manufacturer or the advice of a qualified professional. No warranty or appropriateness for a specific purpose is expressed or implied.