8 Fangtastic Ways To Decorate Your RV For Halloween Camping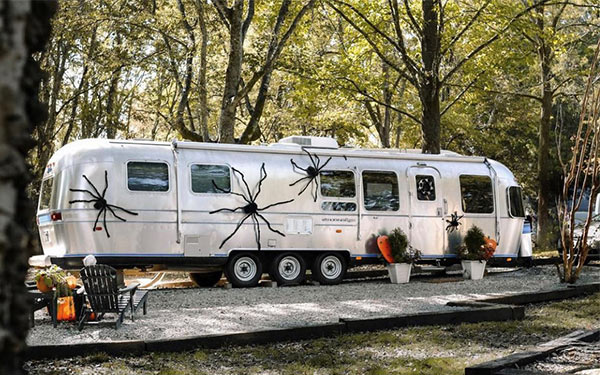 In many parts of the country, Halloween weekend is the prime camping weekend of the year. With chilly autumn winds, crispy leaves, and campfires in the dark woods, it's the perfect setting to celebrate Halloween. For some, it may be the grand finale weekend of camping before winterizing their rig and putting it in storage. So, why not go all out and decorate your RV with creepy crawlers or festive pumpkins? No matter what you're into, we have just the look for your rig.
1. Creepy Spiders and Cobwebs
Cobwebs with spiders is a classic, yet simple decorating idea. You can either get spooky or cute with them. Fake cobwebs are inexpensive and very easy to use. Just stretch them out around your RV, throw on a few plastic spiders, and you're all set! If you can't find any plastic spiders, get crafty and create some with some plastic bowls, construction paper, and googly eyes like the ones here.
2. Flying Bats
Cue the spooky music and greet your visitors with your very own flock of flying bats! These 3D bat stickers come in 4 different sizes with double-sided tape. They're a fun, simple, and modern way to decorate for the spooky season. Simply, stick them on your cabinets, walls, or door and arrange them however you like. You can also find bat templates online and DIY them yourself!
3. Timeless Black and White
Just because it's Halloween season, it doesn't mean your Halloween decorations have to include orange. If you can't decide on a Halloween theme or don't want one this year, go for this black and white color scheme. Together, it's a bold and dramatic decorating statement that's easy to incorporate into your home on wheels. Use what you have around the RV from white flowers to black cushions and add a few more pieces to create this sophisticated look.
4. Pumpkins Please
Don't want to go spooky this year? Stick with fall pumpkin décor and place them all around the rig. Turn this into a quick and easy Halloween activity with your family by having them paint or carve the pumpkins. Once they're done, place their masterpieces indoors or outdoors. It may just be us, but we think you can never have too many pumpkins!
5. Hang Up Halloween Themed Lights
Halloween wouldn't be complete without some lights! Spruce up your outdoor lighting with a spooky theme string light. Now, you can find lights of every color and shape from pumpkins, skeletons, bats, ghosts, or simple orange and purple lights. String them all along your RV roof, awnings, doors, or windows using Command™ hooks.
6. Day of the Dead Theme
Instead of a night of terror and mischief, opt for an explosion of colors and celebration of life and death. While the holiday Día de Los Muertos, or Day of the Dead, originated in Mexico, it is celebrated all over the world and involves family and friends gathering to pay respects and remember deceased loved ones. Decorate with colorful banners, marigold flowers, and painted calaveras.
7. Go Big With Inflatables
We all know storage space is very limited in an RV. That's why inflatable decorations are the best for any holiday season. When they're blown up, they can be pretty huge. And when it's time to deflate them, they fold up nice and snug and are easily stored for the next year. Pick any inflatables from spooky ghosts, cute pumpkins, black cats, and more! Just make sure the RV campground you're staying at has a reliable source of electricity.
8. Pose a Skeleton
Pose a life-size skeleton into just about any normal daily task and we guarantee it's going to be a hysterical hit! Some campers and Halloween enthusiasts have gone all out with these poseable skeletons creating scenes such as:
Skeletons having a campfire
Thieves helping each other climb on top of RVs
Dressed up skeletons
Skeletons waving
Avoid a Halloween Nightmare
The scariest thing you can do this Halloween is go RVing without the right insurance coverage. Stay clear of things that go bump in the dark and on the road by having a specialty RV insurance policy in place. Speak with an RV Insurance Specialist today at (866) 501-7335 or get a free online quote. We'll help you find an RV Insurance policy that fits your needs and gives you better peace of mind.
---
The information in this article is obtained from various sources and is offered for educational purposes. It should not replace manuals or instructions provided by the manufacturer or the advice of a qualified professional. No warranty or appropriateness for a specific purpose is expressed or implied.